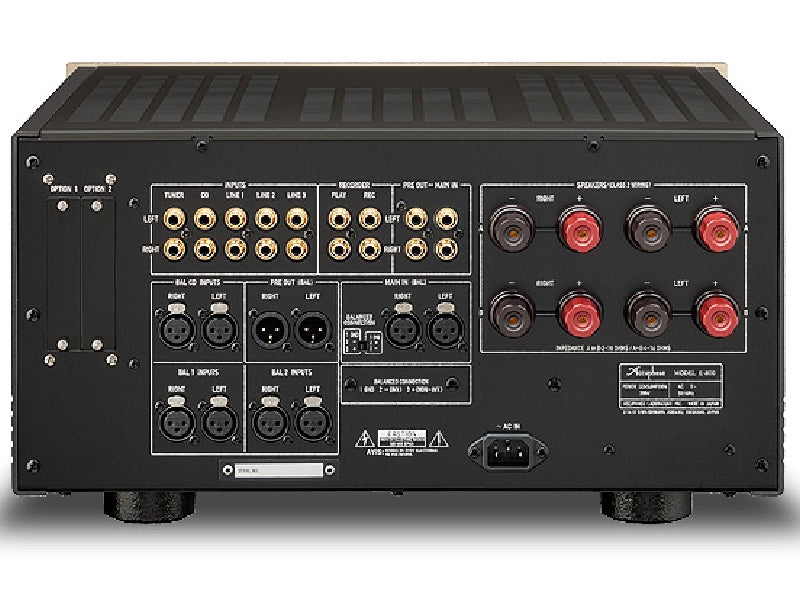 Accuphase E-800 Class A Integrated Amplifier
Sale price

£15,000.00
Regular price

£0.00
(/)
Accuphase Laboratory, Inc.Japan have requested for us not to sell their premium products on line. 
Price & Demonstration are available on request.
The New Accuphase E-800 is a new flagship model, the innovative E800 is a totally new series of Class-A integrated amplifier, that can deliver a powerful output better than the separate systems.

E-800 has a mono-block construction with a massive specially made high-efficiency toroidal transformer and two large 60000μF filtering capacitors are installed in the centre of the unit. In addition, the two power amplifier units are kept separate for the left and right channels.

Balanced AAVA module is set at the front of the unit to avoid the noise interference. The accurate operation is performed with the custom-made high-accuracy volume sensor.
The rated output power is a fully linear power progression of 50W into 8 ohm, 100W into 4 ohm, and until 200W into 2 ohm. Even 1 ohm load condition, it can deliver 300W power. The E-800 can easily drive any kind of loudspeakers as good as any separated power amplifiers.
The preamplifier section features the impeccable Balanced AAVA type volume control, while the power amplifier section is configured as an instrumentation amplifier using a six-fold parallel push-pull configuration of power MOS-FETs driven in pure Class A. The resulting quality is on a par with high-class separate type amplifiers. Operating as a simple and smart system, the E-800 realizes acoustic excellence that reaches to the very heart of the music. We believe it grabs not only audiophiles' but music lovers' hearts. 
Integrated amplifier with fully balanced configuration extending from input to output

Balanced AAVA type volume control
Power amplification stage configured as instrumentation amplifier
Six-fold parallel push-pull configuration of power MOS-FETs driven in Class A
Linear power progression of 50 watts into 8 ohms, 100 watts into 4 ohms, and 200 watts into 2 ohms
300 W output into 1-ohm load (music signals)
High damping factor of 1000
Strong power supply with massive high-efficiency toroidal transformer and large filtering capacitors
Protection circuitry using MOS-FET switches
Accuphase E-800 Class A Integrated Amplifier
Sale price

£15,000.00
Regular price

£0.00
Choose options