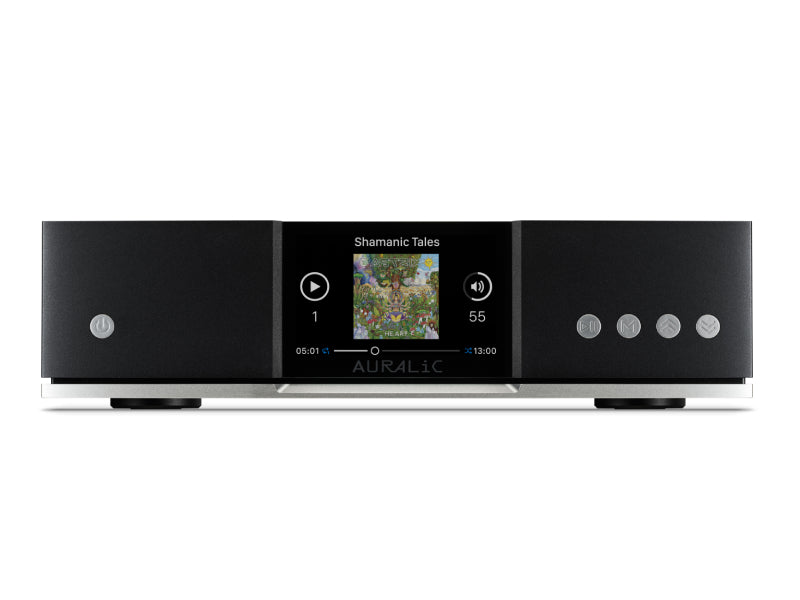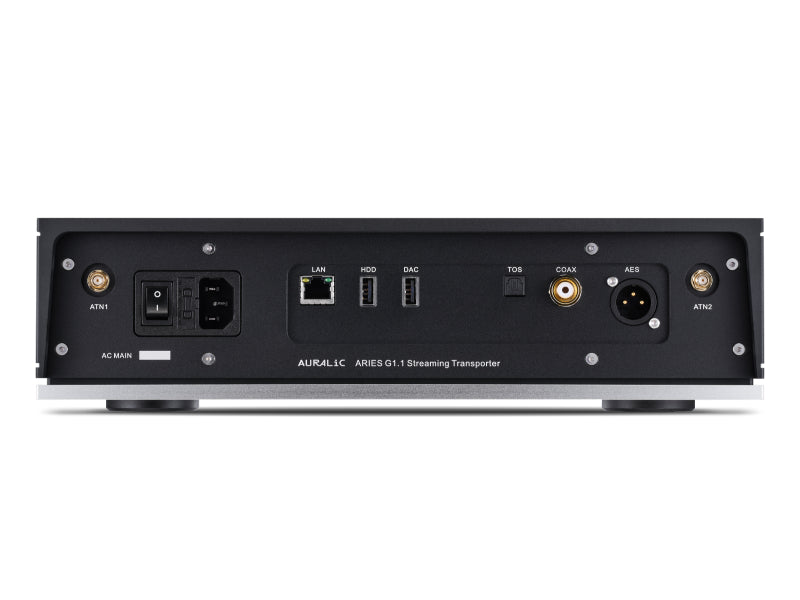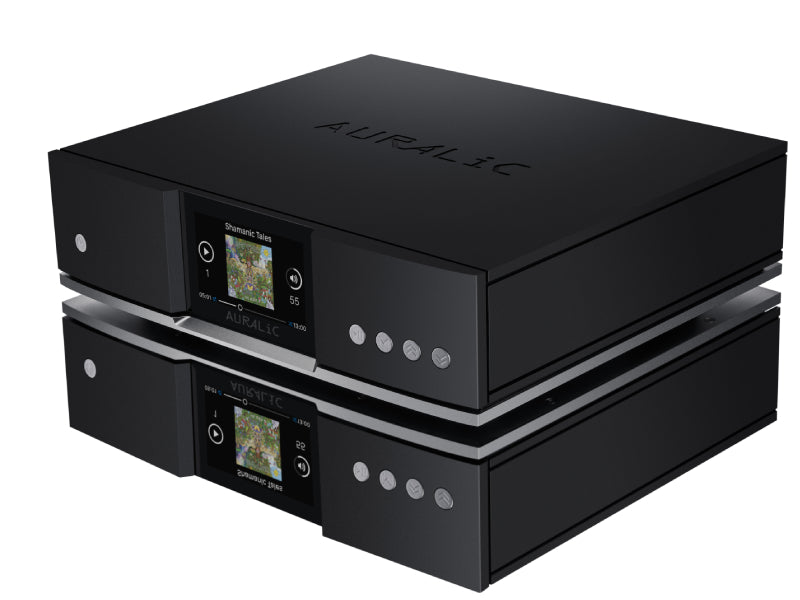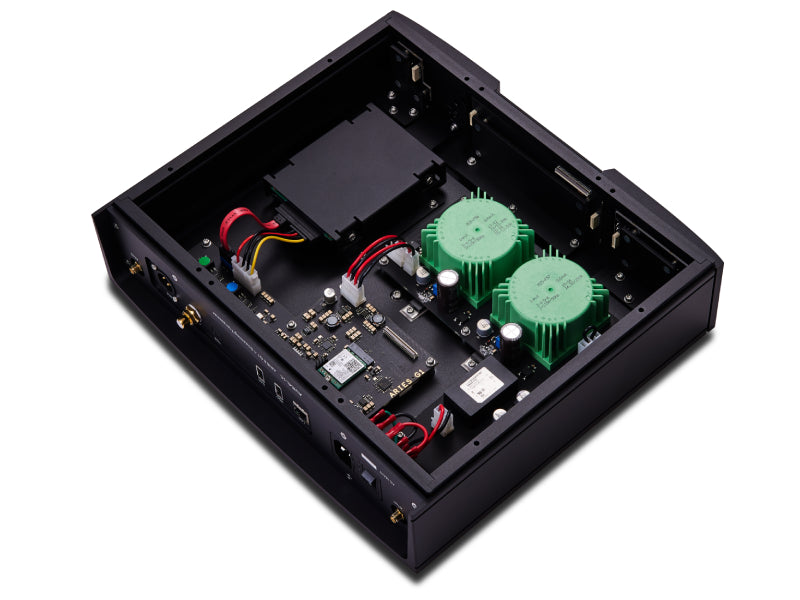 Auralic ARIES G1.1 Wireless Streaming Transport
Sale price

£2,699.00
Regular price
(/)
Orders ☎ 01925 828009
The new Auralic ARIES G1.1 Wireless Streaming Transporter brings high-performance music streaming to your home audio system. Connect it to your DAC and stream your favorite music wirelessly. With the G1.1 update, customers can purchase an internal storage option to store their favorite music inside the device.
Engineered to exacting standards, the ARIES G1.1 excel in today's demanding environment of high-resolution music streaming. Designed and consistently updated in-house, the Lightning streaming platform has led the industry since its release in 2014. Focused on providing the best possible sound and an outstanding user experience,
The ARIES G1.1 offers nearly universal connectivity for access to all your digital sources. Tri-band Wi-Fi and Ethernet open your system to UPnP/DLNA media servers, shared network folders, high-resolution Internet Services, and Internet Radio, as well as RoonReady, Bluetooth, AirPlay, and SongCast control.
Dual Purer-Power Linear Power Supplies
The ARIES G1.1 has two ultra-quiet Purer-Power linear power supplies, galvanically isolating them from each other in the obsessive quest to reduce noise for better sonic performance. Processing and display power is completely separated from sensitive audio components that operate on their own dedicated supply. Interference between the separate areas is reduced to zero, so all you'll hear from the ARIES G1.1 is the music.
Lightning streaming includes several unique features such as memory cache, CD playback and ripping, and wireless streaming up to 384 PCM and DSD512. The Lightning DS iOS app provides native integration with high-resolution streaming services like Amazon Music, Qobuz, and HighResAudio, as well as other lossless services such as TIDAL, KKBox, and NetEase, providing a world of musical exploration. AURALiC's Lightning streaming platform also supports TIDAL Connect, Spotify Connect, AirPlay 2, Bluetooth and acts as a Roon Ready endpoint allowing you the freedom to access and control your music however you like.
The G1.1 update brings two new features common to both models. The ARIES G1.1 and ALTAIR G1.1 now feature the high-mass base from our award-winning G2.1 series products. This satin silver base plate improves their overall aesthetic and provides extra vibration damping for better sonic performance. Both units now support AirPlay 2, further expanding your streaming options.
Tesla G2: Platform Made for Sound
In 2014 Auralic developed the original Tesla hardware platform with the goal of creating a high-performance, upgradable platform optimized for audio sound quality. Working hand-in-hand with our control interface and innovative software features, it was the most powerful processing platform available for digital music playback and streaming.

Now there's Tesla G2. 50% faster, with twice the processing resources, Tesla G2 is the hardware powerhouse behind the sonic excellence of the G2 line.
Still have some love for your old CDs? Not to worry; you can plug a generic USB CD drive into your ARIES G1.1 then choose to play a CD, rip a CD while playing, or just rip. (Hard drive required, available as a option)
As with AURALiC's Lightning file streaming, our unique CD playback feature uses the same advanced, jitter-reducing Memory Playback technology. CD data is first read, and compared several times for accuracy into the system cache before playing. The result is elimination of potentially induced jitter from the transport, canceling any negative effects from the quality of your chosen CD drive, potentially improving performance beyond what's offered from competitors' CD players.

Lossless: AIFF, ALAC, APE, DIFF, DSF, FLAC, OGG, WAV and WV
Lossy: AAC, MP3, MQA* and WMA

PCM: 44.1KHz to 384KHz in 32Bit**
DSD: DSD64(2.8224MHz), DSD128(5.6448MHz), DSD256(11.2896MHz), DSD512(22.57892MHz)***

AURALiC Lightning DS for iOS
AURALiC Lightning DS for web browser (device settings only)
OpenHome compatible control software (BubbleUPnP, Kazoo)
Roon (Roon Core required separately)

Network shared folder, USB Storage, USB CD Drive, Optional Internal Storage, UPnP/DLNA Media Server, Amazon Music Unlimited, HighResAudio, KKBOX, Qobuz Sublime+, NetEase Music, TIDAL Connect, Spotify Connect, Internet Radio, AirPlay 2, RoonReady, Bluetooth

Digital Outputs: AES/EBU, Coaxial, Toslink
USB Output: USB Host to compatible DAC ****

Wired: Gigabit Ethernet
Wireless: 802.11b/g/n/ac Tri-Band WiFi
Sleep: <10W
Playback: 50W at max.

13.4 x 12.6 x 3.2 in. (34cm x 32cm x 8cm)


Anodized aluminum case in matte black

AURALiC ARIES G1.1 Wireless Streaming Transporter
2*External WiFi antenna (2pcs)
Power cord
User's guide
* AURALiC streaming devices can act as a passthrough for unaltered MQA files to a customer's own MQA-certified DAC for downstream processing.
** 352.8KS/s and 384KS/s and 32bit are supported through USB Output only
*** By 'DoP V1.1' or native DSD protocol
**** 'Compatible DAC' means a DAC not requiring a driver for Linux system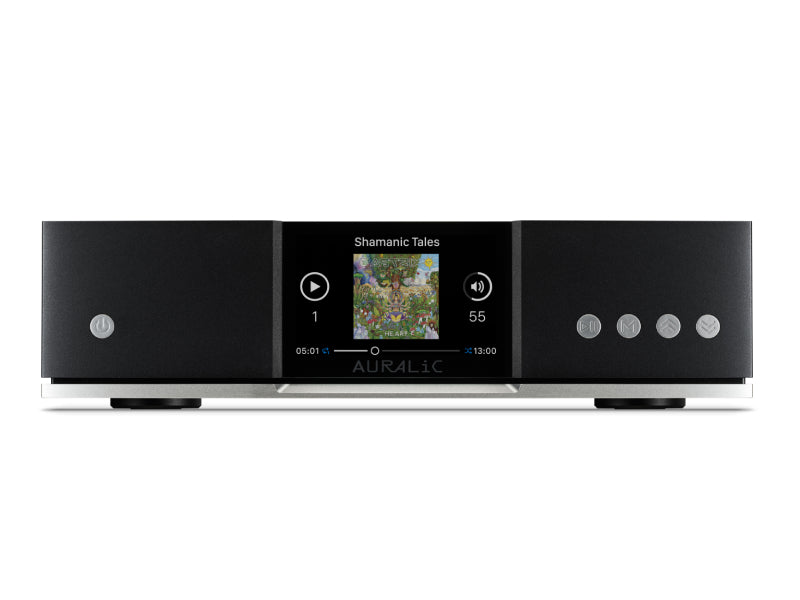 Auralic ARIES G1.1 Wireless Streaming Transport
Sale price

£2,699.00
Regular price
Choose options