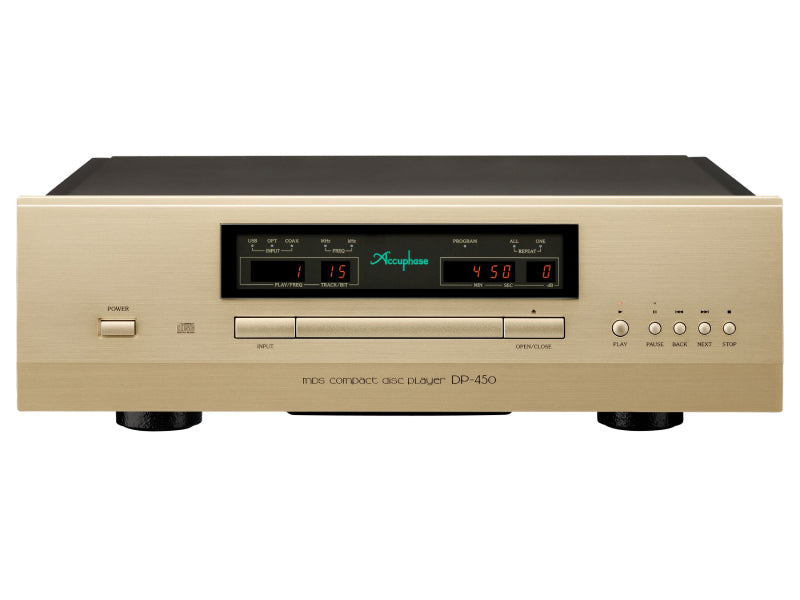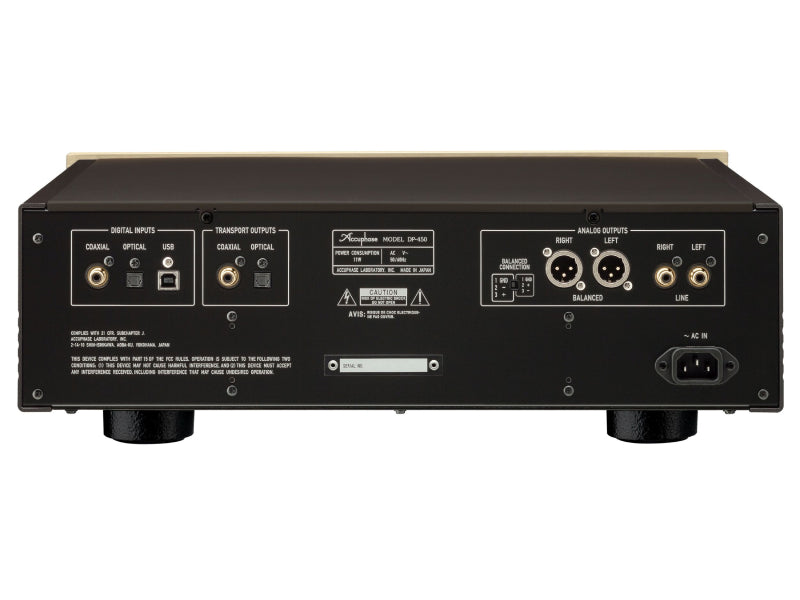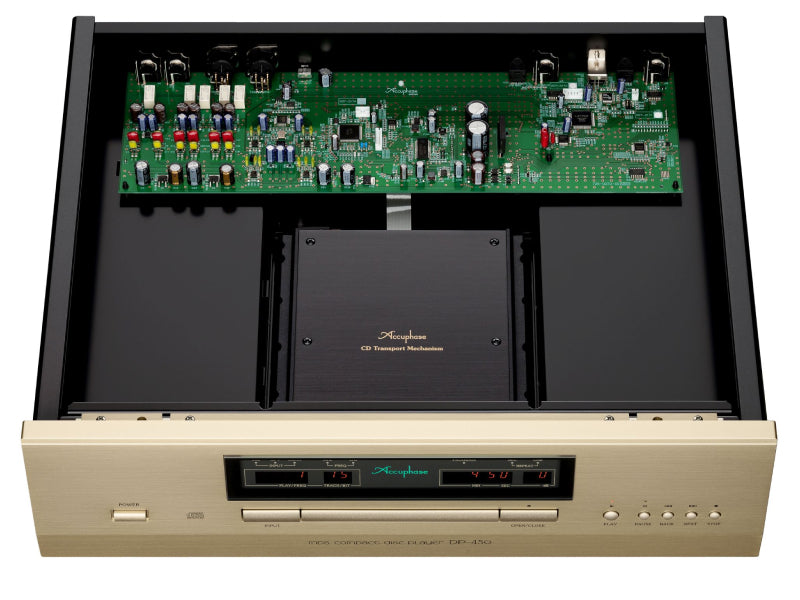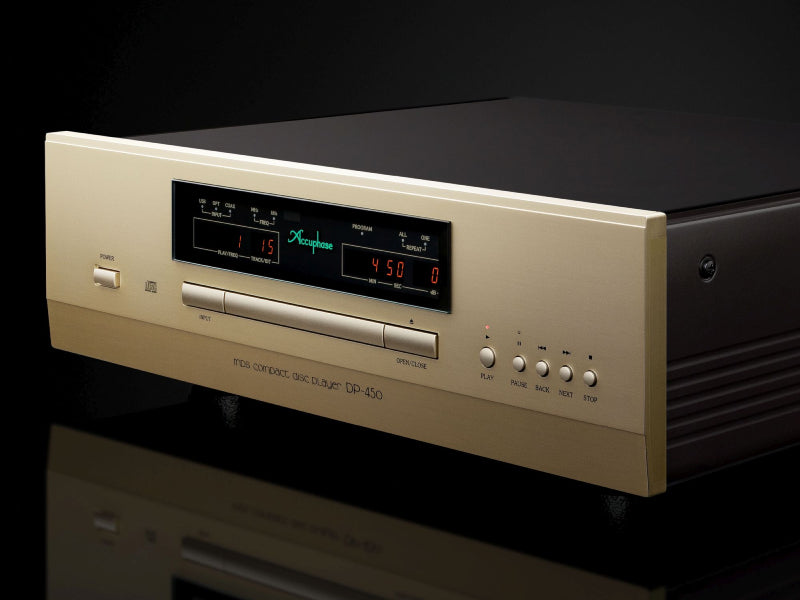 Accuphase DP-450 CD Player
Sale price

£5,500.00
Regular price
(/)
Orders ☎ 01925 828009
The Accuphase DP 450 is the dedicated CD player which realizes both sophisticated performance and fine sound quality with the full of technologies developed in the DP-570 SACD/CD player. Vibration control in CD players that read audio data from rotating discs greatly impact the sound quality. By installing newly-developed drive mechanism and refurbishing the chassis framework, the DP450 significantly improves the anti-vibration and vibration damping performance. The high-performance DAC chip and improved filter circuit fully produce ideal electronic performance and sound quality including the low noise characteristic. Making full use of cutting edge technologies, the DP-450 extracts the true colors of any CD to deliver a listening experience that stays with you.
The strong integrated chassis structure that supports the CD drive mechanism adopts the 2 pieces structure, from the 7 pieces in the former DP-430. This enhanced chassis rigidity helps to improve the antivibration and vibration damping performance.
The newly-developed CD drive mechanism makes the bridge cover larger than former model, and applied threelayer structure with the open-cell structure material which absorbs the operational vibrations and noises. The chucking magnet is an 8 pole-neodymium bonded magnet for high magnetic flux density and dimensional accuracy, and it enables uniform disc rotation without wobbling.
The traverse unit which is loaded with the laser pick up and the viscoelastic dampers that isolate the vibrations among main chassis are very important parts for the vibration characteristics. In the DP-450, the high –performance viscoelastic dampers which is designed with new material and shape are incorporated.
For D/A converter section, Accuphase updates the DAC chip to ESS Technology's 32bit Hyper Stream Ⅱ DAC ES9026PRO for DP-450. ** DP-430 uses Asahi Kasei Micro Electronics AK4490EQ. ES9026PRO has 8 DACs inside, and DP-450 uses 4 DACs connected in parallel per channel with Accuphase's unique technology, Multiple Delta Sigma + conversion system. Fully-balanced structure is employed in DP-450. In addition, the independent low pass filter is installed for each audio output(Direct Balanced Filter), thanks to this, the sound signals from all the outputs become high quality.
DP-450 has 3 digital inputs, Coaxial, Optical and USB. USB Input accepts 384kHz/32bit-PCM or 11.2896MHzDSD. Coaxial and Optical Transport outputs are also available. Transport part and DAC part can work separately. DG-68 can be connected easily between Transport output and Digital input of DP-450.
Accuphase has spent 35 years developing CD players in pursuit of the best in disc playback. The DP-450 CD player combines a number of innovative technologies, including a CD drive mechanism with a strong integrated structure, high-quality elastic dampers that protect the lensactuator from vssibration, and MDS+ type D/A converters with four parallel circuits. The DP-450 extracts the full potential of any CD to deliver a listening experience that stays with you.
High-grade CD drive.
MDS+ type D/A converter with four parallel circuits.
Direct Balanced Filter with separate line and balanced signal paths.
Programmable playlists that can change track order.
Sampling frequency and quantization bit display.
Transport outputs and digital inputs.
Digital interface with USB input.
Digital connection with an Accuphase voicing equalizer.
Balanced output phase selection.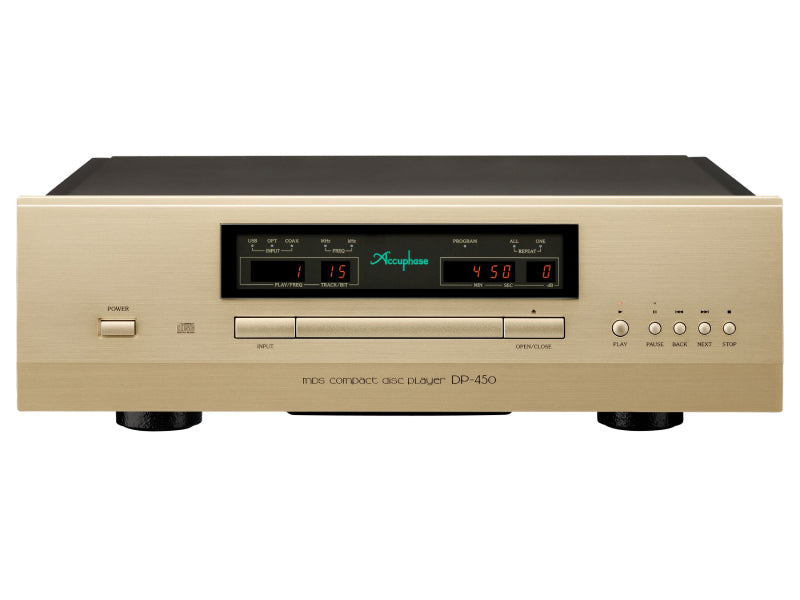 Accuphase DP-450 CD Player
Sale price

£5,500.00
Regular price
Choose options