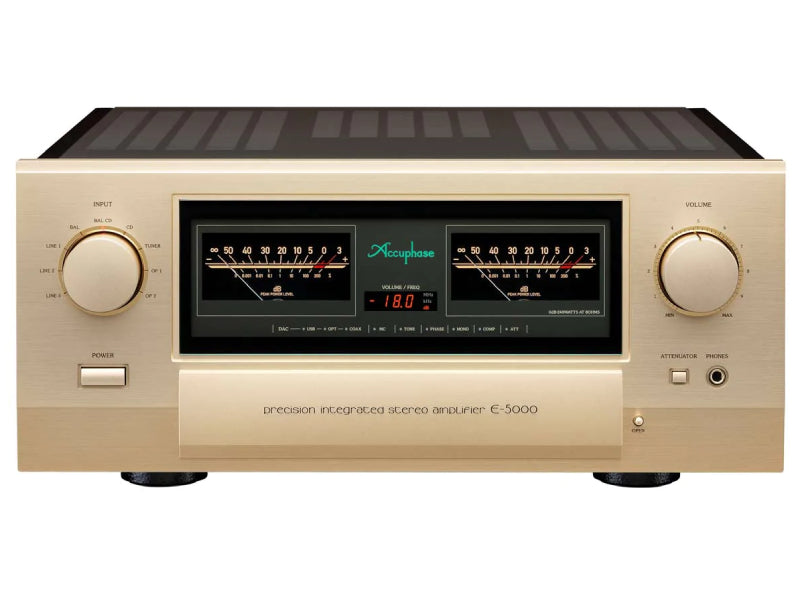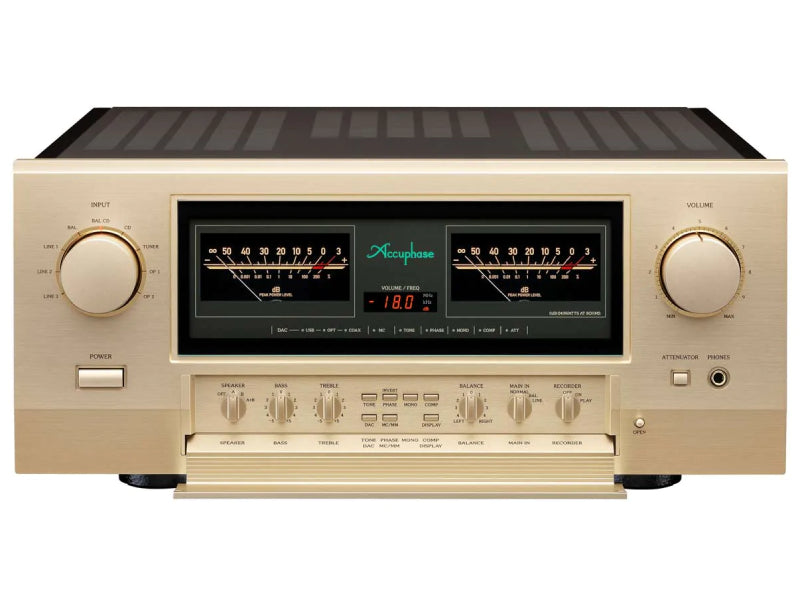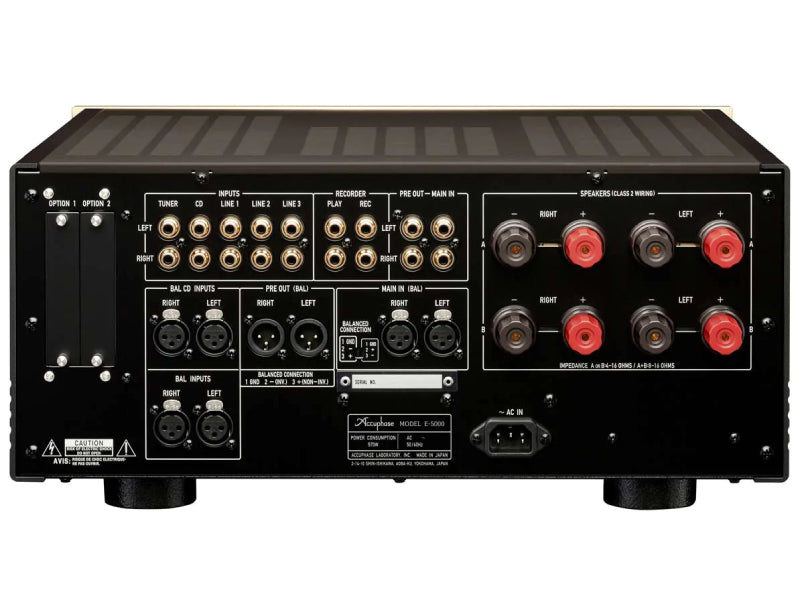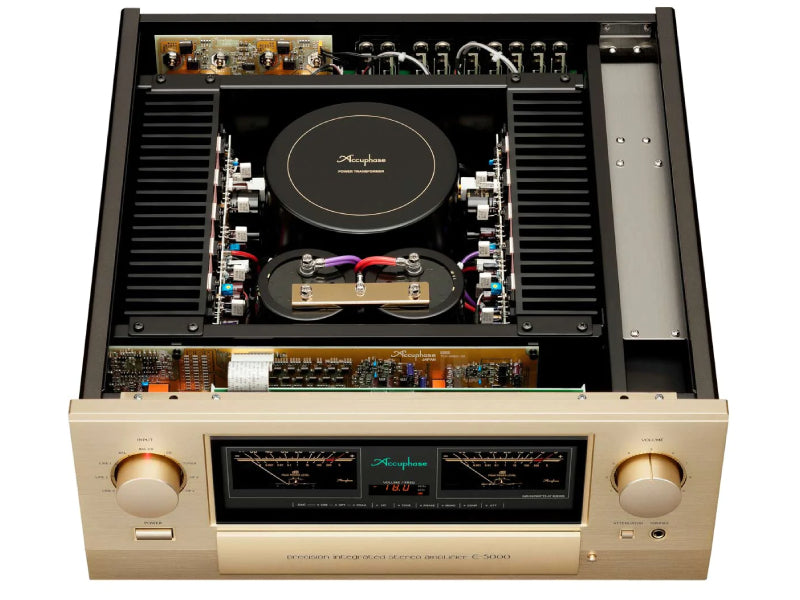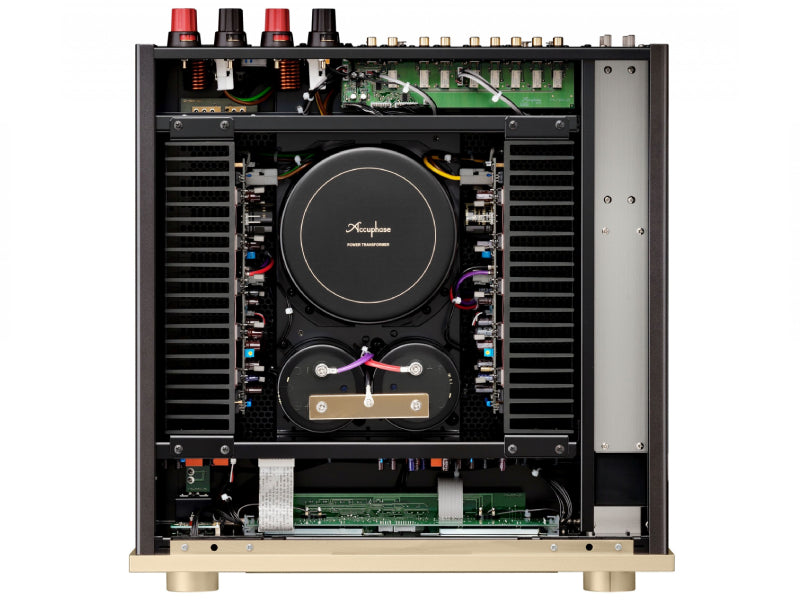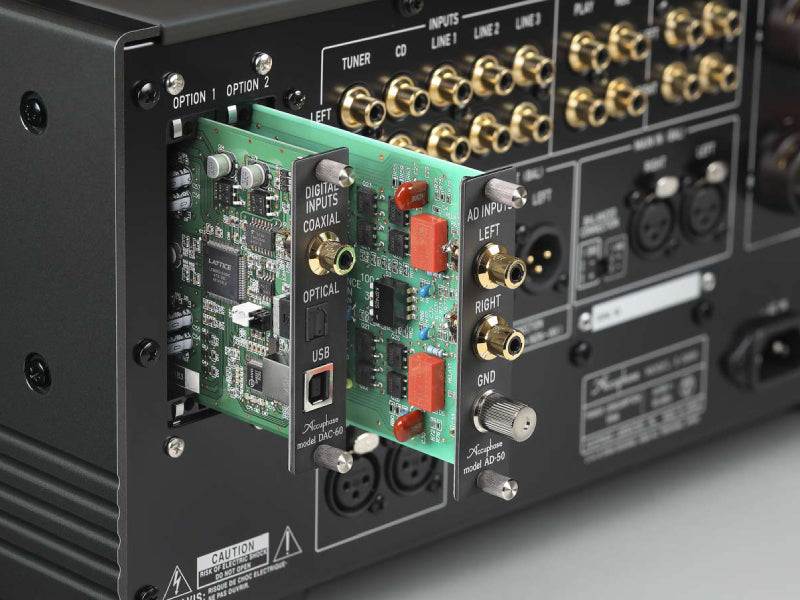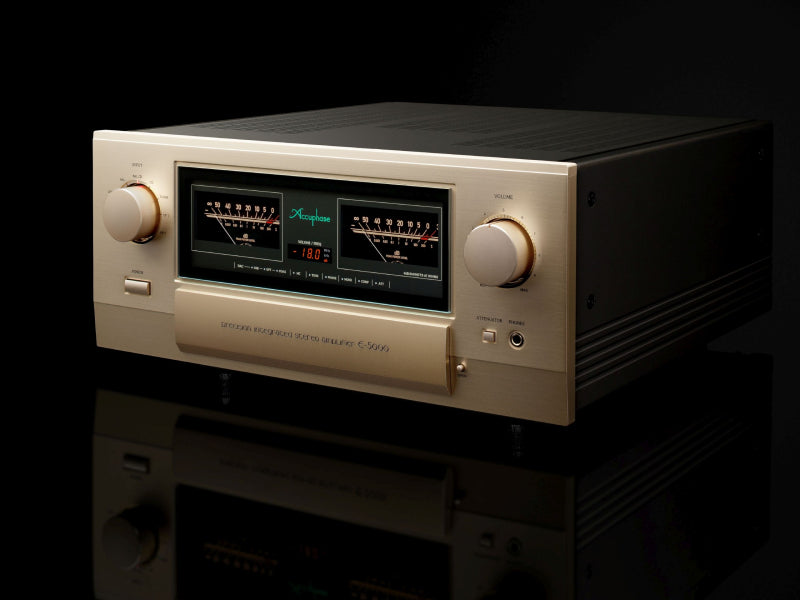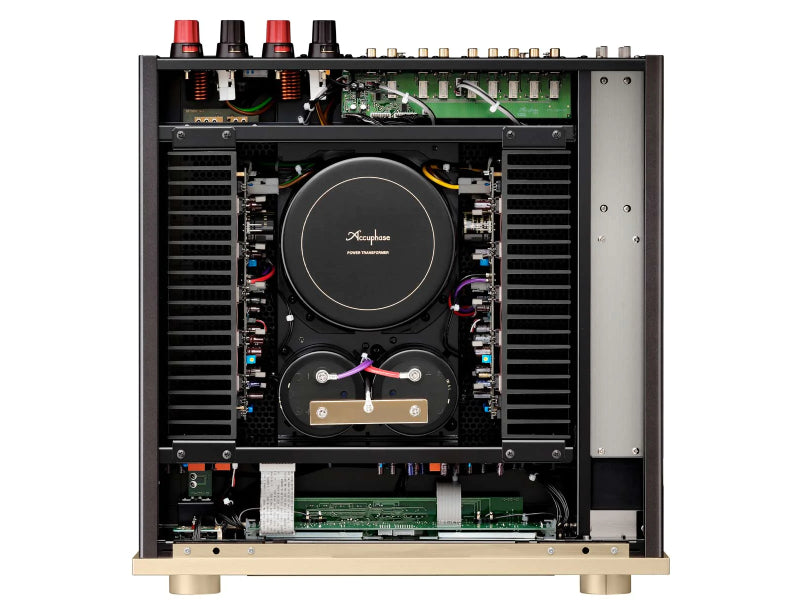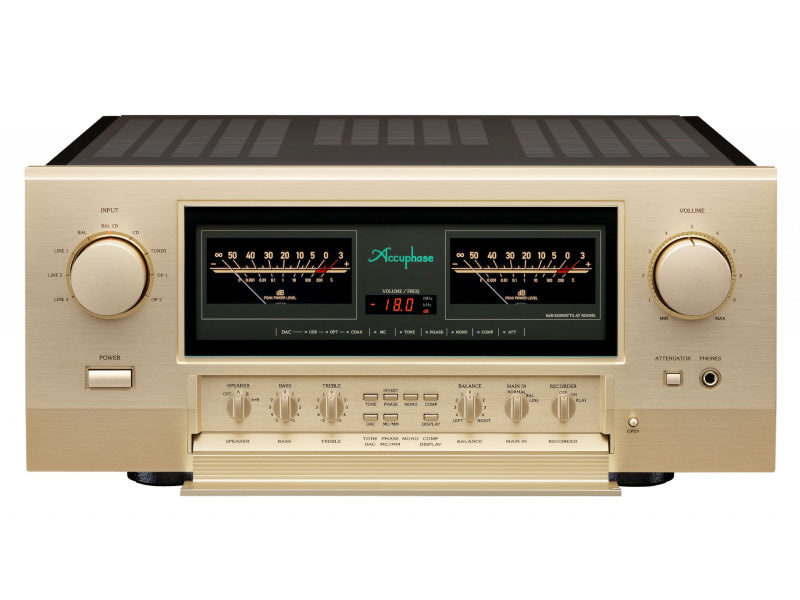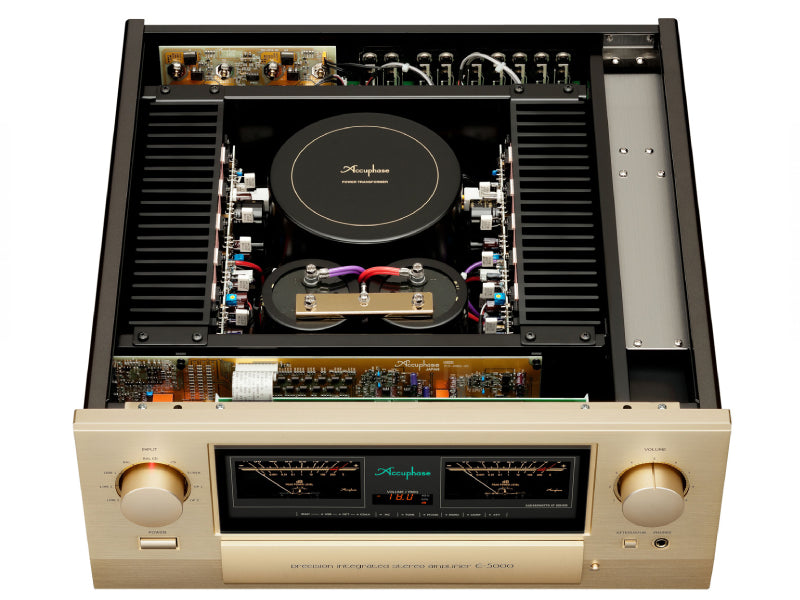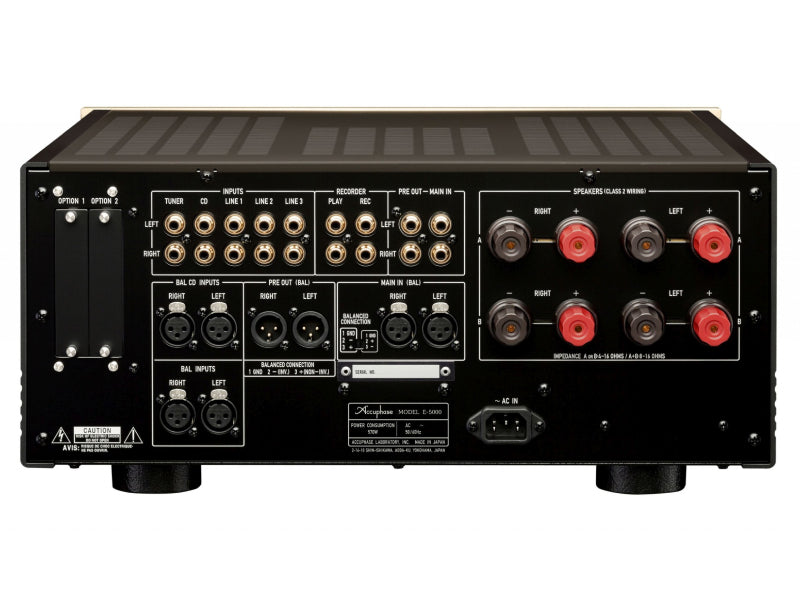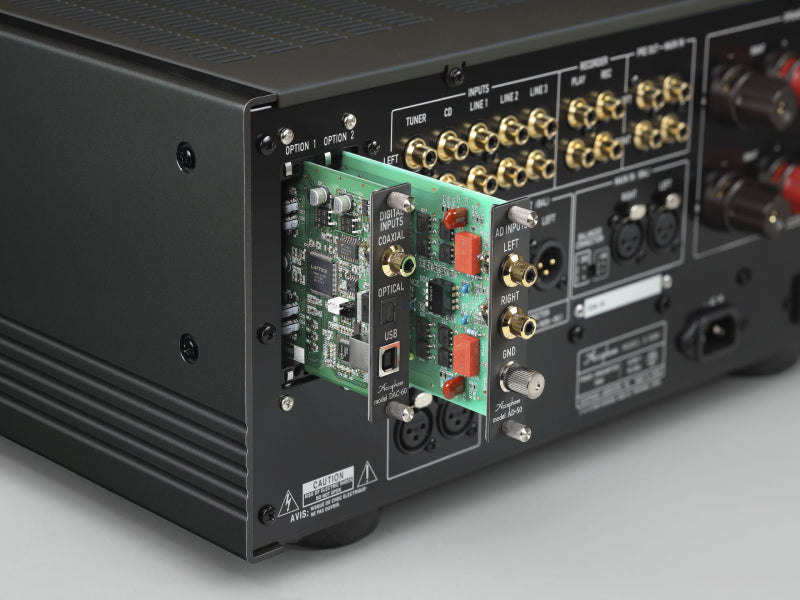 Accuphase E-5000 Integrated Amplifier
Orders ☎ 01925 828009
High-output integrated amplifier featuring Balanced AAVA
The E 5000 is the flagship high-power Class AB integrated amplifier developed to mark Accuphase's 50-year anniversary. The pre amplifier section features our superior Balanced AAVA volume control, while the power amplifier section includes an instrumentation amp and power transistors in a five fold push pull arrangement driven in Class AB. These circuits create a balanced circuit from input to output. With its precisely balanced circuits and solidly built output stage, the Accuphase E5000 integrated amplifier presents every piece of music in exquisite detail
Balanced AAVA volume control. Conventional pre amplifiers use variable resistors to adjust volume, which causes contacts to deteriorate and create grit as well as increase noise at normal volume levels. AAVA, however, produces multiple, widely varying signals from the input signal and controls volume by changing the combination of those signals. This achieves minimum noise at all volume levels without any grit. The E-5000 with its balanced AAVA circuits delivers exceptional noise suppression performance.

Quiet and smooth volume sensor design. The AAVA controls the volume levels by using its volume sensor to detect the position of the volume knob and then changing the combination of those signals. Accuphase developed the volume sensor in-house, using robust and heavy materials and crafting it using an aluminium block extrusion process to achieve smooth operations, a solid operation feel, and precise position detection when rotating the knob. It also suppresses operation sounds when using the Remote Commander to allow for quiet and pleasant volume adjustment.

Formidable power amplification stage. The power amplification stage on both the left and right sides is equipped with a large heat sink and employs five fold parallel push pull power transistors driven in Class AB to provide rated, high power output of 240 watts into 8 ohms and 320 watts into 4 ohms.
High damping factor brings out the full potential of the loudspeakers. The damping factor represents the amplifier's ability to drive the speakers. A damping factor of 1,000 (guaranteed) extracts the maximum potential from the loudspeakers.

Power supply circuitry designed for optimum stability. A strong power supply featuring a massive toroidal transformer and two high voltage, large filtering capacitors (40,000 μF/100 V) offers a stable power supply at all times.

Advanced Features
Balanced AAVA volume control

Highly reliable logic control signal switching relays

Ample input connectors – Five line level and two 

balanced

Line level input and output connectors for 

a recorder

Individual phase setting for each input

Stereo signal can be switched to monophonic 

operation

Left / right balance control through Balanced AAVA

Volume attenuator that can instantly reduce sound 

as low as –20 dB

Loudness compensator to adjust audible sonic 

balance

Tone controls using summing active filters

Power amplification stage employs 

instrumentation amplifier principle

Current feedback amplification circuit topology 

assures excellent phase characteristics in high 

range

Speaker output protection circuit guards against 

short circuiting

Protection circuitry using low impedance, highly 

reliable MOS-FET switches

Two massive speaker connectors for output 

switching and simultaneous output

Line level and balanced outputs at the pre amplifier 

section support bi-amping connection

Line level and balanced inputs at the power amp 

section allow use as a power amplifier

Dedicated, high quality headphone amplifier 

constructed with discrete components

Two expansion slots for option boards

When AD-50,  AD-30,  AD-20 is installed 

MC / MM switching from the front panel

When DAC-60, DAC-50, DAC-40 is installed 

DAC switching from the front panel 

Sampling frequency display of digital input signal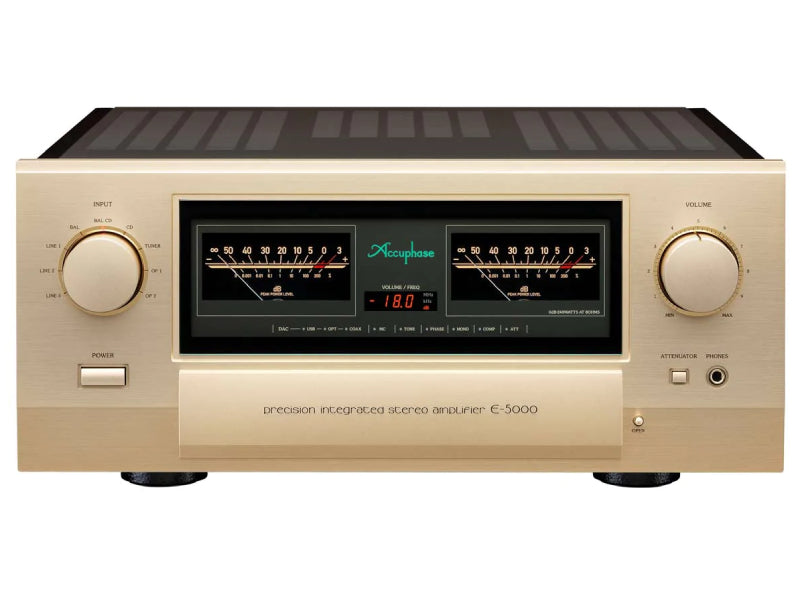 Accuphase E-5000 Integrated Amplifier
Sale price

£13,500.00
Regular price
Choose options