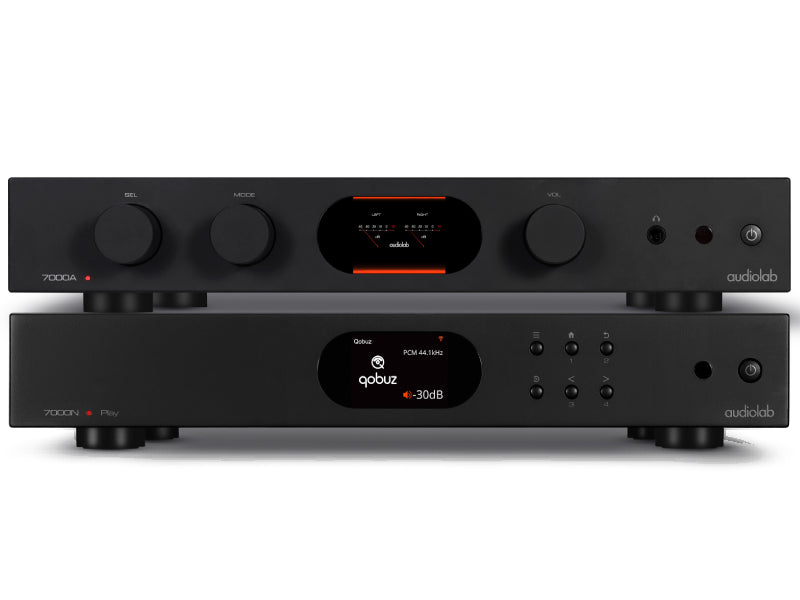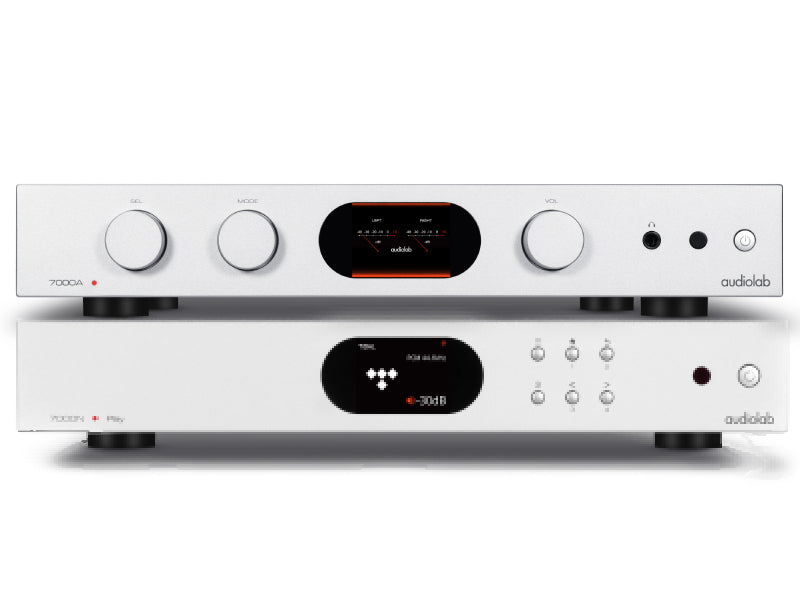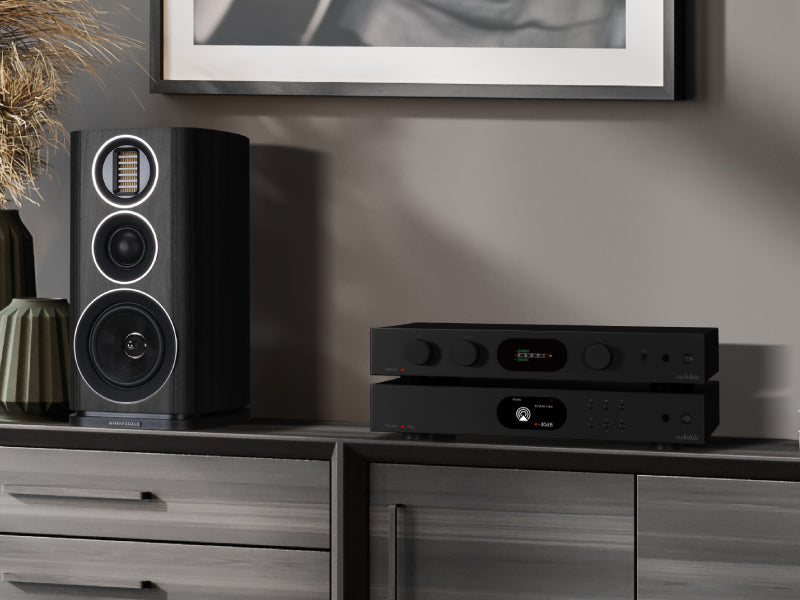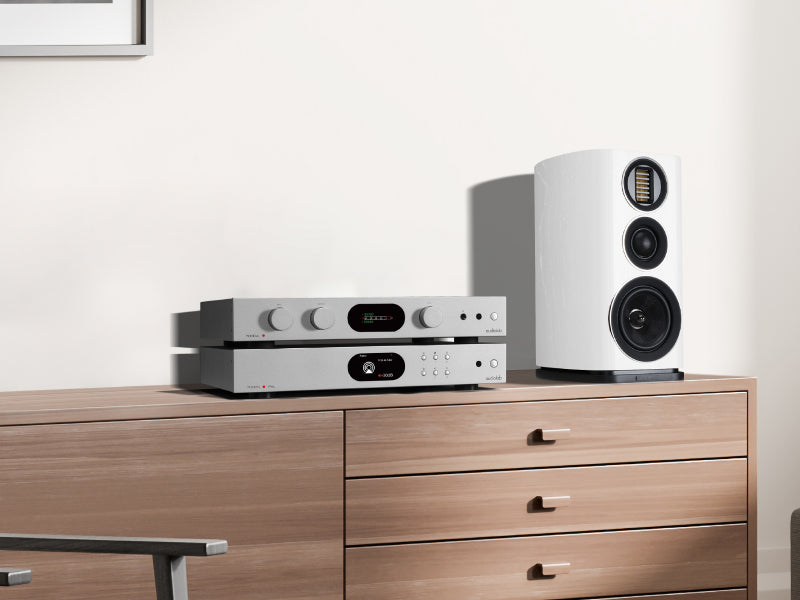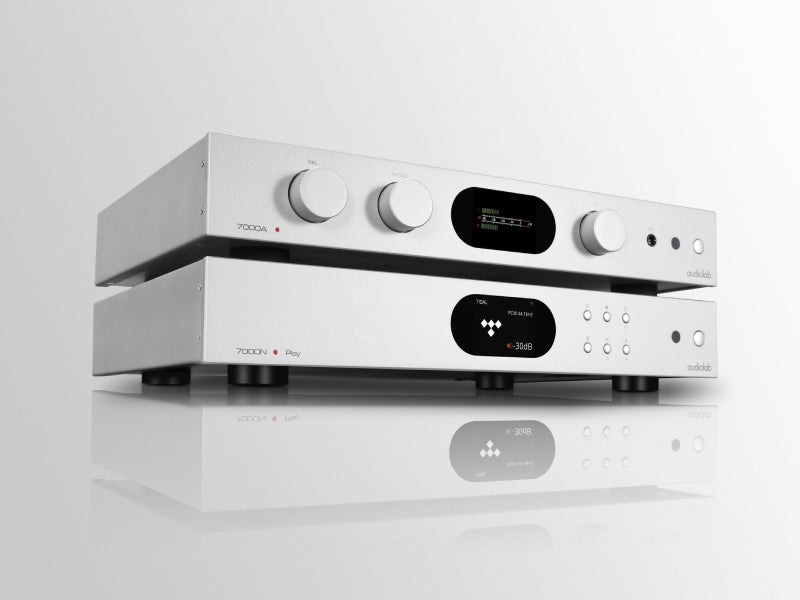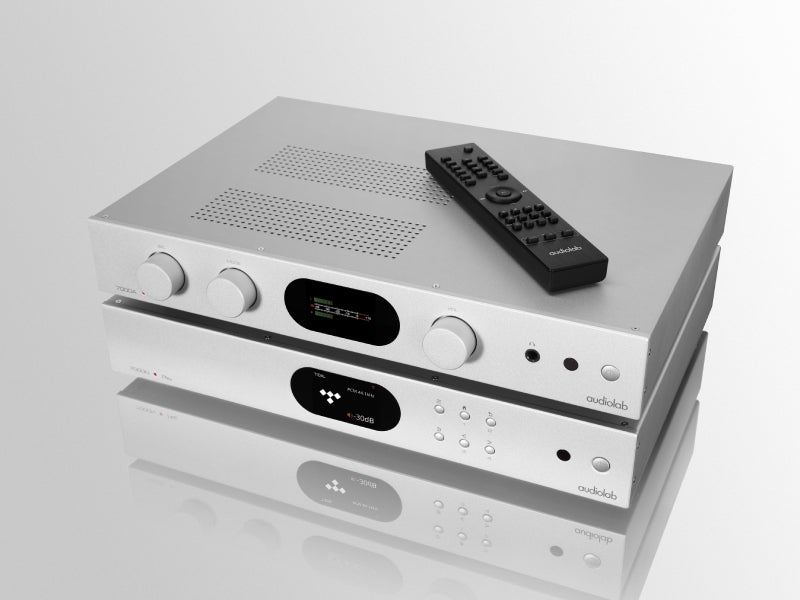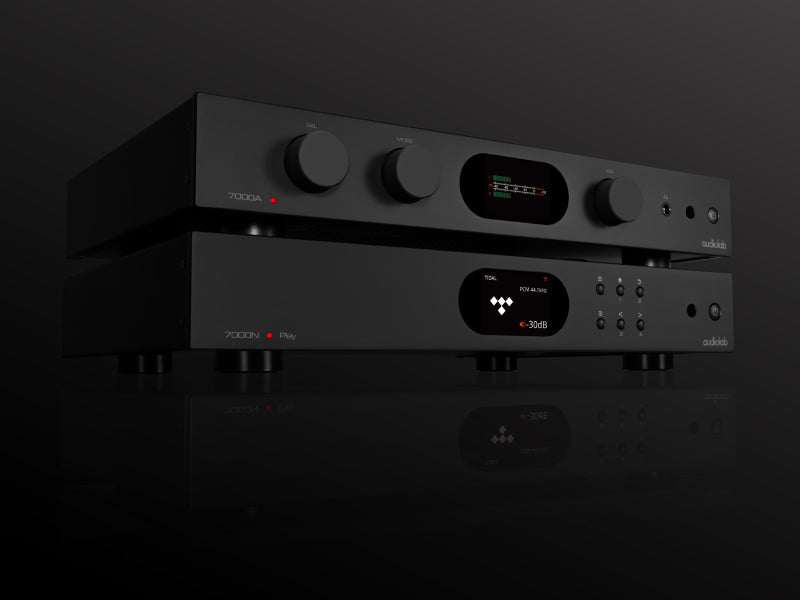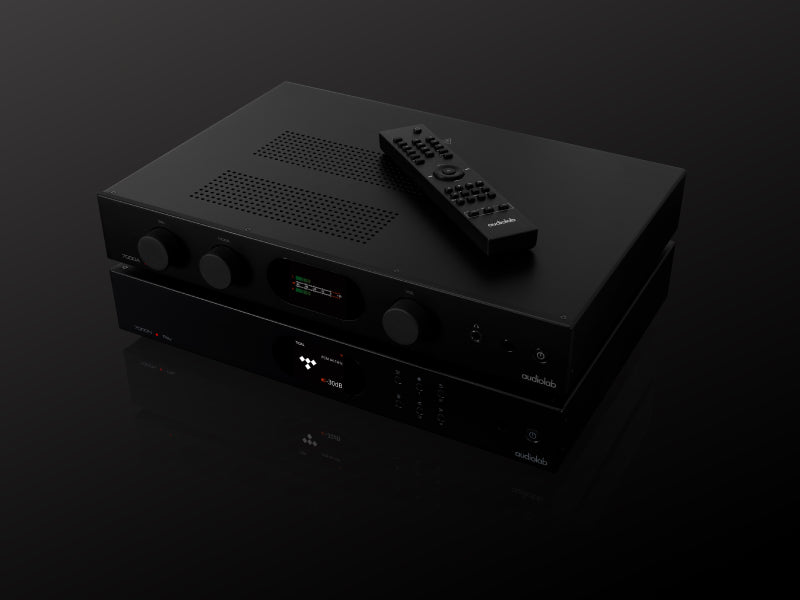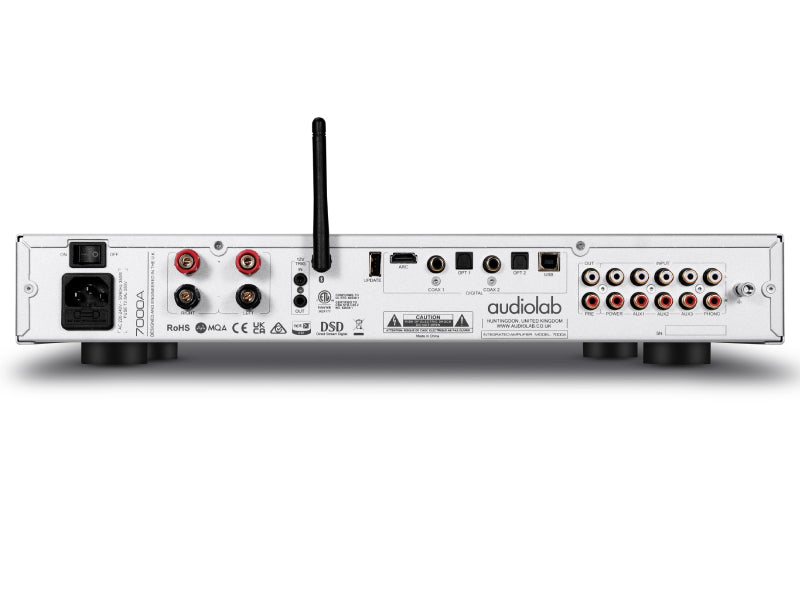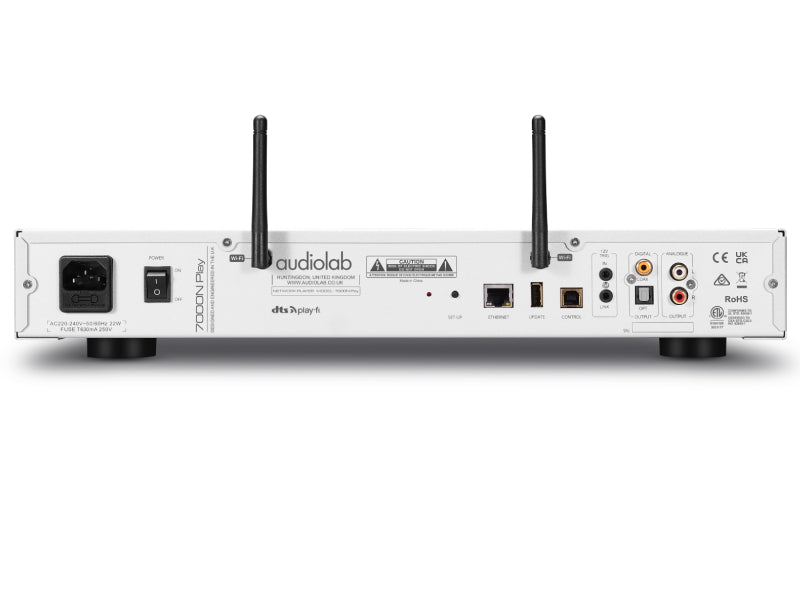 Audiolab 7000A Amplifier + 7000N Play Network Player
---
Sale price

£1,599.00
Regular price
(/)
1 in stock
Available to Order
Pickup available at Doug Brady HiFi
Usually ready in 1 hour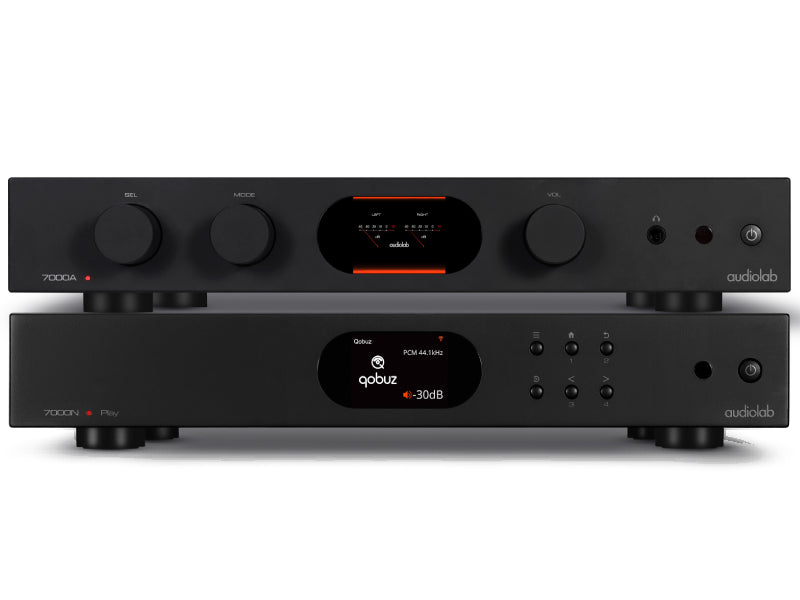 Audiolab 7000A Amplifier + 7000N Play Network Player
Black
Doug Brady HiFi
Pickup available, usually ready in 1 hour
Kingsway Studios
Kingsway North
Warrington WA1 3NU
United Kingdom
+441925828009
The new Audiolab 7000A with the 7000N Play combination has a 70W per channel output, a new DAC, with an excellent all-around acoustic performance and connectivity.
The Audiolab 7000N Play supplies hi-resolution wireless audio streaming to the 7000A Amplifier, the 7000N Play further expands on the multi-format, multi-platform, multi-source compatible DTS Play-Fi system, now with Apple AirPlay 2 compatibility.
Besides accessing your personal music library, the DTS Play-Fi platform offers a wealth of leading online music channels from around the globe. Spotify, Tidal, HD Tracks, Deezer, Amazon Music and Napster, to name a few. Browse a radio guide with thousands of stations and podcasts, or stream from a home media server with DLNA compatibility.
7000A Integrated Amplifier

Whatever the input source – analogue, digital, wireless or TV – the 7000A has been crafted to the same level of detail one has come to expect from audiolab, all with the latest tech to be fully equipped to cover many bases, yet it maintains a price point that keeps the audiolab brand at the forefront of quality home audio. Dual analogue inputs cater for CD players and line-level sources, dual Coax and SPDIF inputs expand this for the digital sources while a Bluetooth aptX receiver serves up a solution for wireless audio playback and smart devices. Following the growing trend for direct living room integration of premium audio electronics and there for more in tune as the centrepiece of your home audio system, the 7000A takes connectivity to a new dimension with a built-in Audio Return Channel (ARC) connection for use with screens – thus bringing the audiolab dynamic to TV-app based music playback and home theatre. And let's not forget the direct-to-PC connection via USB
Turntable phono input.
The 6000A is applauded for its ability to offer an integrated phono pre-amp solution. The 7000A builds on this with a further improved phono stage for moving magnet phono cartridges – using an improved version of the high-quality, low noise MM Phono circuit and precise RIAA equalisation that sets the benchmark in 'built-in' phono preamplifier solutions.
Dedicated Headphone Amp
Enhancing the versatility claims of the 7000 series, the dedicated headphone amp with current-feedback circuitry caters for the head-fi that lurks in the audiophile! Its gain bandwidth and high slew rate ensure a dynamic, detailed and engaging performance with all manner of headphone types – more boxes ticked for this most integrated of integrated amplifiers.
7000N Network Player

.
Wi-Fi®
 

Technology

Featuring DTS Play-Fi® Technology, music can be streamed over your wireless network in high-resolution format and can be easily expanded to a multi-room system if required. You can stream from any source on your wireless network, including smartphones, tablets or PCs as well as a NAS Drive.
7000N Play Specifications
| | |
| --- | --- |
| General Description | Wireless Audio Streaming Player |
| Design Philosophy | ESS Sabre ES9038Q2M Reference DAC |
| and Core Technology | - Isolated Power Supply |
| | - 2.8" (480 x 640mm) Full View IPS LCD |
| | - DTS Play-Fi Technology |
| | - Streaming Service Support includes Amazon Music, |
| | Spotify, TIDAL, KKBox, SiriusXM, Napster, Internet Radio, |
| | Deezer, iHeartRadio, PANDORA, Qobuz, QQ Music and |
| | more) |
| | - Apple Airplay 2 compatible |
| | - Multi-room / Multi Speaker Group Support |
| | - Android / iOS / Kindle Fire/ Windows PC Control Support |
| | - Automatic Equipment Activation Via 12V Trigger And Link |
| | - Wired Internet Connection For High Bandwidth Applications |
| | - USB Firmware Upgrade Input |
| Digital Section | |
| Digital Output Intensity | 500 +/- 50mVpp |
| Output Impedance | 75 ohms |
| Frequency Response | -0.01dB (20Hz-20kHz, ref.1kHz) |
| Max. Sampling Frequency | 192kHz / 24-bit |
| | |
| --- | --- |
| Digital Outputs | 1 x Coaxial, 1 x Optical, 1 x RCA Line Output |
| D to A Converter | |
| Variable Output Voltage | 0 – 2.1V |
| DAC | ES9038Q2M |
| Frequency Response | +/-0.5dB (20Hz-20kHz, ref.1kHz) |
| Total Harmonic Distortion (THD) | <0.0005% (1kHz @2.1Vrms) |
| Max. Sampling Frequency | 192kHz / 24-bit |
| Signal-to-Noise Ratio (S/N) | >115dB (A-weighted) |
| Output Impedance | 100 ohms |
| General | |
| Standby Power Consumption | <0.5W |
| Dimensions (mm) (W x D x H) | 444 x 340 x 78 |
| Carton Size (mm) (W x D x H) | 500 x 455 x 140 |
| Net Weight | 5.0kg |
| Gross Weight | 6.1kg |
| Finish | Black / Silver |
| Power Requirements | 220-240V ~ 50/60Hz |
| (depending on region) | 100-120V ~50/60Hz |
| Safety Regulation Conformity | 20-600 ohms |
| Standard Accessories | Power Cord, USB Cable, User Manual |
| | |
| --- | --- |
| General Description | Integrated Amplifier |
| Design Philosophy and Core Technology | - 2 x 70W (8 ohms) / 2 x 110W (4 ohms) Class AB |
| | - ES9038Q2M 32-bit DAC |
| | - 2.8" (480x640mm) Full View IPS LCD |
| | - Built in Certified Hardware MQA Full Decoder (PC USB, Coax / Optical) |
| | - Bluetooth 5.0 (aptX / aptX LL) Support |
| | - Low Noise Moving Magnet Phono Stage |
| | - Dedicated Current-Feedback Headphone amp |
| | - Integrated / PRE-POWER / PRE only Modes |
| | - VU Digital / VU Analogue Meter |
| | - USB Upgrade Support |
| Inputs | 3 x Analogue, 1 x Phono (MM), 1 x Power Amplifier, |
| | 2 x SPDIF (Coax), 2 x SPDIF (Optical), 1 x HDMI ARC, |
| | 1 x PC USB (USB B), 1 x Bluetooth (aptX/aptX LL), 1 x 12V Trigger |
| Outputs | 1 x PRE Amplifier, 1 x Stereo Speaker, 1 x Headphone, 1 x 12V Trigger |
| Sampling Frequency | Optical / Coaxial: 44.1kHz - 192kHz; |
| | PC USB: 44.1kHz-768kHz (PCM) / DSD64, DSD128, DSD256, DSD512 |
| Preamplifier Section | |
| Gain | +6dB (Line); +55dB (Phono MM) |
| Input Sensitivity | 820mV (Line, Volume = 0dB); 3.1mV (Phone MM, Volume = 0dB) |
| Input Impedance | 10K (Line); 47K // 100pF (Phono MM) |
| Total Harmonic Distortion (THD) | < 0.0005% (1kHz @ 2V, Volume = 0dB) |
| Frequency Response | 20Hz-20kHz (+/-0.1dB) |
| Output Voltage | 2.3V max. (Volume = 0dB) |
| Output Impedance | 100 ohms |
| Signal-to-Noise Ratio | > 110dB (Line, A-weighted); > 76dB (Phono MM, A-weighted |
| | |
| --- | --- |
| DAC | |
| D to A Converter | ES9038Q2M |
| Total Harmonic Distortion (THD) | < 0.0005% (1KHz @ 0dBFS) |
| Output Level (0dBFS, 1kHz) | 2.1Vrms |
| Max. Sampling Frequency | Optical, Coaxial: 192kHz; |
| | Ethernet, WiFi: 192kHz; |
| | USB A: 48kHz; |
| | PC USB: PCM768kHz, DSD512 |
| Power Amplifier Section | |
| Gain | +29dB |
| Rated Power Output | 2 x 70W (8 ohms, THD<1%); 2 x 110W (4 ohms, THD<1%) |
| Frequency Response | 20Hz-20kHz (+/-0.3dB) |
| Total Harmonic Distortion (THD) | <0.003% (1kHz @ 40W / 8 ohms) |
| Input Sensitivity | 720mV |
| Signal-to-Noise Ratio (S/N) | > 110dB (A-weighted) |
| Max. Output Current | 9A |
| Headphone Amplifier | |
| Total Harmonic Distortion (THD) | < 0.01% (1kHz, 50mW) |
| Output Impedance | 4.7 ohms |
| Load Impedance | 20-600 ohms |
| General | |
| Standby Power Consumption | <0.5W |
| Net Weight | 8.4kg |
| Gross Weight | 10.7kg |
| Dimensions (mm) (W x D x H) | 444 x 340 x 78 |
| Carton Size (mm) (W x D x H) | 500 x 455 x 140 |
| Finish | Black / Silver |
| Power Requirements | 220-240V ~ 50/ 60Hz; |
| (depending on region) | 100-120V ~ 50/ 60Hz |
| Standard Accessories | Power Cord, Remote Control, User Manual, Antennas, etc. |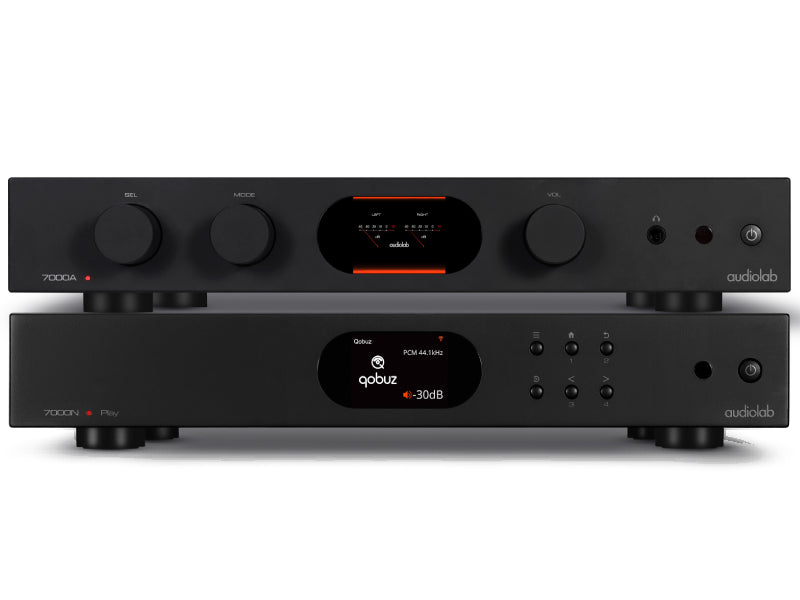 Audiolab 7000A Amplifier + 7000N Play Network Player
Sale price

£1,599.00
Regular price
Choose options