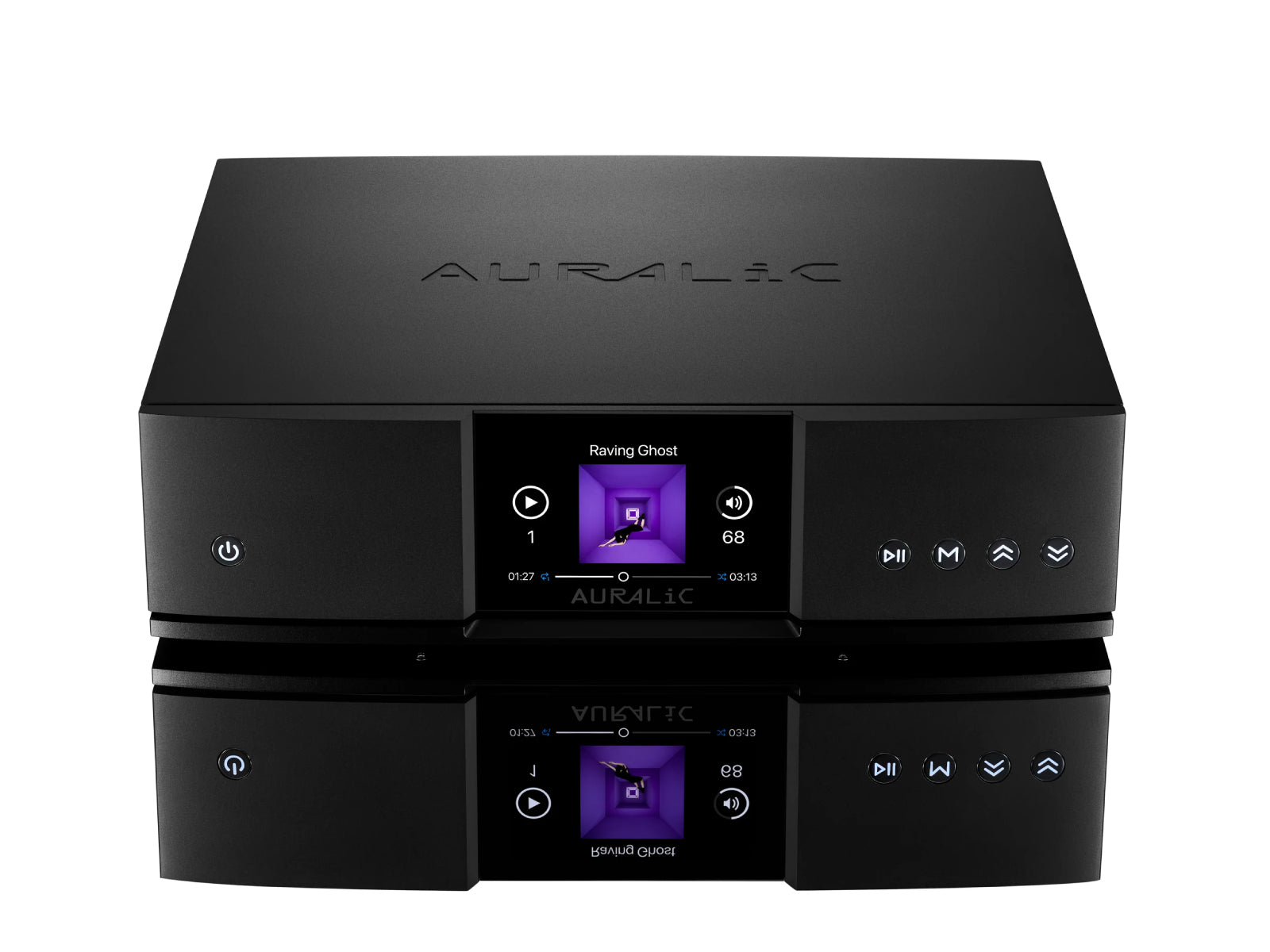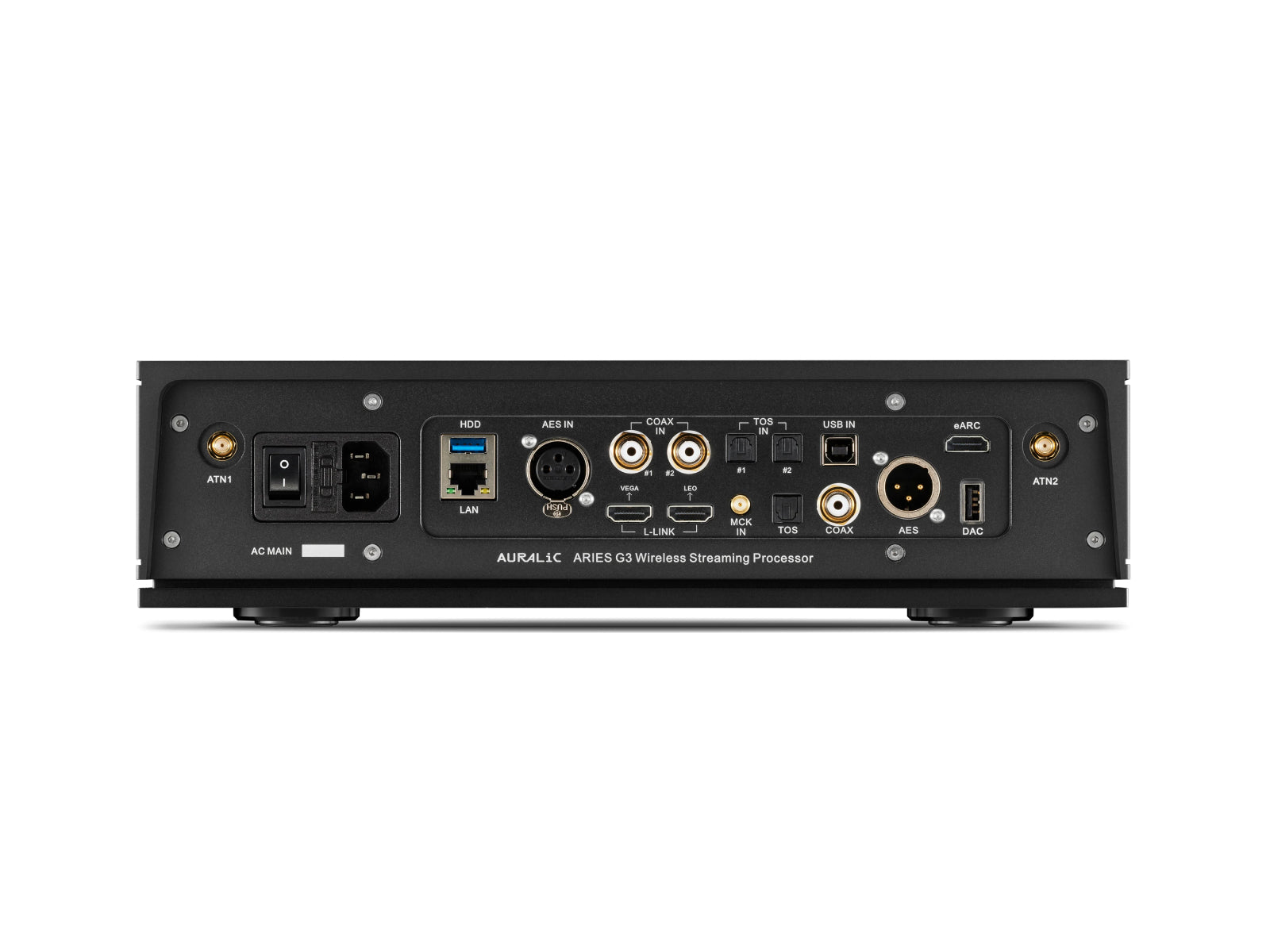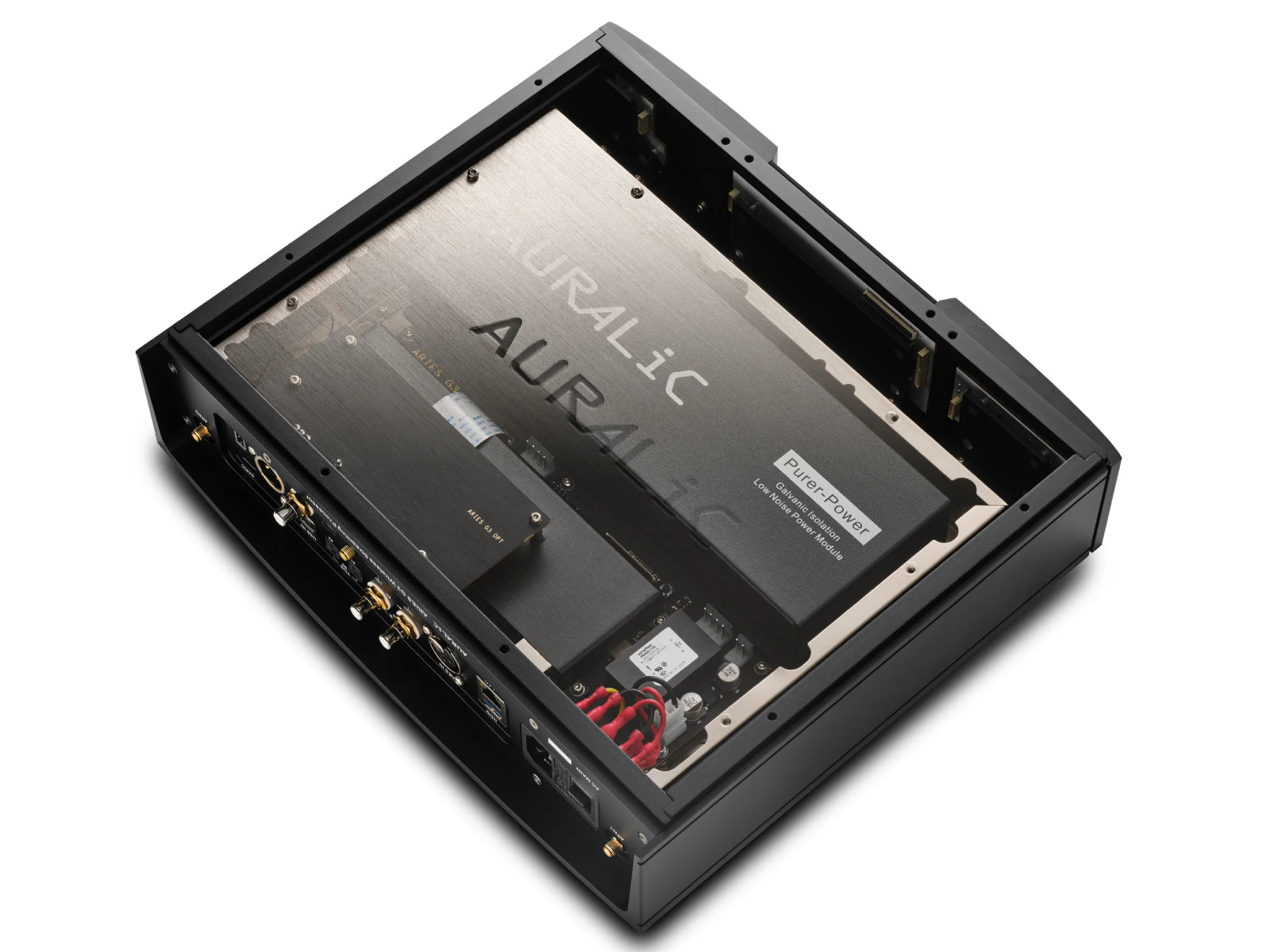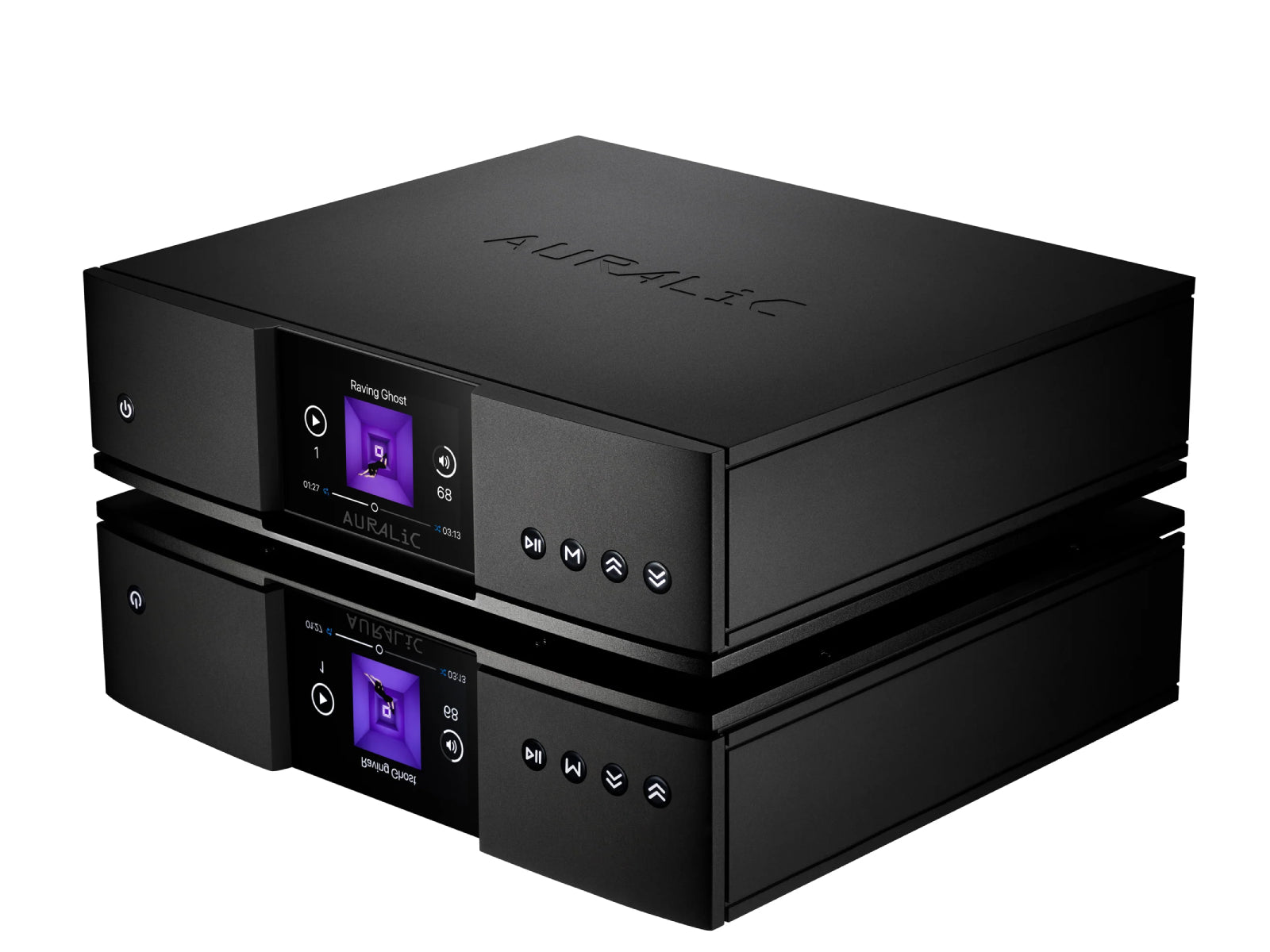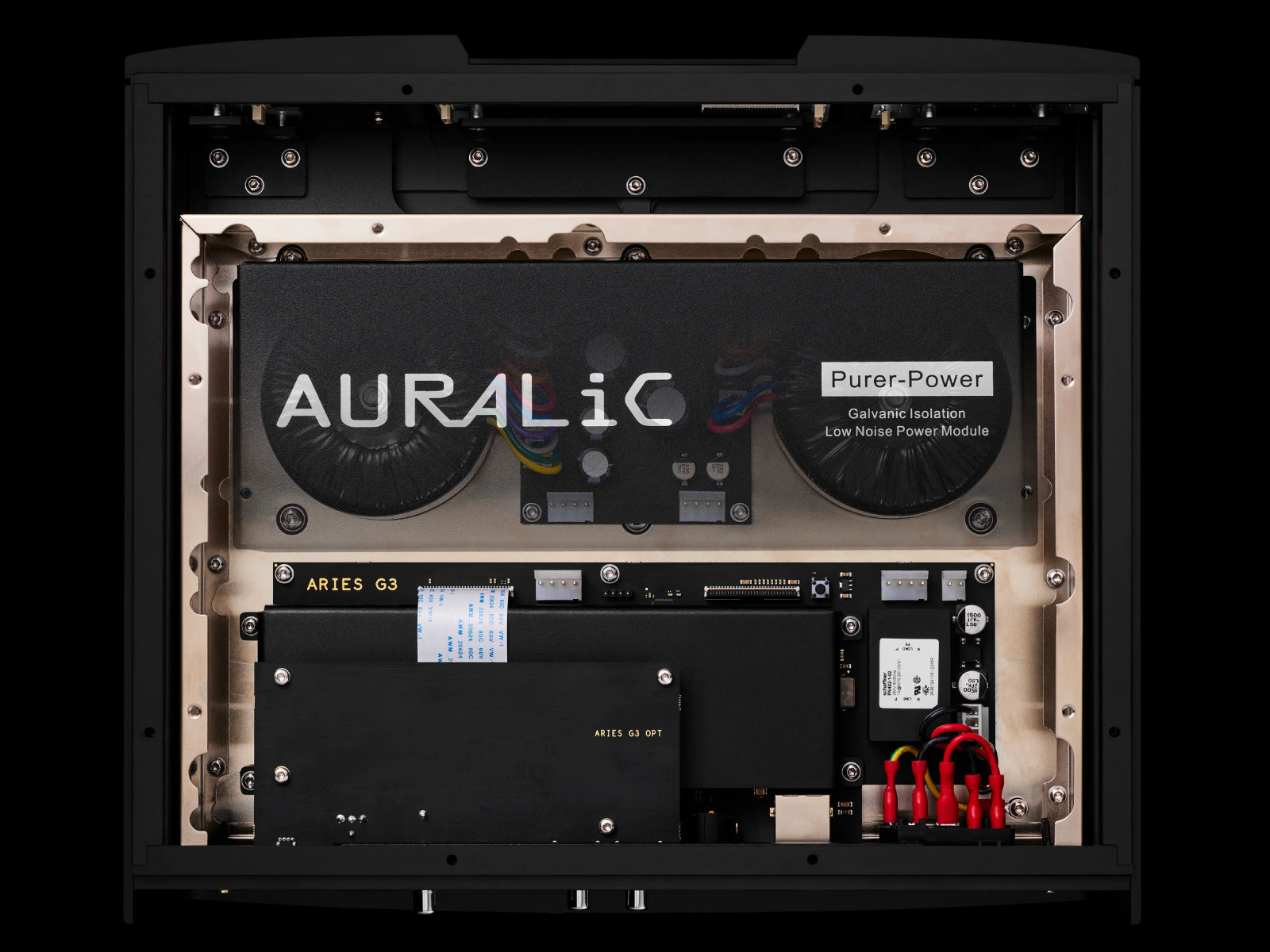 Auralic ARIES G3 Wireless Streaming Processor
Sale price

£9,899.00
Regular price
(/)
Available to Order
Available to Order
Orders ☎ 01925 828009
The Auralic ARIES G3 is a high performance streaming transport, it offers multiple inputs and a powerful co-processor that enables it to function as a preamplifier for digital connections. This makes the ARIES G3 an ideal centerpiece for your digital system. In addition to the improvements made the ARIES G3 features several other significant advances:
Eight times the processing power, increased memory capacity, and Direct Memory Access (DMA) technology for reduced latency and jitter.
Improved performance and compatibility, second-generation galvanic isolation technology, and a Purer-Power low noise power supply design.
Up to ten times faster read and write speeds, while USB 3.0 support allows for external music storage.
Multiple inputs, preamplifier functionality, dual femto clocks for precision, and the Proteus X1 co-processing platform for optimized audio signal.
Enhanced precision and accuracy in digital audio outputs, delivering refined and nuanced audio reproduction.
New streaming platform
The ARIES G3 incorporates AURALiC's new Tesla G3 streaming platform, using a 64-bit architecture that enables it to achieve eight times the processing power of the previous version. The memory capacity has also been increased to 4 GB, and Direct Memory Access Technology (DMA) has been integrated into the system. These advancements are engineered in such a way in that all audio-related circuits to connect directly to the system memory, substantially reducing latency and jitter by 90% comparing to its predecessor.
Flexibility to Explore
ARIES G3 offers multiple input choices, enabling you to use your preferred music playback software effortlessly. It is 100% compatible with OpenHome based control software like BubbleUPnP and Linn Kazoo, as well as being a certified RoonReady endpoint for optimized performance within your Roon ecosystem.
Enjoy the convenience of TIDAL Connect and Spotify Connect support, and experience seamless compatibility with Apple AirPlay 2 protocol. Elevate your music experience with the ARIES G2.2 - where choice meets premium audio performance.
Lightning DS for Apple iOS
The ultimate control app designed exclusively for our streaming devices. Experience the power of seamless music management with our user-friendly interface, putting you in complete control. Browse and play your favorite tunes from various sources, including local files, streaming services, and internet radio, all with ease. Our app's intuitive layout and efficient navigation make it a must-have for audiophiles and music enthusiasts alike.
Made in the USA

In a significant step for the company the G3 products have been designed and made in the USA, the Airies G3 will be hand-built in AURALiC's Oregon facility. AURALiC is thrilled to announce a future collaboration with Dirac to incorporate their cutting-edge technology into the product line. This partnership will enable AURALiC to integrate Dirac's advanced technology, which will contribute to ensuring that products remain at the forefront of innovation and deliver the highest quality audio experience.
Proteus X1 Co-Processor
Proteus X1 co-processor is built around a Xilinx XC7A200T FPGA chip with over 200,000 logic cells and 740 DSP slices. This chip shares the Tesla G3 system memory, enabling powerful data processing capabilities. With advanced processing techniques, Proteus X1 elevates the listening experience. Sub optimal and early digital recordings can benefit from Proteus X1's impressive processing power. The optimization process removes harshness and potentially improves the experience of listening to an inferior recording. Music gains substance, space, and extra dynamic range as a result.
Multiple Digital Inputs
The ARIES G3 offers a comprehensive range of digital inputs, including USB Audio, Coaxial (2), Toslink (2), AES/EBU, and HDMI eARC (to be added via a software update in the future). Incoming signals from these inputs are recorded as binary data into the Tesla G3's memory, which eliminates any potential for jitter. The data can then be processed and corrected using Proteus X1, based on the user's preferences, before being outputted either as processed or bit-perfectly, with a defined latency, to the desired output channel.
NVMe Internal Storage
With the new Tesla G3 processing platform in place, this has upgraded their internal storage from traditional SATA based SSD or HDD to the most advanced NVMe (Non-Volatile Memory Express) SSD storage option.
This upgrade offers numerous benefits, including outstanding data transfer speeds and dependability, ensuring a seamless experience for storing and playing digital music.
Thanks to the Direct Memory Access (DMA) technology, NVMe storage offers significantly faster transfer speeds and lower latency than traditional storage options, resulting in improved performance and faster access to stored music.
Dual 60fs Femto Clock
ARIES G3 aims to be the best possible digital audio source, achieved by the implementation of a dual 60fs Femto clocks - one for 44.1x and another for 48x sampling rate frequencies. These audio-optimized clocks have extremely low close-in phase noise and can greatly enhance sound quality, setting a new standard for signal timing. For the ultimate performance, adding LEO GX.1 will deliver a true state-of-the-art digital source experience.
Still have some love for your old CDs? Not to worry; you can plug a generic USB CD drive into your ARIES G3 then choose to play a CD, rip a CD while playing, or just rip.

As with AURALiC's Lightning file streaming, our unique CD playback feature uses the same advanced, jitter-reducing Memory Playback technology. CD data is first read, and compared several times for accuracy into the system cache before playing. The result is elimination of potentially induced jitter from the transport, canceling any negative effects from the quality of your chosen CD drive, potentially improving performance beyond what's offered from competitors' CD players.
Upgrades
The ARIES G3 is compatibility with the Auralic LEO GX.1 reference master clock, enabling users to achieve even greater levels of precision and accuracy when it comes to their digital audio outputs. By connecting to the LEO GX.1, these devices are able to take advantage of its advanced clocking technology, resulting in a more refined and nuanced audio reproduction. This compatibility represents a significant enhancement to the already-impressive performance of the ARIES G3, allowing users to experience their digital audio collection with even greater clarity and depth. It is a testament to AURALiC's commitment to innovation and dedication to delivering the best possible audio experience to its customers.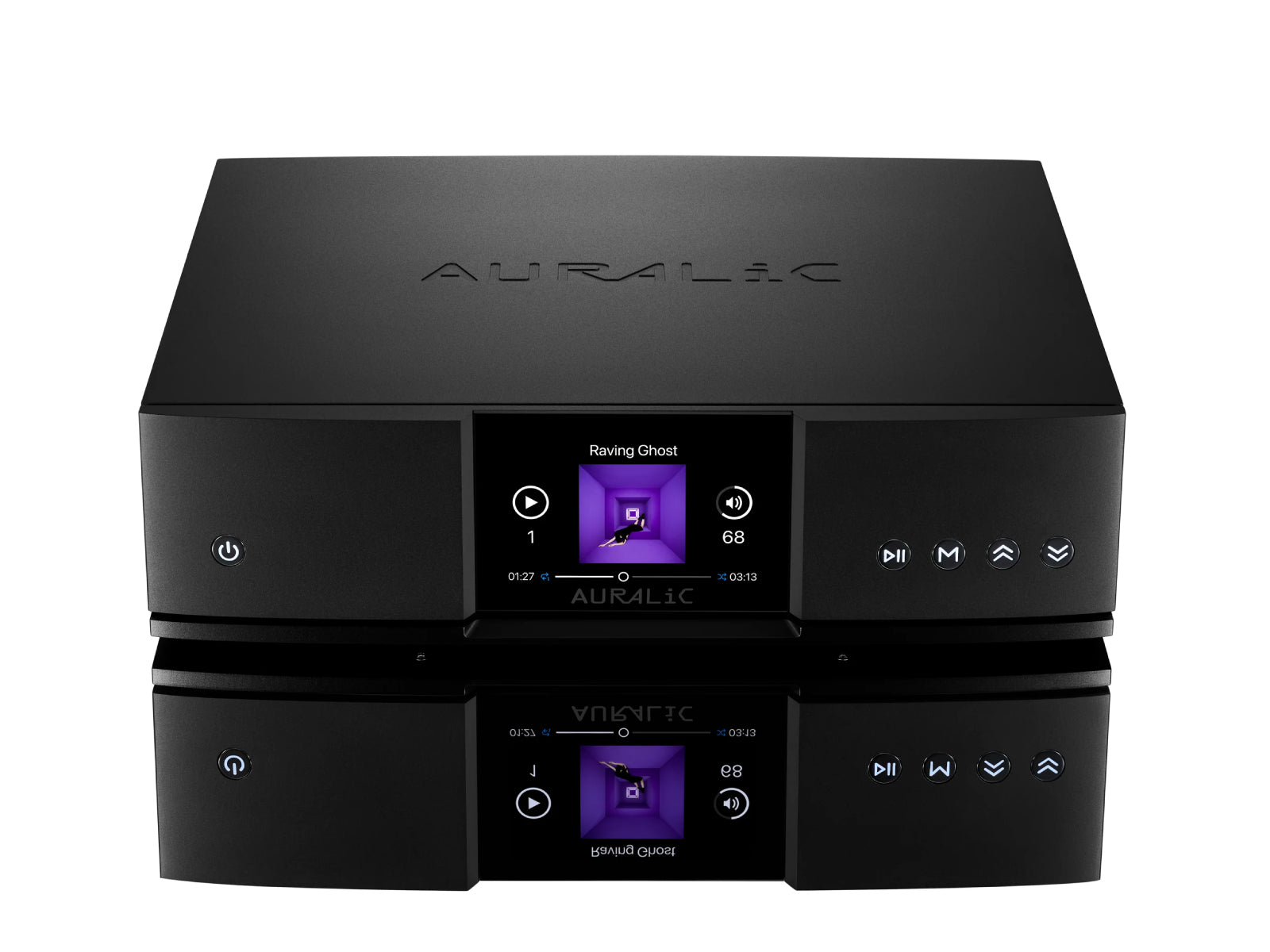 Auralic ARIES G3 Wireless Streaming Processor
Sale price

£9,899.00
Regular price
Choose options