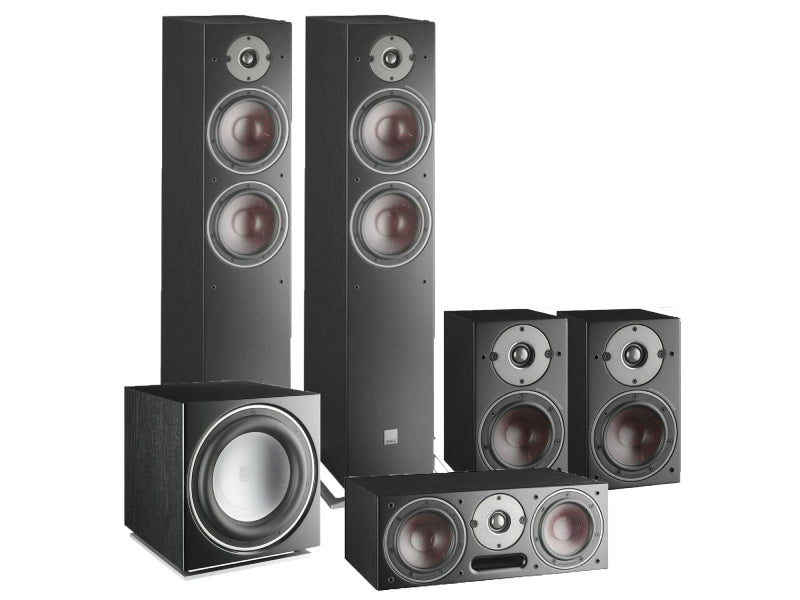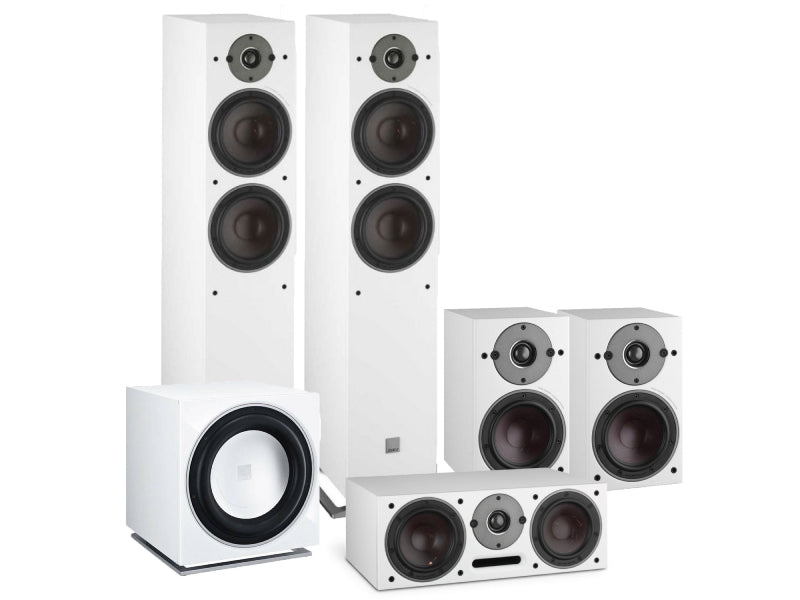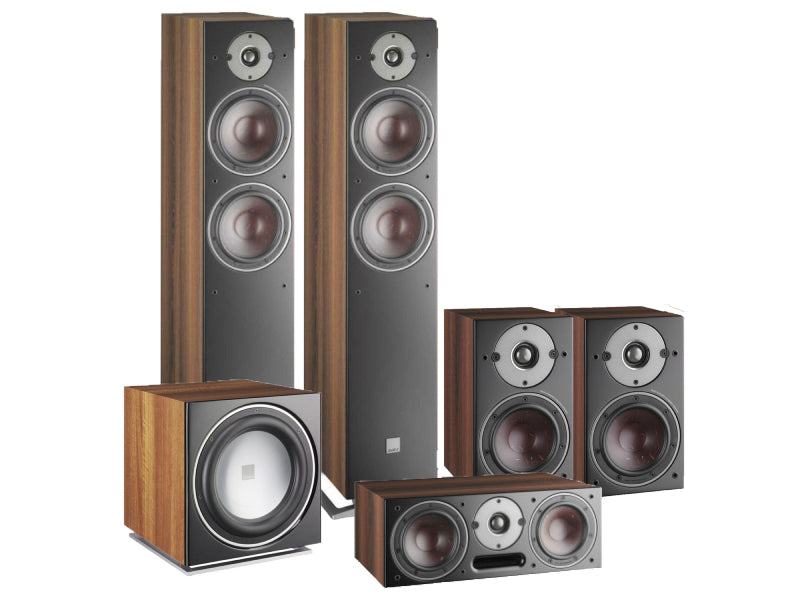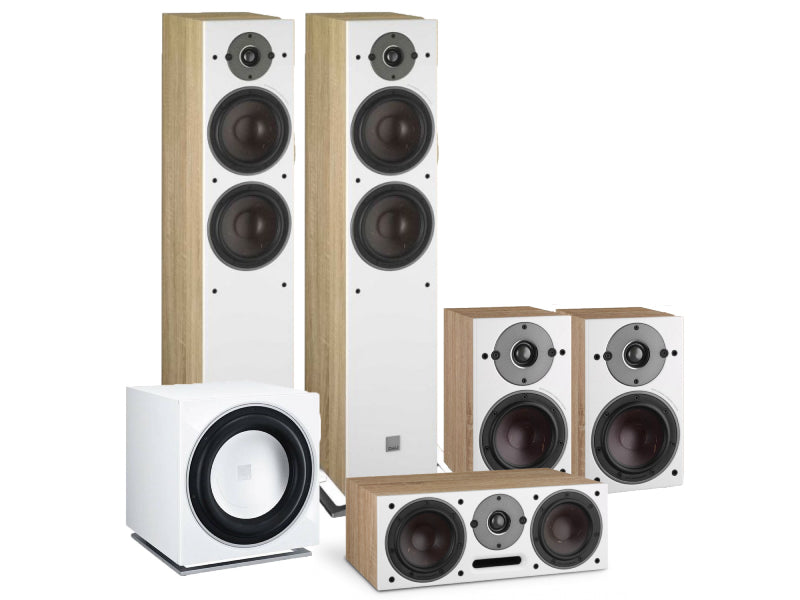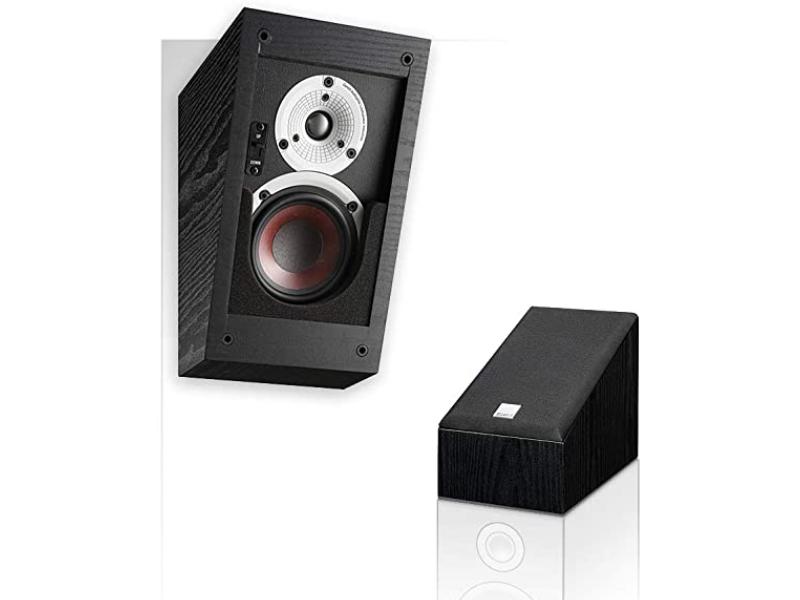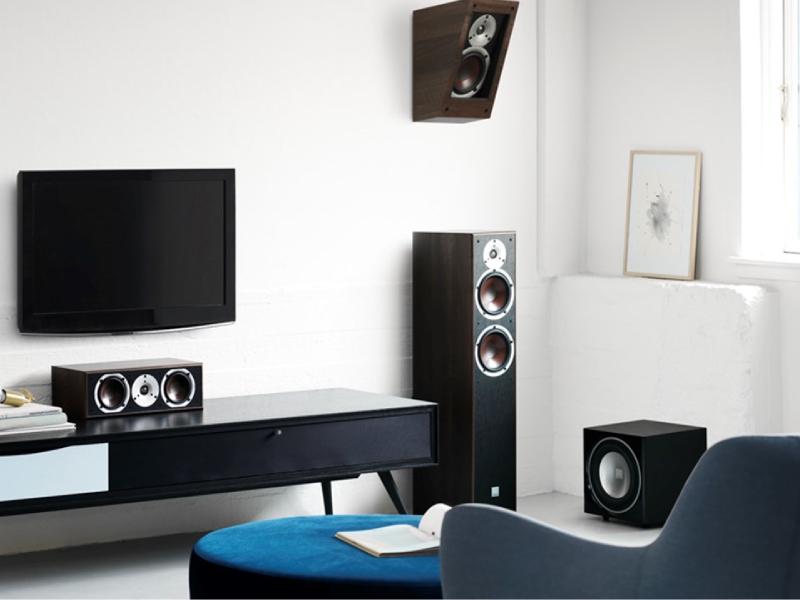 Dali Oberon 7 AV 5.1 Speaker System with E-12 F Sub
---
Sale price

£1,999.00
Regular price
(/)
1 in stock
1 in stock
Available to Order
Available to Order
Available to Order
Available to Order
Available to Order
Available to Order
Pickup available at Doug Brady HiFi
Usually ready in 1 hour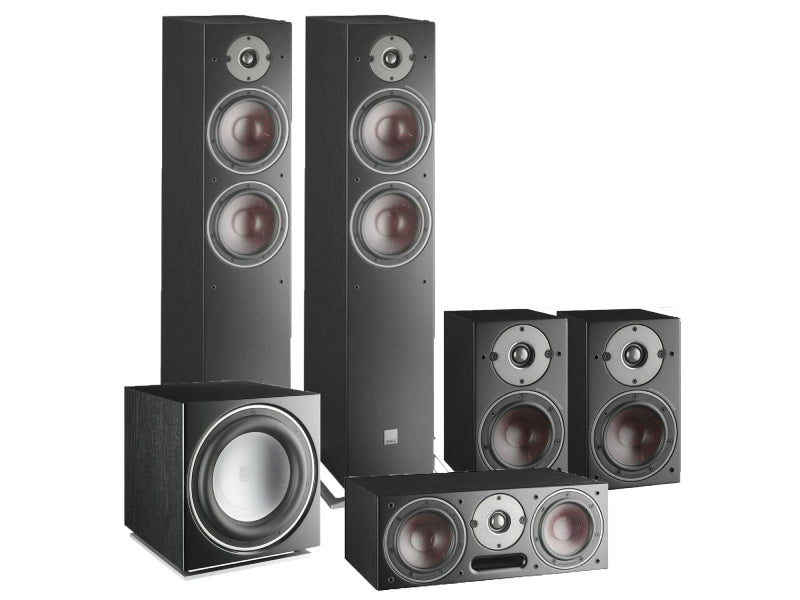 Dali Oberon 7 AV 5.1 Speaker System with E-12 F Sub
Black Ash / None
Doug Brady HiFi
Pickup available, usually ready in 1 hour
Kingsway Studios
Kingsway North
Warrington WA1 3NU
United Kingdom
+441925828009
Dali Oberon 7 AV Speaker System combines of a pair of Oberon 7 Floorstanding Speakers for the front with a Vokal centre, a E-12 F Subwoofer and a pair of Dali's Oberon 1 Bookshelf speakers at the rear, this package delivers dynamic sound, clarity and precision performance at an affordable price...
The floor-standing DALI OBERON 7 speaker is a true showcase of DALI ideas, traditions and inventions - all wrapped in an elegant and modern design. It redefines what is possible, both in audio quality and visual design, in its price range.

The two 7" woofers and one oversized 29 mm ultra-lightweight soft dome tweeter delivers the very best in deep bass and large room performance. Despite its size, this speaker is surprisingly delicate and will impress with its ability to render any music style naturally and lifelike.
The DALI OBERON VOKAL delivers a precise, clear and detailed sound performance for both your movie as well concert sound track. It is designed to be the perfect match with any of the speakers in the OBERON series for a complete surround system. It houses an 29 mm ultra-lightweight soft dome tweeter and 2 x 5.25" SMC based wood fibre woofers - combining technologies which make it possible to create a speaker that will render audio like a much larger model.
The SUB E-12 features a 12" woofer, capable of moving plenty of air with power and precision. The cone is made from pure aluminium for maximum stiffness and a becoming exterior. Furthermore, the heavy magnet system wields a massive 4-layer, long-stroke voice coil. All in all, the heavy-duty abilities of this "motor system" ensure that the woofer always follows the signal from the amplifier!
The heart of this subwoofer is the 170W RMS Class D amplifier with a highly linear response. Embracing a classic DALI trademark, it simply acts as a total low frequency extension of your AV system. The result is a powerful, well-balanced bass reproduction and flawless integration with your speakers. In addition, the integrated limiter helps protecting your subwoofer against overloading. 

The back plate of SUB E-12 F features controls for volume adjustment, phase, and upper cut-off frequency, while the power on/off function works automatically via signal detection. And with the options for LFE or LINE inputs, this subwoofer easily accompanies any AV set up.
The stand-mount DALI OBERON 1 (rear speakers) The oversized 29 mm ultra light-weight soft dome tweeter handles the highs and detailed mids, while the SMC based 5.25" wood fibre woofer renders the lower midrange and well-timed bass.
The DALI ALTECO C-1 (Atmos Speaker option) is truly a multi-purpose speaker. The perfect fit for adding height information to a surround setup or taking the role as an out-of-the-way stereo speaker. By designing the crossover for stereo use and by keeping a strict focus on DALI sound design principles, we have created a speaker that delivers believable height information from Atmos, DTS-X and Auro-3D movies.
The ALTECO C-1 delivers believable height information from Atmos, DTS-X and Auro-3D movies in surround setup - not only when "firing up" using the ceiling as a reflector, but also "firing down" from a position up under the ceiling.
Specifications....
Oberon 7 Floorstanding Speakers

Frequency Range (+/-3 dB) [Hz]
36 - 26,000
Sensitivity (2,83 V/1 m) [dB]
88.5
Nominal Impedance [ohms]
6
Maximum SPL [dB]
110
Recommended Amplifier Power [W]
30 - 180
Crossover Frequency [Hz]
2,300
Crossover Principle
2-way
High frequency driver, Quantity
1 x 29 mm
High frequency driver, Diaphragm type
Soft Textile Dome
Low frequency driver, Quantity
2 X 7"
Low frequency driver, Diaphragm type
Wood Fibre Cone
Enclosure type
Bass Reflex
Bass Reflex Tuning Frequency [Hz]
39.5
Connection Input
Single Wire
Recommended Placement
Floor
Recommended Distance From Wall [cm]
20 - 80
Dimensions With Base (HxWxD) [mm]
1015 x 200 x 340
Weight [kg]
10.4
Dimensions With Base (HxWxD) [mm]
335 x 295 x 310
Weight [kg]

14.8

Accessories Included
Manual
Rubber Feet
Spikes
Front Grille
DALI OBERON 1 SPECS
Product series
OBERON
Frequency Range (+/-3 dB) [Hz]
51 - 26,000
Sensitivity (2,83 V/1 m) [dB]
86
Nominal Impedance [ohms]
6
Maximum SPL [dB]
106
Recommended Amplifier Power [W]
25 - 100
Crossover Frequency [Hz]
2,800
Crossover Principle
2-way
High frequency driver, Quantity
1 x 29 mm
High frequency driver, Diaphragm type
Soft Textile Dome

Low frequency driver, Quantity
1 X 5.25"
Low frequency driver, Diaphragm type
Wood Fibre Cone

Enclosure type
Bass Reflex

Bass Reflex Tuning Frequency [Hz]
50
Connection Input
Single Wire

Recommended Placement
Shelf or stand

Recommended Distance From Wall [cm]
1 - 50
Dimensions With Base (HxWxD) [mm]
274 x 162 x 234
Accessories Included
Manual
Rubber Feet
Front Grille

Weight [kg]
4.2
E-12 F

Frequency Range [+/-3] dB [Hz]
28 - 190
Maximum SPL [dB]
112
Crossover Frequency [Hz]
40 - 120
Low frequency driver, Quantity
1 x 12" long stroke
Low frequency driver, Diaphragm type
Polymer Aluminium
Enclosure Type
Bass Reflex
Bass Reflex Tuning Frequency [Hz]
36
Max. Amplifier Power Output [RMS watt]
220
Continuous IEC Power Output [RMS watt]
170
Input Impedance [ohms]
25k
Connection Input
Mono Line Level (LFE)
RCA
Stereo Line Level (low pass filtered)
Magnetic Shielding
No
Recommended Placement
Floor
Recommended Distance From Wall [cm]
> 5
Functions
Crossover Frequency
Phase Switch
Standby (Auto Power) On/Off Switch
Volume (Gain)
Max. Power Consumption [W]
250
Dimensions (H x W x D) [mm]
370 x 340 x 380
Weight [kg]
14.7
Accessories
Manual
Rubber Bumpers
Spikes M6
VOKAL

Frequency Range [+/-3] dB [Hz]
49 - 34,000
Sensitivity [2.83V/1m] [dB]
89.5
Nominal Impedance [ohms]
4
Maximum SPL [dB]
111
Recommended Amp. Power [Watt]
40-200
Crossover Frequency [Hz]
2,700 / 14,000
Crossover Principle
2 + ½ -way
High Frequency Driver
1 x 29 mm soft dome
Low Frequency Driver(s)
2 x 6½"
Enclosure Type
Bass Reflex
Bass Reflex Tuning Frequency [Hz]
36.5
Connection Input(s)
Bi-Wire/Bi-Amp
Recommended Placement
Centre/ Soundbar/ Stand/ Shelf
Recommended Distance from Rear Wall to Speaker's Rear Side
5-100
Dimensions (H x W x D) [mm]
197 x 581 x 400
Weight [kg]
13.8
Accessories
Rubber feet,
Polishing cloth,
Manual
Product series
ALTECO
Frequency Range (+/-3 dB) [Hz]
74 - 25,000 Hz
Sensitivity (2,83 V/1 m) [dB]
83.0 dB
Nominal Impedance [ohms]
6 ohms
Maximum SPL [dB]
103 dB
Recommended Amplifier Power [W]
40 - 100 Watt
Crossover Frequency [Hz]
2,100 Hz
Crossover Principle
2-way
High frequency driver, Quantity
1 x 21 mm
High frequency driver, Diaphragm type
Soft Textile Dome
Low frequency driver, Quantity
1 x 4.5"
Low frequency driver, Diaphragm type
Wood Fibre Cone
Enclosure type
Closed Box
Connection Input
Single Wire (Spring loaded push button)
Recommended Placement
On-Wall
On speaker
Recommended Distance From Wall [cm]
1 - 100 cm
Dimensions (HxWxD) [mm]
265 x 160 x 200
Accessories Included
Rubber Feet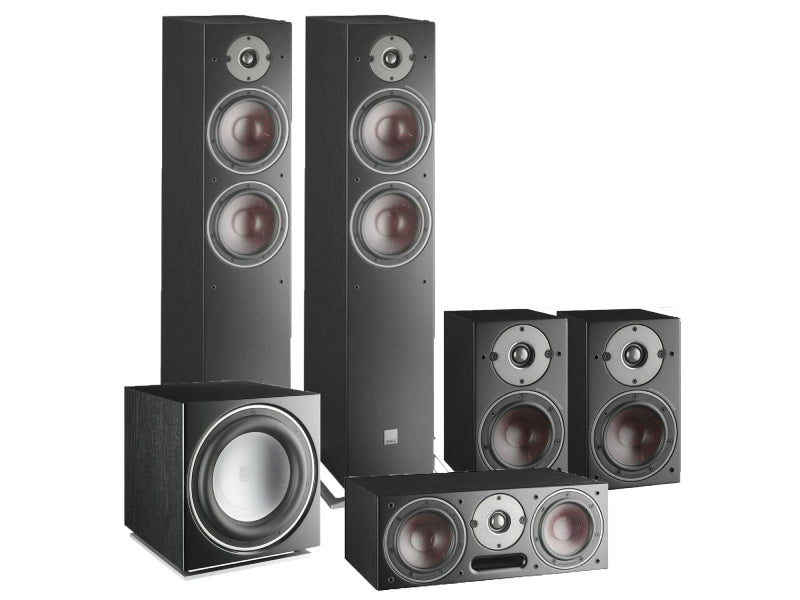 Dali Oberon 7 AV 5.1 Speaker System with E-12 F Sub
Sale price

£1,999.00
Regular price
Choose options