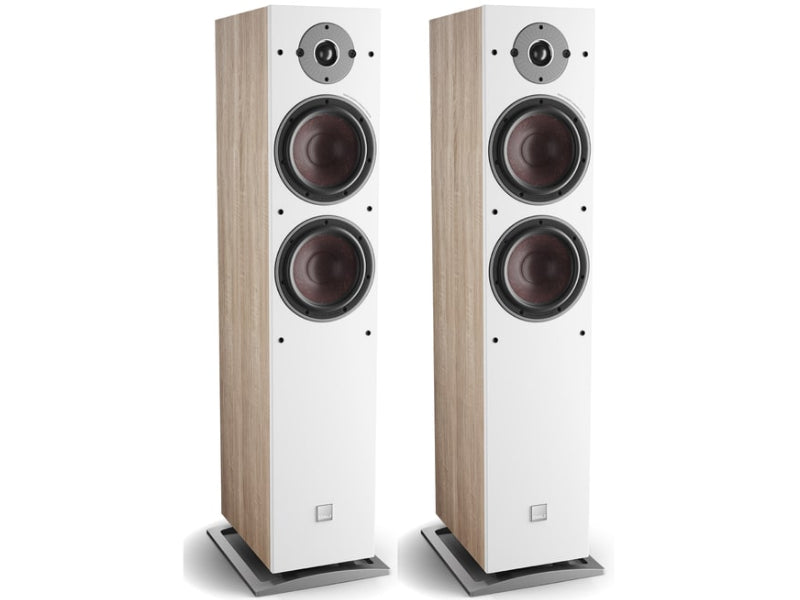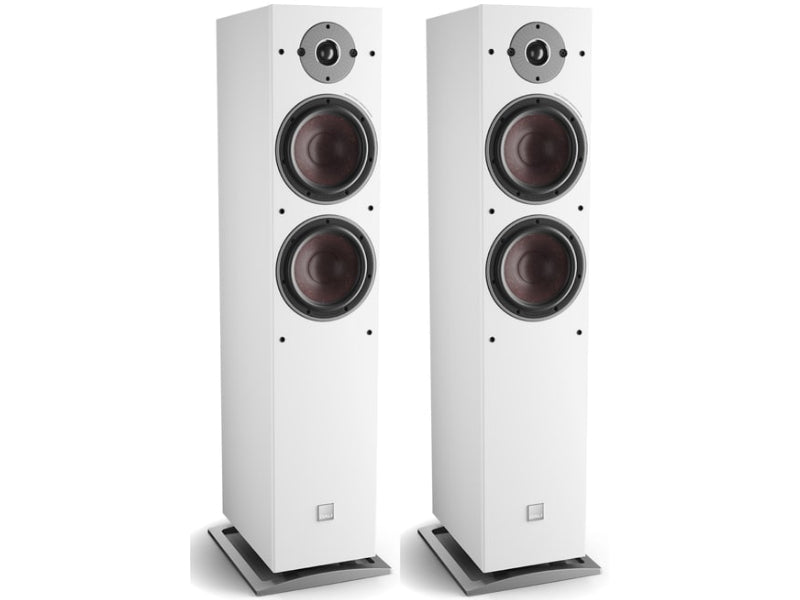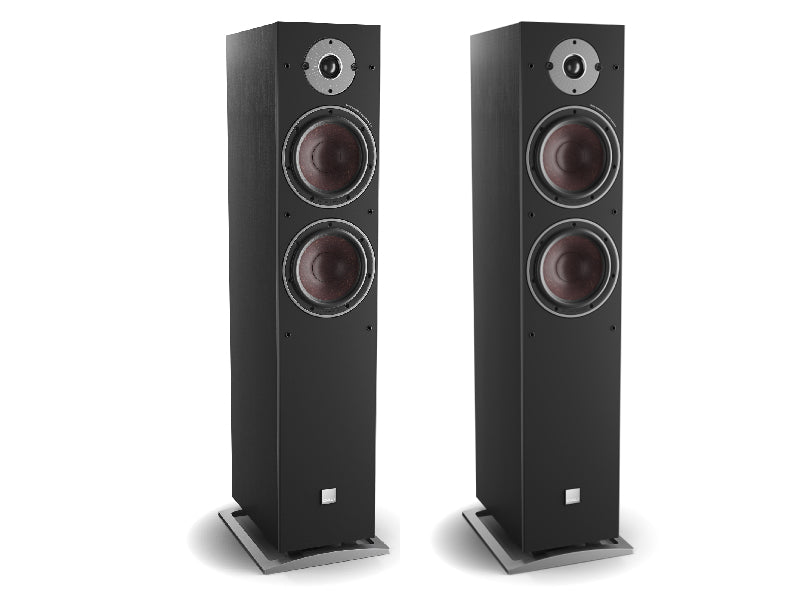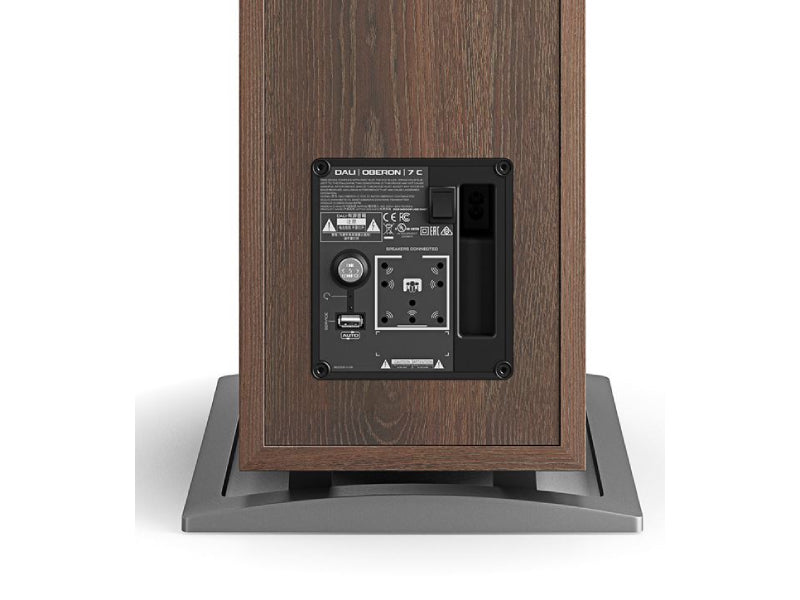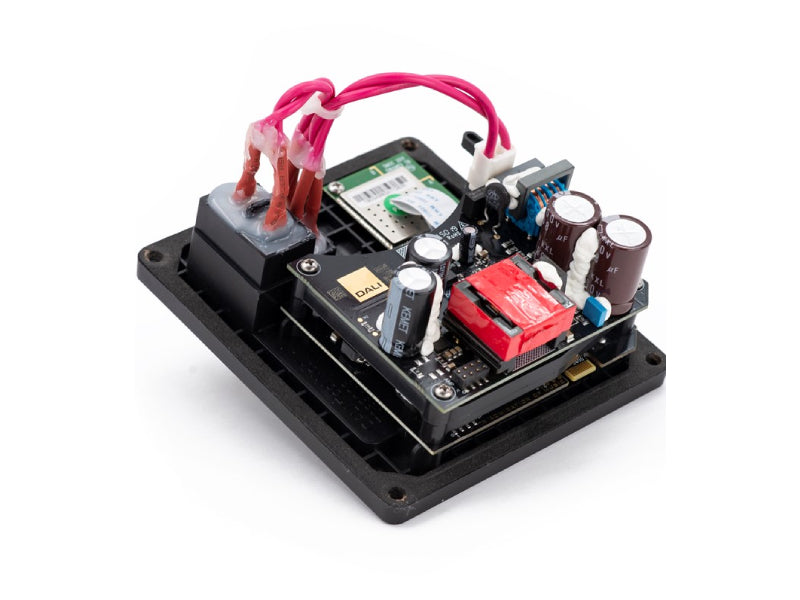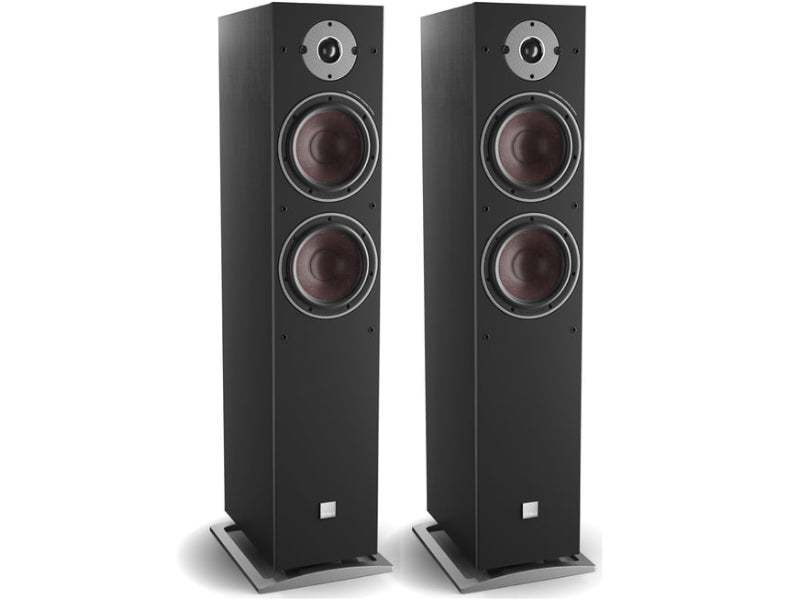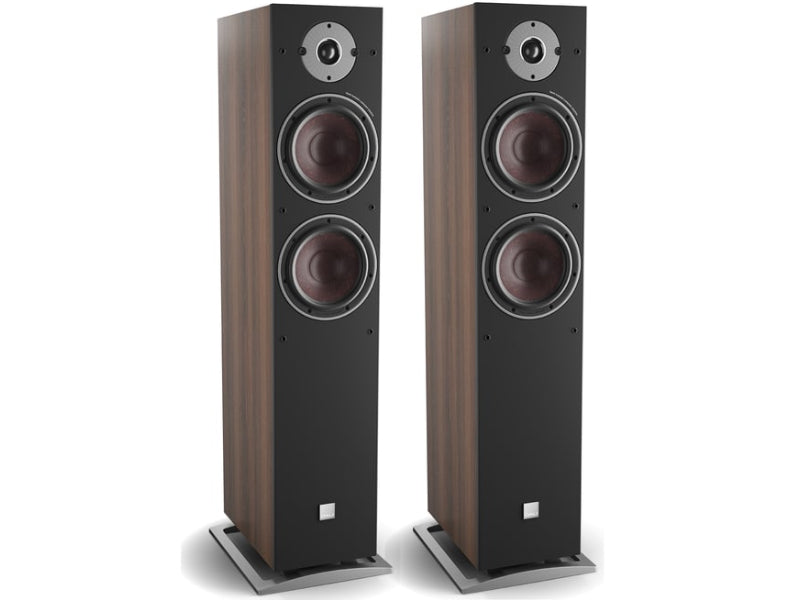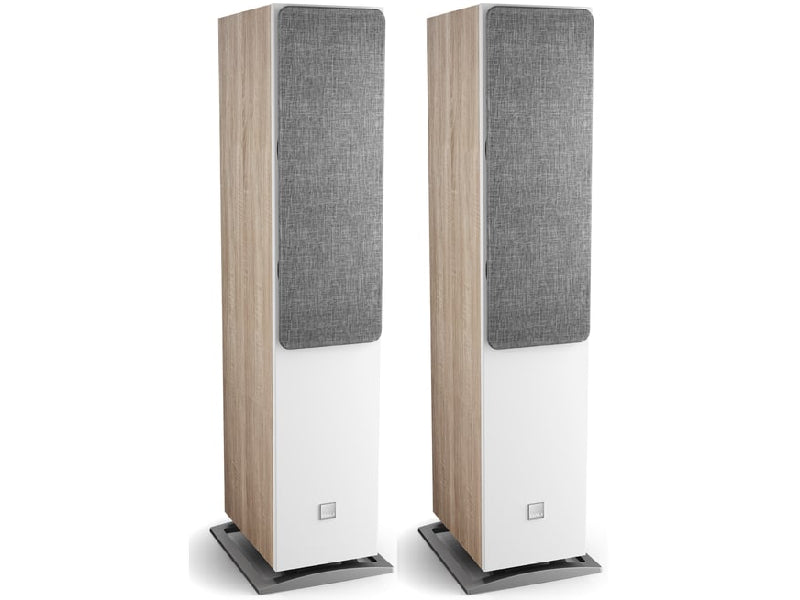 Dali Oberon 7 C Wireless Floorstanding Speakers
---
Sale price

£1,599.00
Regular price

£2,195.00
(/)
Available to Order
1 in stock
1 in stock
1 in stock
1 in stock
1 in stock
Available to Order
Available to Order
Available to Order
Available to Order
Available to Order
Available to Order
Pickup available at Doug Brady HiFi
Usually ready in 1 hour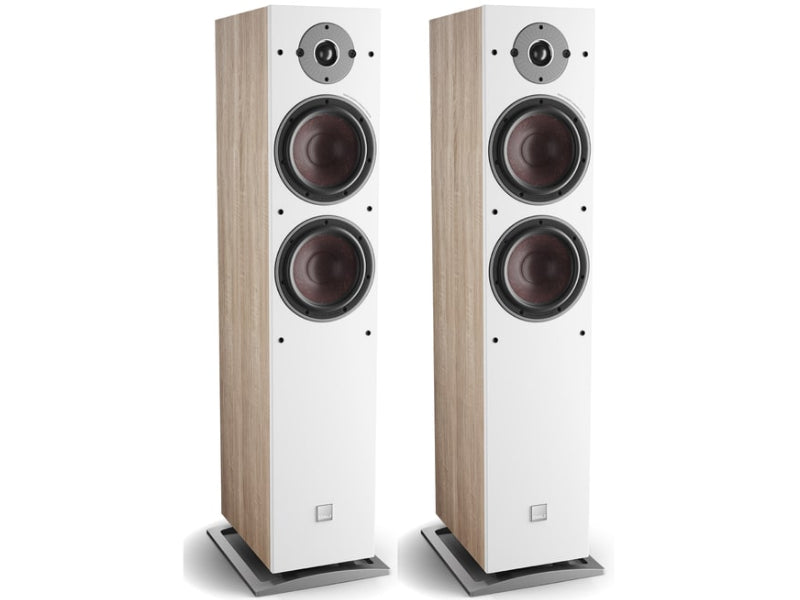 Dali Oberon 7 C Wireless Floorstanding Speakers
Light Oak / Sound Hub Compact
Doug Brady HiFi
Pickup available, usually ready in 1 hour
Kingsway Studios
Kingsway North
Warrington WA1 3NU
United Kingdom
+441925828009
The DALI OBERON 7 C is a set of active, wireless floorstanding speakers which can be enjoyed at higher volume levels. A great match for ambitious music lovers and audiophiles that want to make a statement with their audio system, the OBERON 7 C delivers the incredible sound of a traditional floorstander with the flexibility and convenience of an active wireless Hi-Fi speaker.
There is a small separate wireless connection box, called (Sound Hubs) which enables you to easily connect your wired equipment such as TVs or Turntables whist also incorporating the Bluetooth receiver.
The sound hubs transmit both digital and analgoue sources wirelessly to the Oberon 1 C Speakers. This means you can place the speakers anywhere in the room whilst the sound hub can be hidden away near your chosen source, such as your TV or even a turntable can be connected. 
There are two sound hub options to choose from....
SOUND HUB COMPACT.  (Bluetooth option)
The SOUND HUB COMPACT Bluetooth input enables smartphones, tablets, laptop or desktop computers, or any other Bluetooth audio source to stream your music wirelessly to your Oberon 7 C speakers, It also has 4 inputs including 1 phono, perfect for turntables (phone stage required,  2 optical and a HDMI ARC, input for TV audio - switching on and off in sync with the TV. Additionally it enables the use of the TV remote control to adjust volume and mute functions. It's compact dimensions mean is slim enough that it can even be located out-of-sight behind a wall-mounted TV.
DALI SOUND HUB.  (WiFi & Bluetooth option)
The DALI SOUND HUB with BluOS supports WiFi so you Benefit from Bluesound's incredible BluOS hi-res multi-room platform BluOS is devised by audiophiles for audiophiles to deliver the best digital sound quality imaginable throughout your house. Access almost any streaming service via the free BluOS app. MQA certified, you can take advantage of the ever-growing catalogue of studio master recordings that have been encoded into MQA and streamed on services like Tidal. The sound Hub is perfect for high resolution music streaming and multiroom functionality, as well as supporting Spotify Connect, AAC & Apt-X HD Bluetooth, Analogue (RCA & Mini Jack inputs), Coaxial RCA, 2 x Optical (Audio & TV inputs), USB output  and 2 x modular expansion ports one of which houses the DALI BluOS NPM-1 WiFi module.
Part of the DALI EQUI ecosystem of innovative wireless speakers, the OBERON 7 C pairs wirelessly with the DALI SOUND HUB or SOUND HUB COMPACT for a powerful wireless stereo setup or as part of a wireless multichannel surround sound installation.
The new Dali Oberon 7C floor-standing speaker has two 7 inch wood fibre cones featuring DALI's patented SMC technology - and the same ultra-lightweight 29mm soft dome tweeter as the OBERON 1 C.

The power amplification comprises two 50 Watt-peak, closed-loop Class-D power amplifiers chosen specifically for their sound quality and dynamic ability. One amplifier powers the high frequency driver, one powers the twin bass/mid drivers. The 100dB signal-to-noise ratio of the power amplifiers ensures that even the smallest detail in a quiet musical passage is reproduced with clarity and accuracy. 
The rear panel mounted OBERON 7 C electronic module incorporates a wireless receiver element and user setup interface, a DSP equalisation and crossover filter element, and a high efficiency two channel power amplifier with a closely integrated power supply.

Powering the amplifier is a custom designed, 65W(rms), very low noise switched mode supply that is able dynamically to share resources between the two amplifier channels in response to demand. The OBERON 7 C is, as a result, unusually frugal in terms of power consumption, yet gives nothing away in terms of dynamic punch when the music demands it.
DALI OBERON 7 C SPECS......
Product series
OBERON C
Frequency Range (+/-3 dB) [Hz]
31 - 26,000
Maximum SPL [dB]
108
Crossover Frequency [Hz]
2,450
Crossover Principle
Full active 24 Bit DSP
High frequency driver, Quantity
1 x 29 mm
High frequency driver, Diaphragm type
Soft Textile Dome
Low frequency driver, Quantity
2 X 7"
Low frequency driver, Diaphragm type
Wood Fibre Cone
Enclosure type
Bass Reflex
Bass Reflex Tuning Frequency [Hz]
40.0
Max. Amplifier Power Output [RMS watt]
2 x 50 W
Amplifier Type
Class-D
Connection Input
Universal mains 100-240 VAC
Wireless Input(s)
Full 24 Bit / 96 kHz (not compressed)
Wireless Audio RF Band [MHz]
5150-5250 MHz / 5725-5875 MHz (excluding Japan)
Recommended Placement
Floor
Recommended Distance From Wall [cm]
15 - 100
Max. Power Consumption [W]
62
Standby Power Consumption [W]
1
Idle Power Consumption[W]
1.25
Dimensions With Base (HxWxD) [mm]
1015 x 200 x 340
Accessories Included
Quick Start Guide
Mains Cable
Front Grille
Rubber Feet
Spikes
Manual
Weight [kg]
15.7
SOUND HUB COMPACT SPECS
Product series
OBERON C
Connection Input
2 x Optical (TosLink)
RCA (Analouge Stereo)
HDMI ARC
IR Sensor input
Chromecast ready
Connection Output
SUB Out (RCA)
USB Charge Output (5V/1.5A)
Wireless Input(s)
Bluetooth 5.0 (AAC, aptX, aptX HD)
Wireless Output
Full 24 Bit / 96 kHz (No bit-loss attenuated)
Wireless Audio RF Band [MHz]
5150-5250 MHz / 5725-5875 MHz (excluding Japan)
Max. Digital Resolution [bits/KHz]
24 / 192
Max. Power Consumption [W]
2.8
Standby Power Consumption [W]
1.7
Dimensions (HxWxD) [mm]
30 x 212 x 132
Accessories Included
Quick Setup Guide
Rubber Feet
Manual
Power Cord
Remote Control
IR Receiver
Weight [kg]
0.5
Input Impedance RCA [Ω]
7.2 k
Input Sensitivity RCA [V]
3.0 Vp
Output Voltage Max. Sub-Out [V]
1.7 V RMS
Input Mains Voltage [Volts]
9V DC power supply (universal 100-240 VAC)
DALI Sound Hub SPECS
Product series
Oberon C
Connection Input
2 x Optical (TosLink)
Coax (S/PDIF)
RCA (Analouge Stereo)
3.5 mm Mini Jack
2 x Plug-In Module
Chromecast ready
Connection Output
Stereo Line Level (RCA)
SUB Out (RCA)
USB Charge Output (5V/1A)
Wireless Input(s)
Bluetooth 4.2 (AAC, Apt-X, Apt-X HD)
Wireless Output
Full 24 Bit / 96 kHz (No bit-loss attenuated)
Wireless Audio RF Band [MHz]
5725-5875 MHz
Max. Digital Resolution [bits/KHz]
24 / 96
Max. Power Consumption [W]
4.5
Standby Power Consumption [W]
2.5
Dimensions (HxWxD) [mm]
76 x 300 x 213
Accessories Included
Quick Setup Guide
Weight [kg]
1.6
Input Impedance RCA [Ω]
10k
Input Sensitivity RCA [V]
2.3
Input Impedance 3.5mm Mini-jack [Ω]
10k
Input Sensitivity 3.5mm Mini-jack [V]
1.2
Input Impedance S/PDIF [Ω]
75
Output Voltage Max. Line Level [V]
1.9
Output Voltage Max. Sub-Out [V]
0.9
Input Mains Voltage [Volts]
Universal AC Mains Adapter (1.75 m wire length)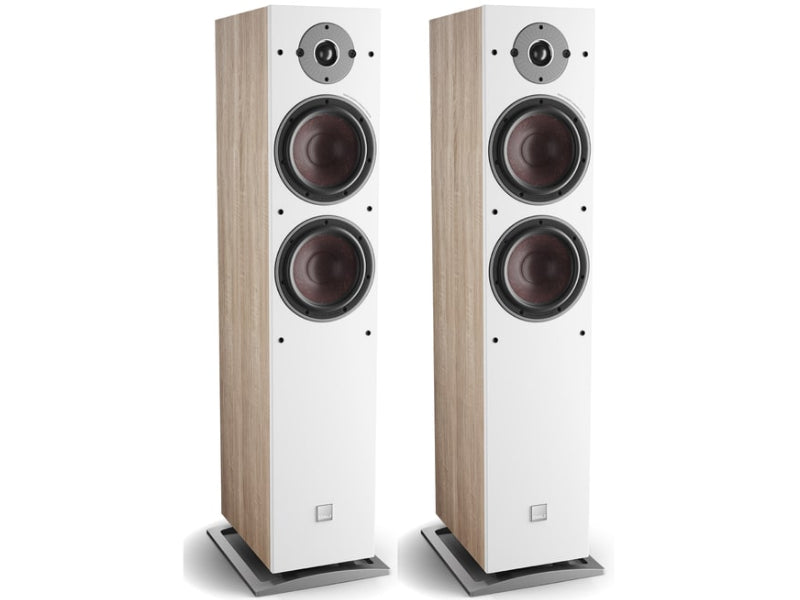 Dali Oberon 7 C Wireless Floorstanding Speakers
Sale price

£1,599.00
Regular price

£2,195.00
Choose options