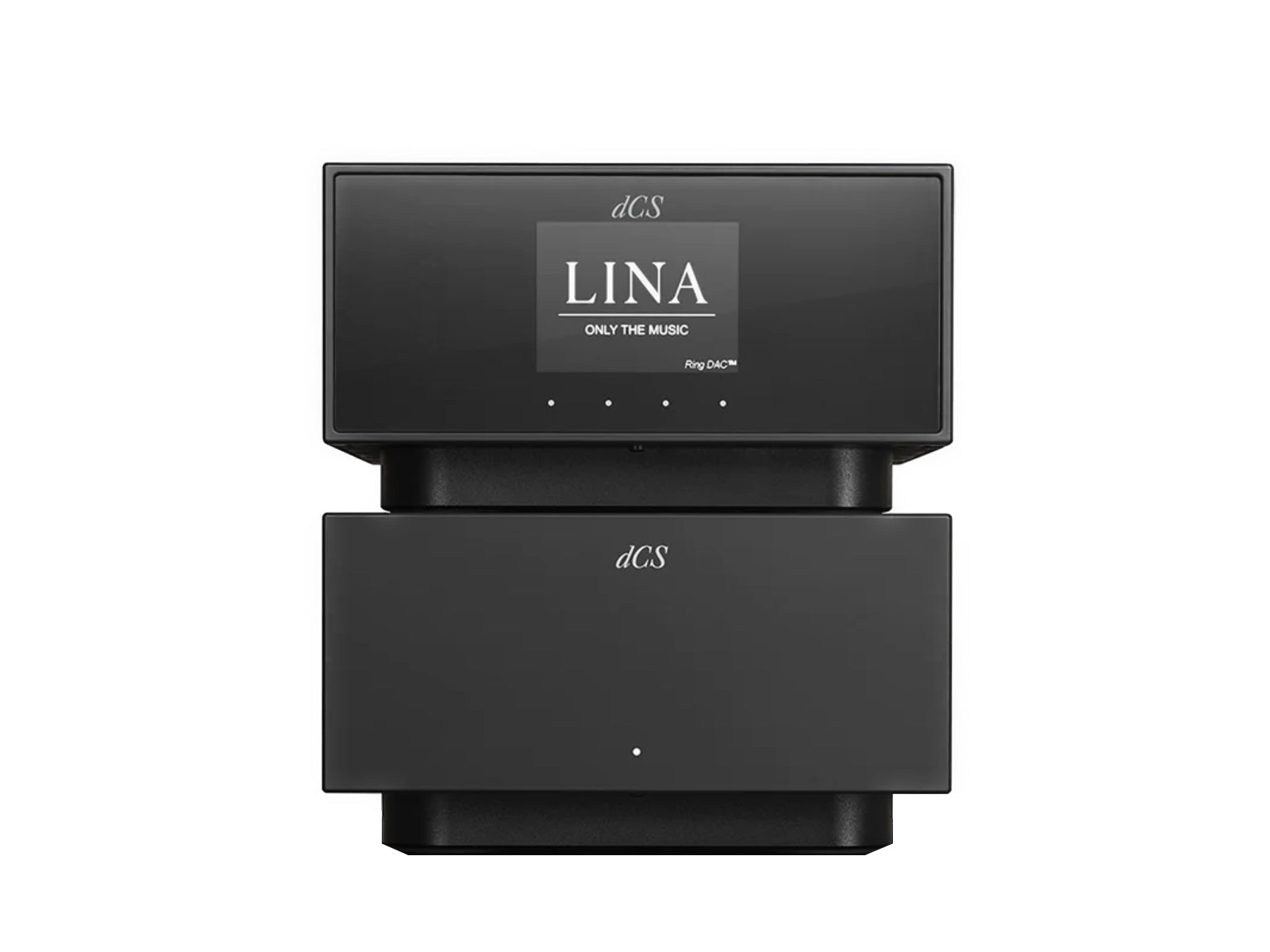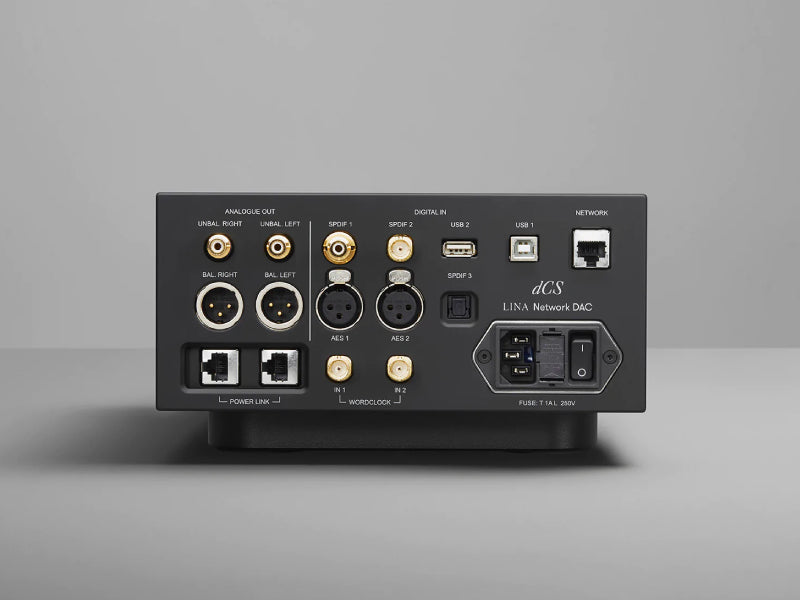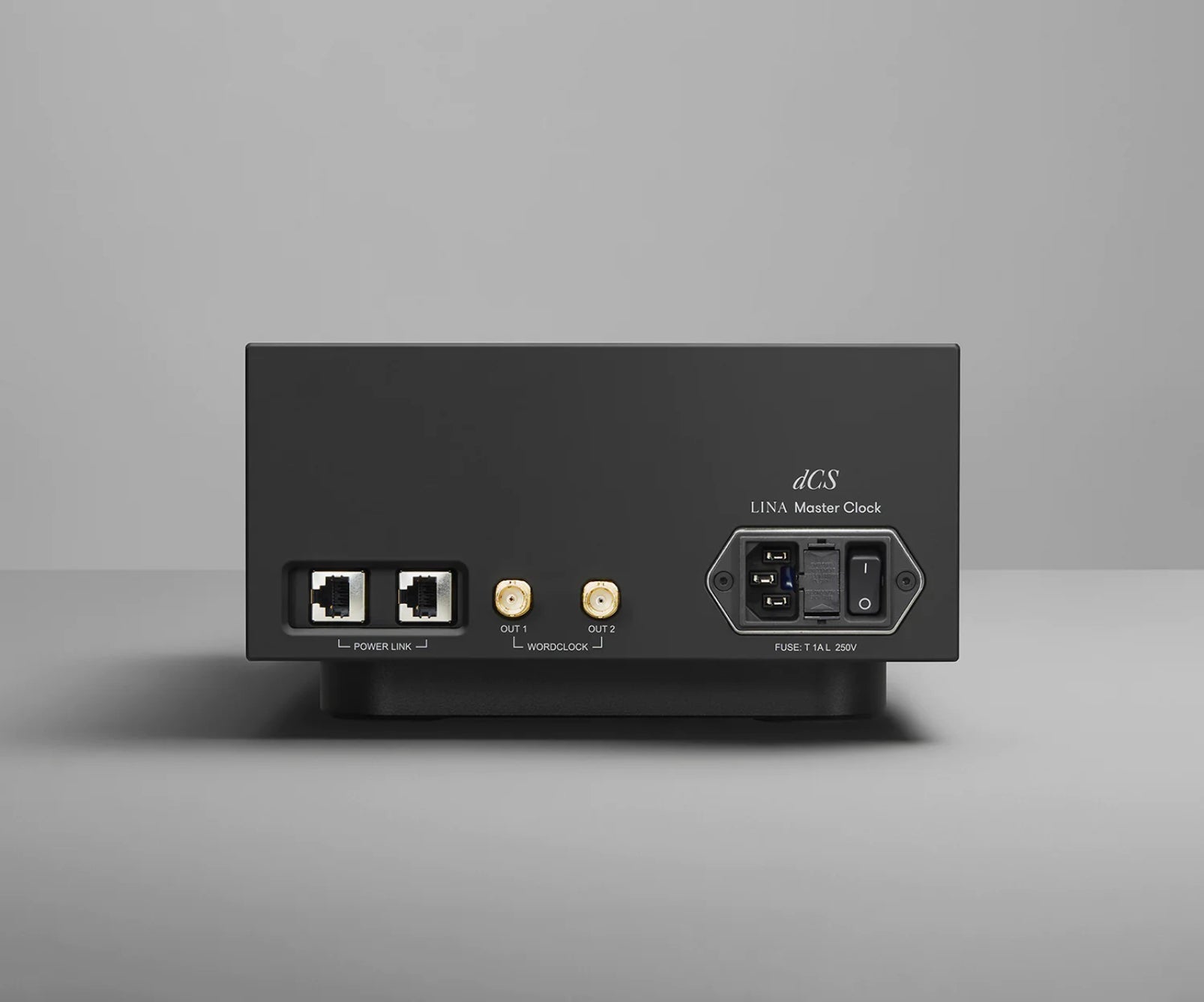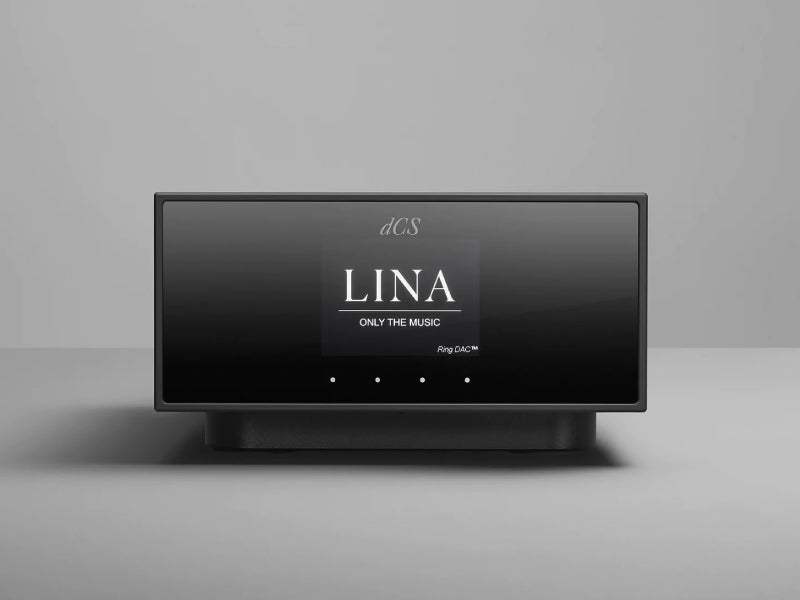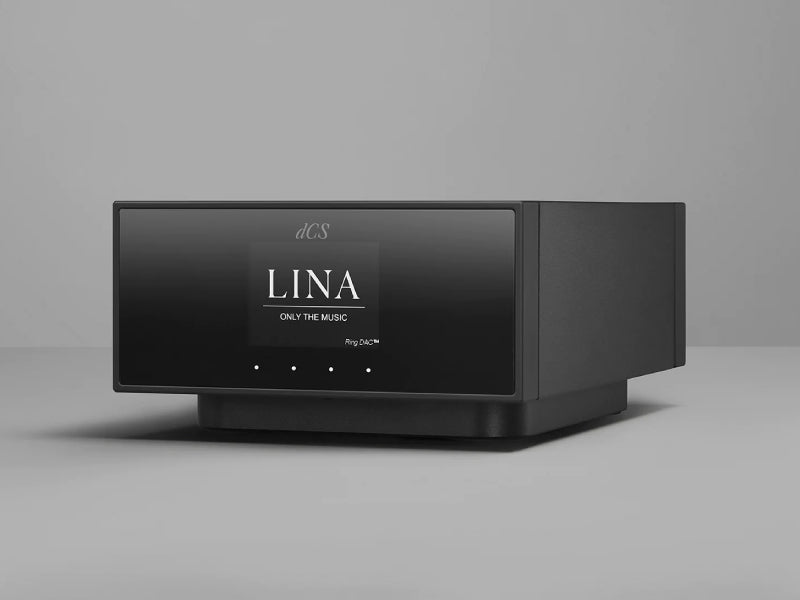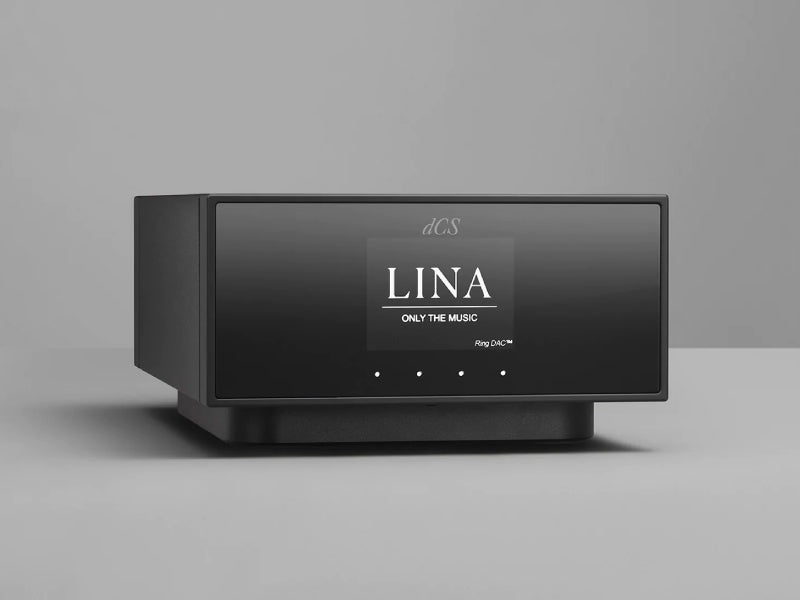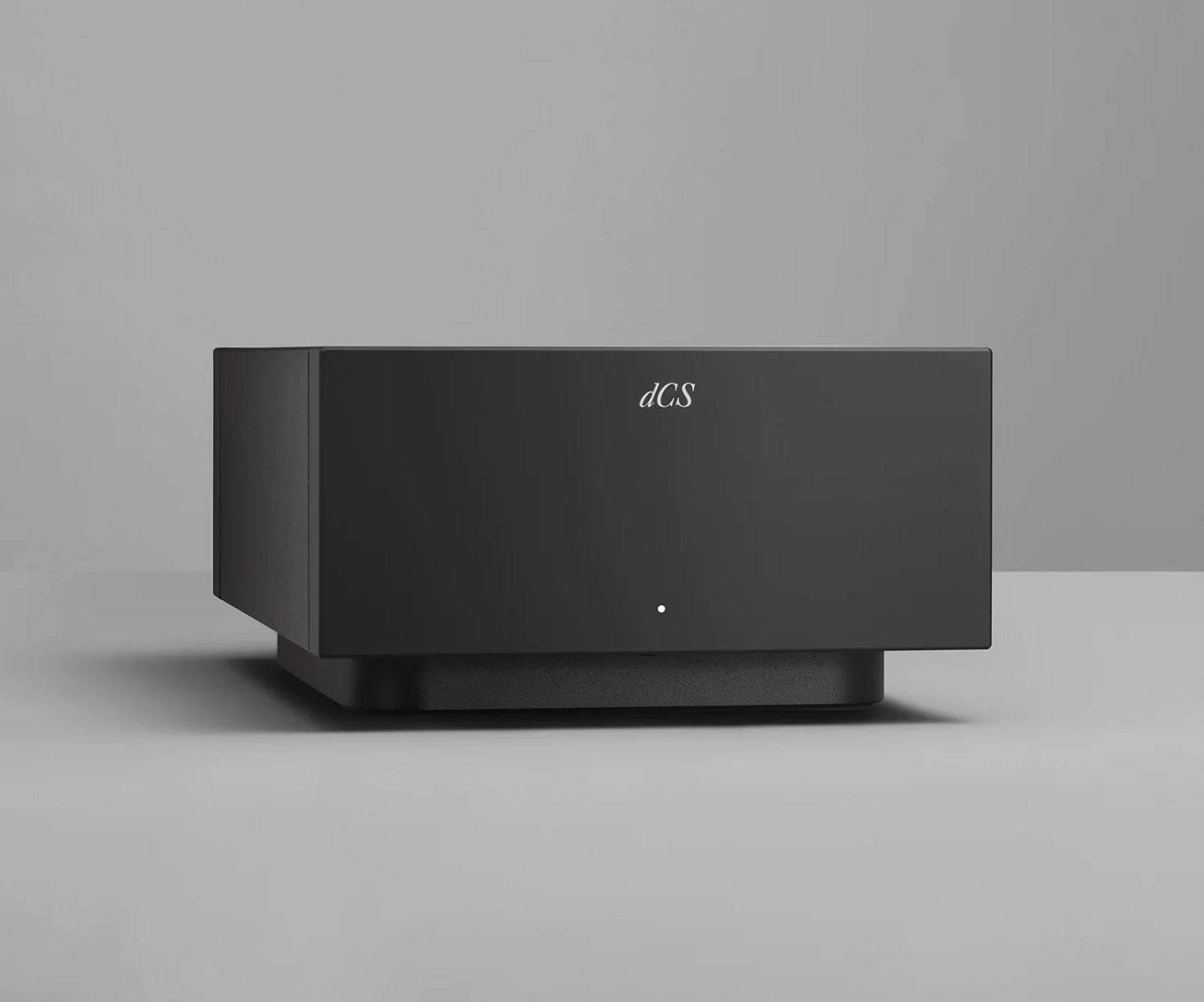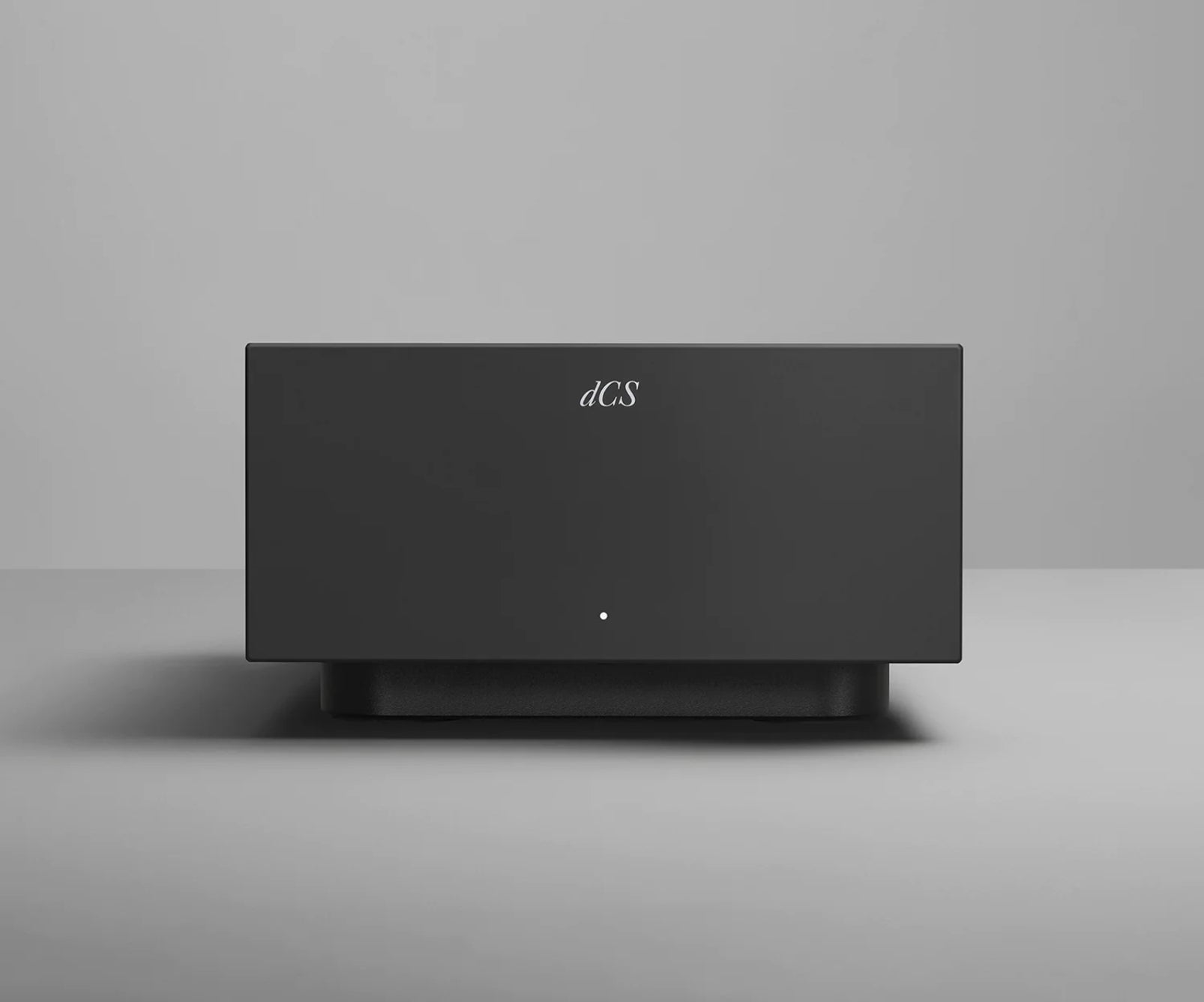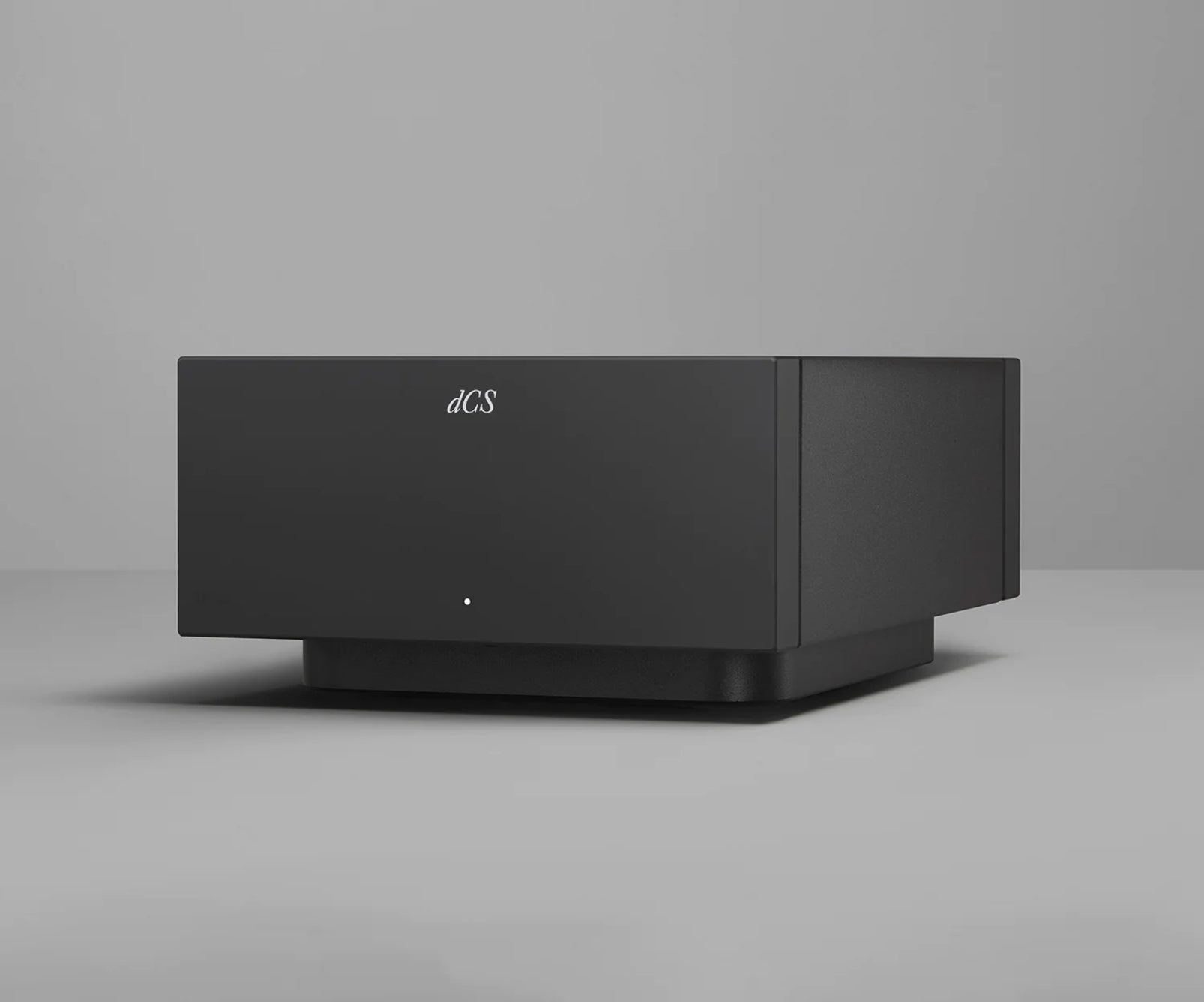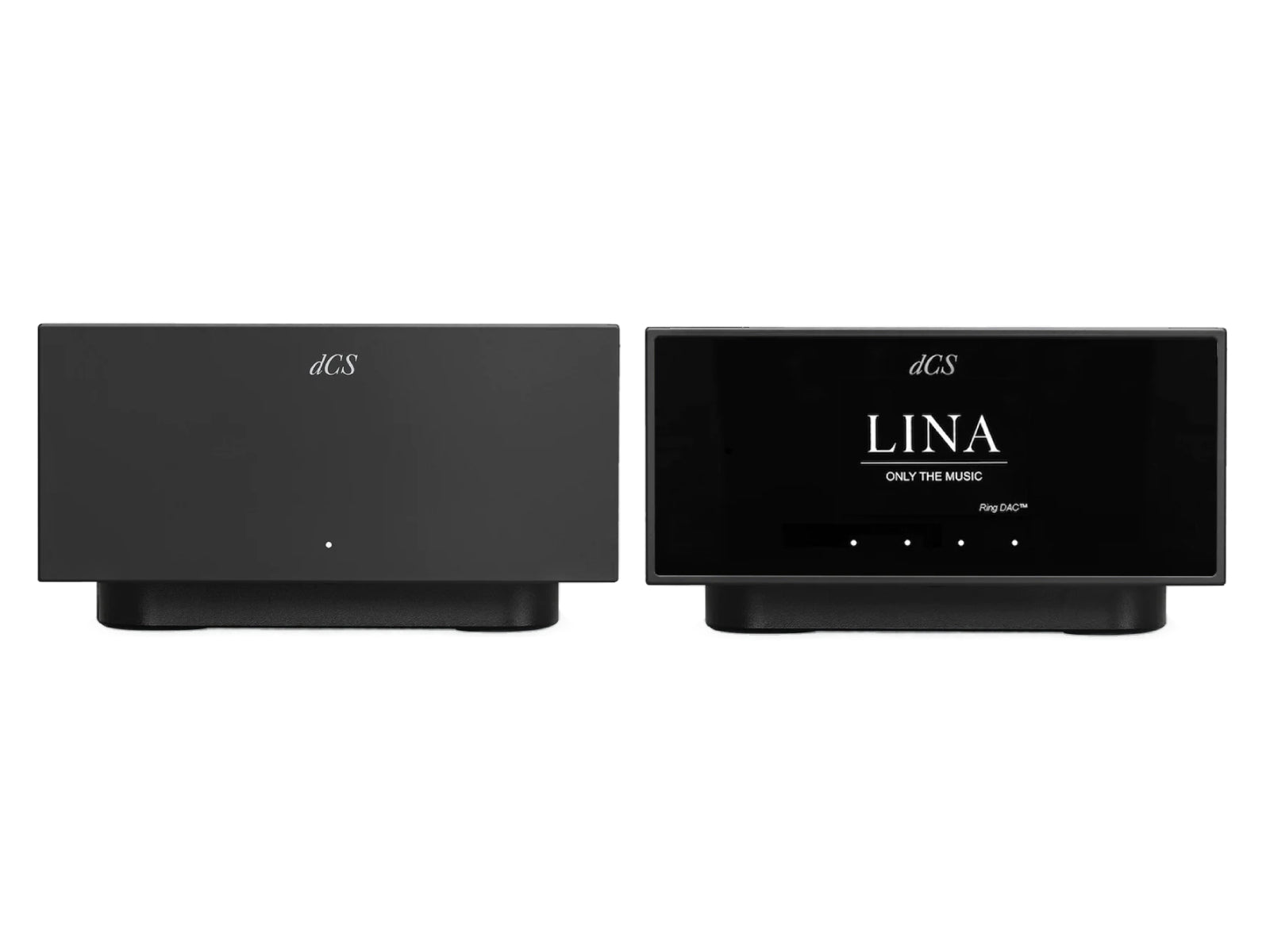 dCS Lina Network DAC & Master Clock
---
Sale price

£19,250.00
Regular price
(/)
Pickup available at Doug Brady HiFi
Usually ready in 1 hour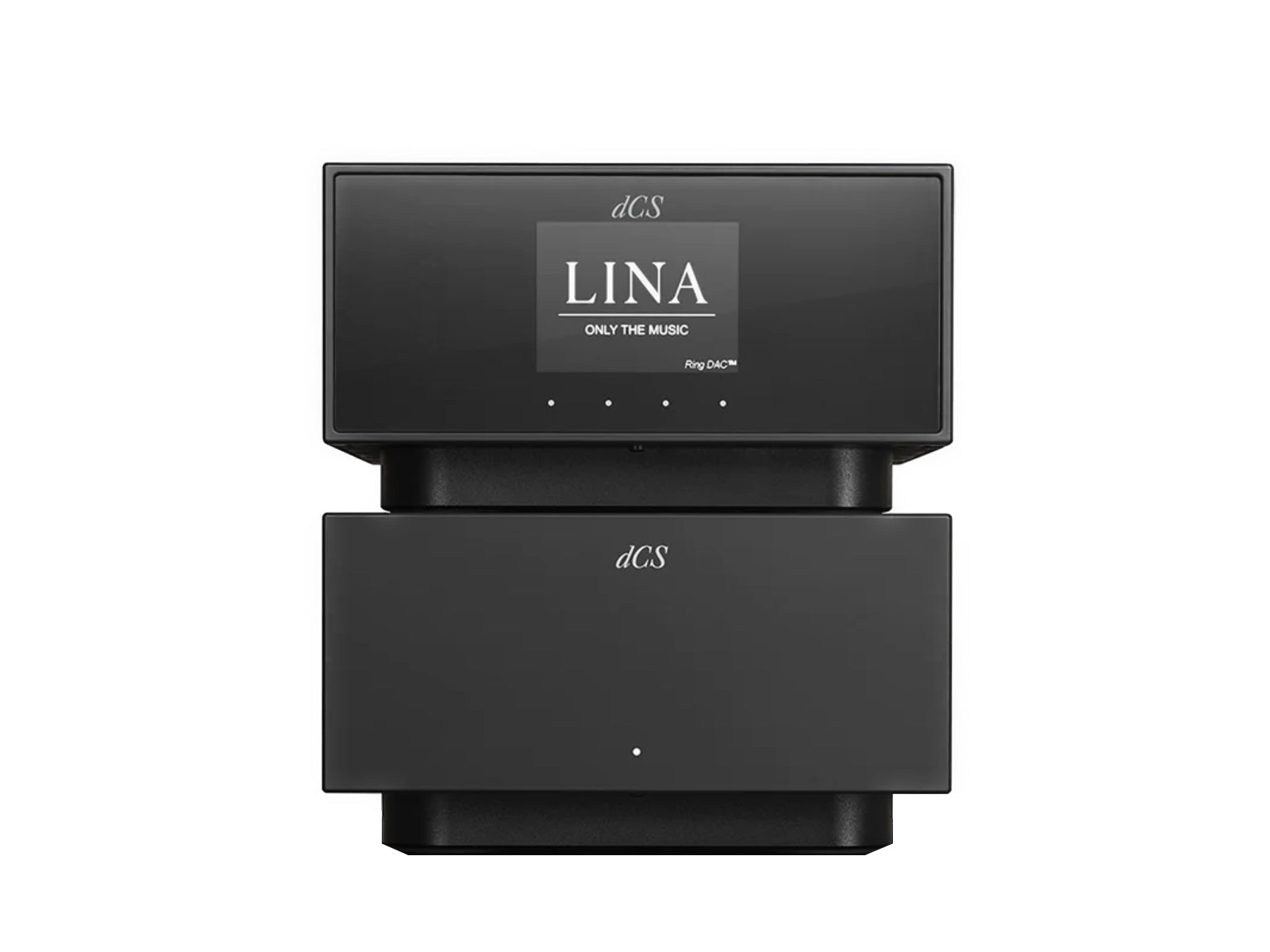 dCS Lina Network DAC & Master Clock
Doug Brady HiFi
Pickup available, usually ready in 1 hour
Kingsway Studios
Kingsway North
Warrington WA1 3NU
United Kingdom
+441925828009
The dCS Lina Network DAC with the dCS Lina Master Clock is a powerful network streamer, DAC and master clock that delivers extraordinary sound from any digital streaming source. The dCS Lina Master Clock, allows the DAC's internal clock system to be locked to a master signal achieving the highest possible standards of sound reproduction. 
dCS Ring DAC™ system and Digital Processing Platform ensure audio is reproduced with absolute integrity, for a highly detailed, musical and deeply natural sound

dCS Mosaic platform supports hi-res streaming via Roon, Spotify, Deezer, Qobuz, TIDAL, Internet Radio and Apple AirPlay

dCS Lina Master Clock a

llows the Lina Network DAC to be locked to a master reference signal for enhanced audio performance

dCS Lina Master Clock m

inimises jitter and irregularities that can cause distortion
About the Lina DAC
The Lina Network DAC is both a continuation and a new beginning. Its design combines renowned dCS technologies with new innovations resulting in a bold new interpretation of the dCS experience, and a complete reimagining of form and function.
With the Lina Network Streaming DAC, we've taken our core playback technologies, including the dCS Ring DAC™ and Digital Processing Platform, and added new innovations. These include our first ever touch-screen display, a streamlined user interface for easier navigation, and a powerful flex-rigid circuit board, which allows us to deliver all of the features you'd expect from a dCS DAC in a much smaller chassis.
The result is a powerful, supremely capable product designed for use in a wide range of environments, from living rooms to studios and workspaces. With its wide dynamic range, crisp, clear playback, expansive soundstage, and tonal neutrality, it provides a deeply natural, highly detailed, and profoundly musical sound that encapsulates our singular approach to digital audio.
Add unique headphone optimisation technology, an elegant and tactile design, and a high-performance streaming platform, and you have a hugely versatile source that delivers spectacular sound, however you choose to listen. Designed to inspire, inform and entertain, it will give you a whole new perspective on the artists and recordings you love.
Effortless listening
While the Lina Network DAC offers a vast range of features, it is designed with simplicity, convenience and ease of use in mind. Its streamlined user interface allows you to easily navigate system settings, select music and manage your playback experience, while the dCS Mosaic app offers an intuitive and painless way to browse and access music from multiple sources and audio libraries. With a choice of inputs and outputs, user selectable filters, it allows you to seamlessly enjoy audio from any source, in any format, without compromise.
Unlimited potential
The Lina Network DAC's performance is driven by a completely flexible control board - the dCS Digital Processing Platform. This powerful, robust and highly intelligent system operates on code written by dCS engineers, and it can be endlessly updated to deliver any number of new features and enhancements. This means we are able to continue upgrading Lina's performance over time, and ensure that each system delivers a state of the art experience long after it's purchased.
Scrupulous design
Crafted from billet Aluminium (a material selected for its excellent acoustic properties), the Lina Network DAC has been meticulously designed to deliver the finest possible sound, with the lowest possible levels of distortion and noise. Each aspect of its design - from its billet Aluminium casework, to its internal fixings and components, and proprietary hardware and software - is carefully engineered and exhaustively tested to ensure it provides the best possible experience, and the highest levels of quality and reliability. This holistic approach and obsessive attention to detail is one of the reasons that dCS DACs sound so sublime. 
About the Lina Master Clock
The Lina Master Clock is a product inspired by our absolute dedication to achieving the highest possible standards of sound reproduction.

It is informed by our experience developing master clocks for professional and home use - something we've been doing for over 30 years - and the feedback we've received from listeners and audio experts who've experienced significant sonic benefits after adding a dCS master clock to their system.
Designed for use with the Lina Network DAC, it uses two crystal oscillators to deliver a precise and stable clocking reference for all audio formats and frequencies. When paired with the Lina DAC, it allows the DAC's internal clock system to be locked to a master signal for even greater precision and enhanced audio performance.
Its standalone design ensures sensitive clocking components are protected from factors that can cause interference. Each crystal oscillator is also oven-controlled to ensure its performance remains consistent, even under changing conditions and temperatures.
Designed for maximum reliability and longevity, it is a silent but powerful component engineered to operate with absolute precision and consistency, so you can experience the best possible performance from your system. Combined with the Lina Network DAC and Headphone Amplifier, it delivers an even more profound and immersive listening experience, and helps ensure the audio you hear sounds exactly as it should.
Always consistent 
With its own dedicated chassis and power supplies, the Lina Master Clock provides the perfect environment for sensitive clocking circuitry. Its design ensures clock signals are protected from power interference, crosstalk and other factors that can affect signal integrity (and in turn, audio quality), for a consistent performance day after day, year after year.  
Effortless impact 
Elegant and minimal in its appearance, the Lina Master Clock is a component designed to enhance your listening experience, without ever demanding your time or attention. Simply switch it on, sit back, and enjoy an even deeper connection with your music. 
dCS Lina Network DAC
Product Dimensions / Weight

121.5mm (H) x 220mm (W) x 339mm (D) 7.4kg

Analogue Ouputs

• 1 x stereo pair 3 pin balanced XLR
• 1 x stereo pair unbalanced RCA

L-R Crosstalk

Better than –115dB0, 20Hz-20kHz

Streaming Compatibility

Supports the following platforms and services:

• UPnP
• Qobuz
• Deezer
• Tidal
• Internet Radio
• Spotify
• Apple AirPlay 2 (support at 44.1 or 48kS/s)
• RoonReady
Digital Inputs

• 2 x AES/EBU on 3 pin XLR 44.1-384kS/s

• 1 x S/PDIF BNC Coax 44.1-192kS/s

• 1 x S/PDIF on RCA 44.1-192kS/s

• 1 x Toslink 44.1-96kS/s

• 1 x USB Type B 44.1-384kS/s, PCM and DSD, DSDx2 in Async Mode

• 1 x USB Type A connector for mass storage devices (navigated using Mosaic)


Frequency Response (set to filter 1)

• Fs = 44.1 or 48kS/s +/-0.1dB, 10Hz-20kHz
• Fs = 88.2 or 96kS/s +/-0.1dB, 10Hz-20kHz -3dB @ >38kHz
• Fs = 176.4 or 192kS/s +/-0.1dB, 10Hz-20kHz -3dB @ >67kHz
• Fs = 352.8 or 384kS/s +/-0.1dB, 10Hz-20kHz -3dB @ >100kHz
• DSD64 +/-0.1dB, 10Hz-20kHz -3dB @ >90kHz
• DSD128 +/-0.1dB, 10Hz-20kHz -3dB @ >100kHz

Residual Noise (6v output setting)

• 16-bit data: Better than –96dB0, 20Hz-20kHz unweighted
• 24-bit data: Better than –113dB0, 20Hz-20kHz unweighted

Sample frequencies and formats

Supports the following audio formats
and sample rates:


• 44.1-384kHz
• DSD 64, 128
• Native DSD + DoP (input dependent)
• FLAC, WAV, AIFF, MQA
 dSC Lina Master Clock Specifications
Product Dimensions / Weight

121.5mm (H) x 220mm (W) x 339mm (D) / 7kg

Startup Time

Typically 10 minutes to rated accuracy
Clock Accuracy

Better than +/-1 ppm when shipped over an ambient temperature range of +5°C to +45°C

Word Clock Outputs

• 2 x independently buffered TTL-compatible output on 75Ω BNC connectors
• Output 1: fixed at 44.1kHz
• Output 2: fixed at 48kHz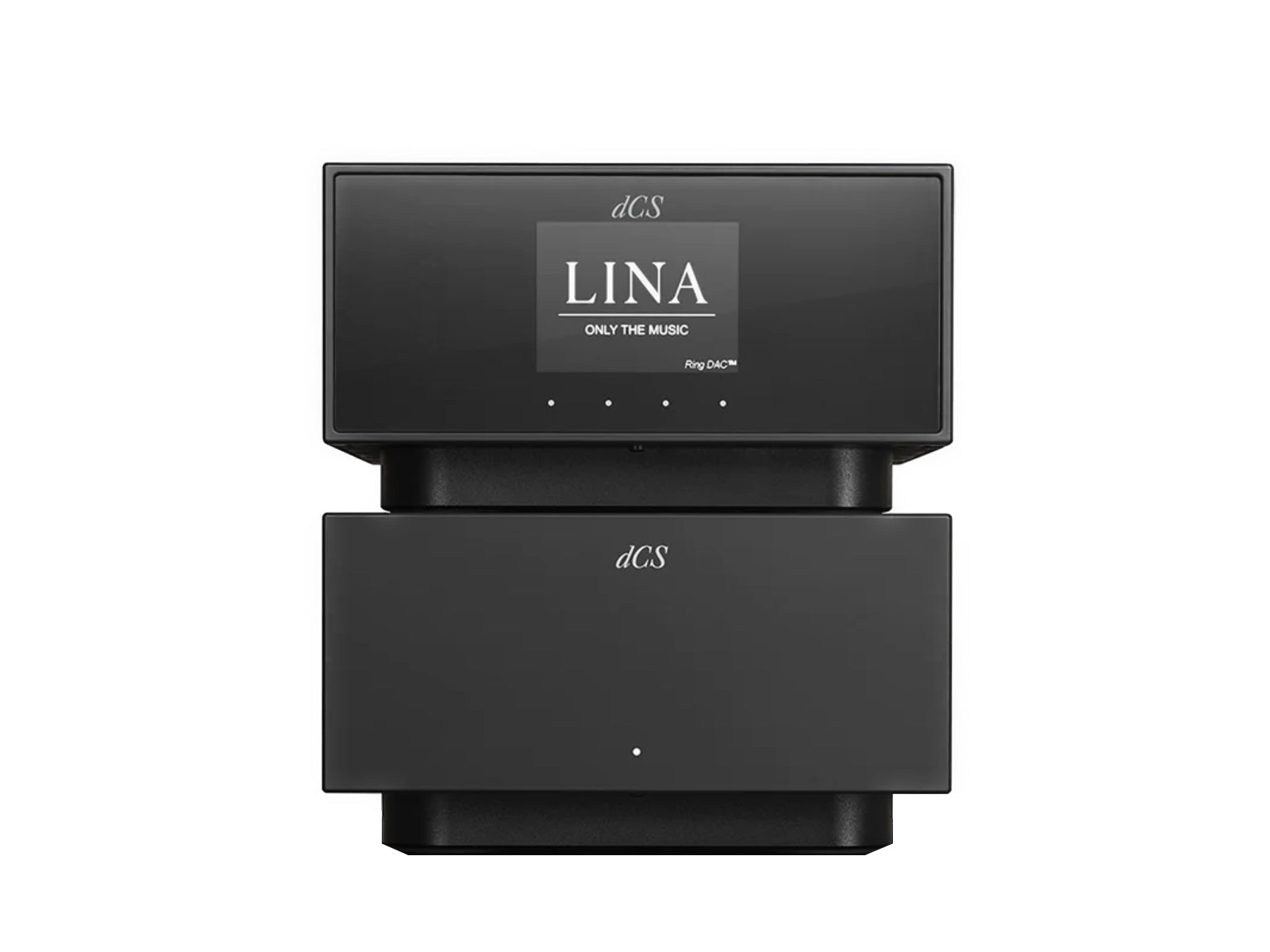 dCS Lina Network DAC & Master Clock
Sale price

£19,250.00
Regular price
Choose options