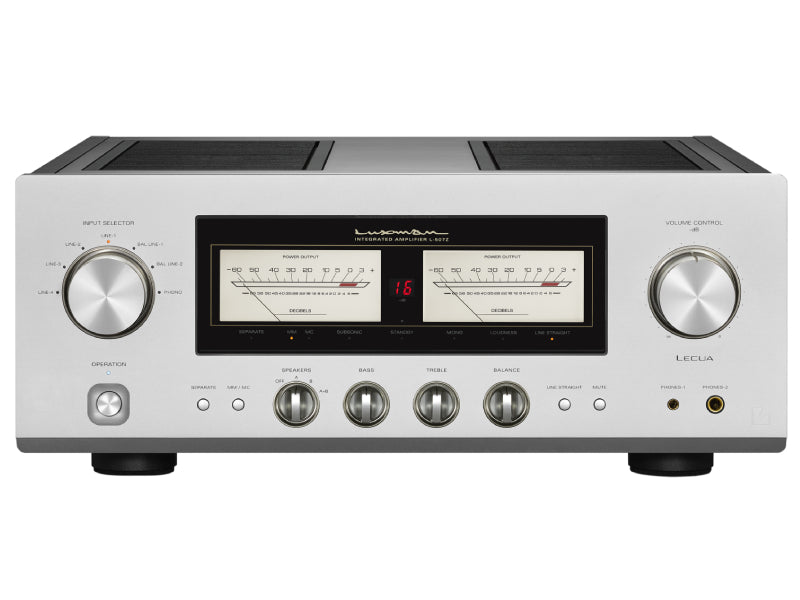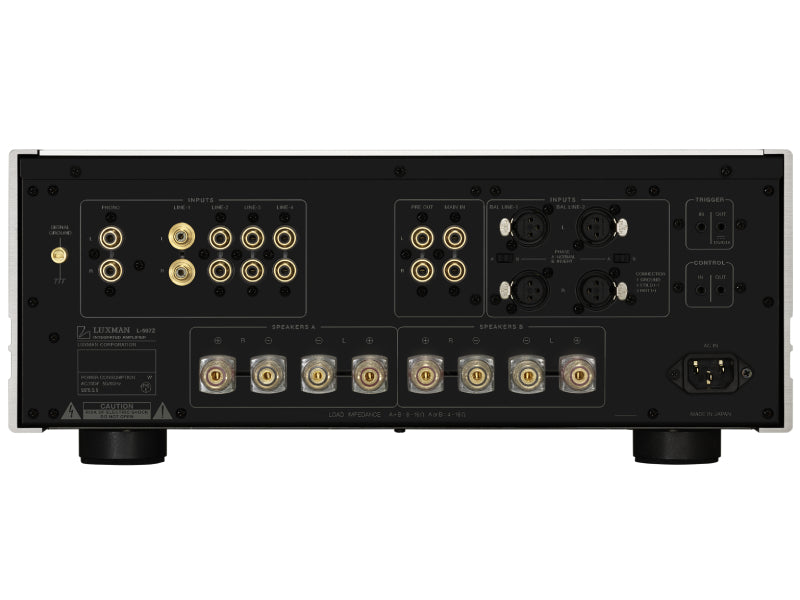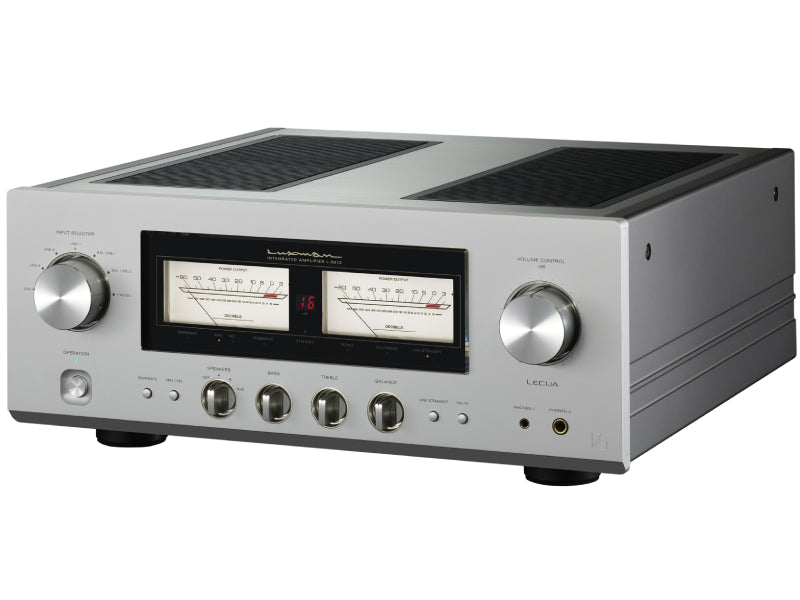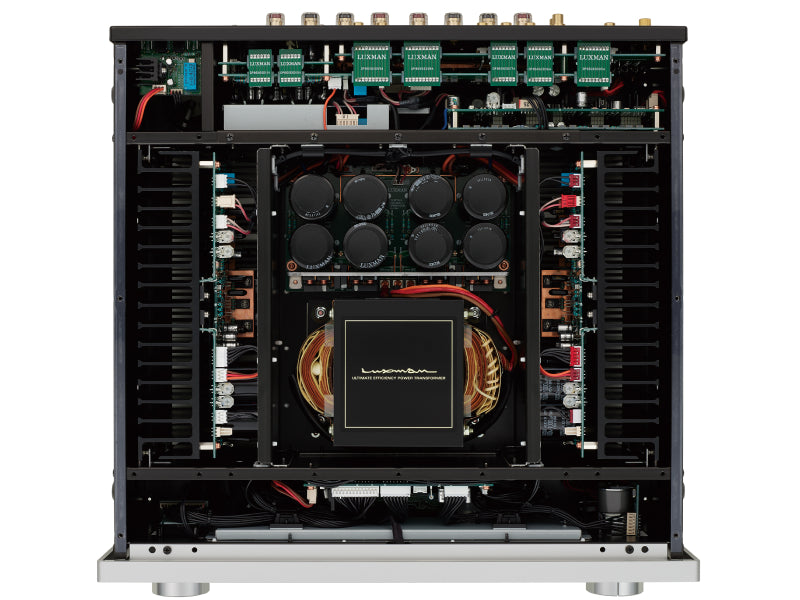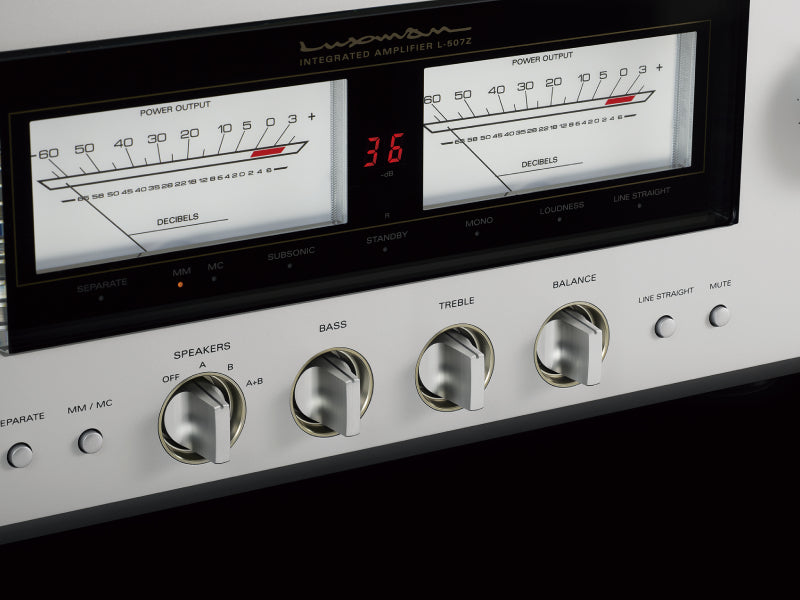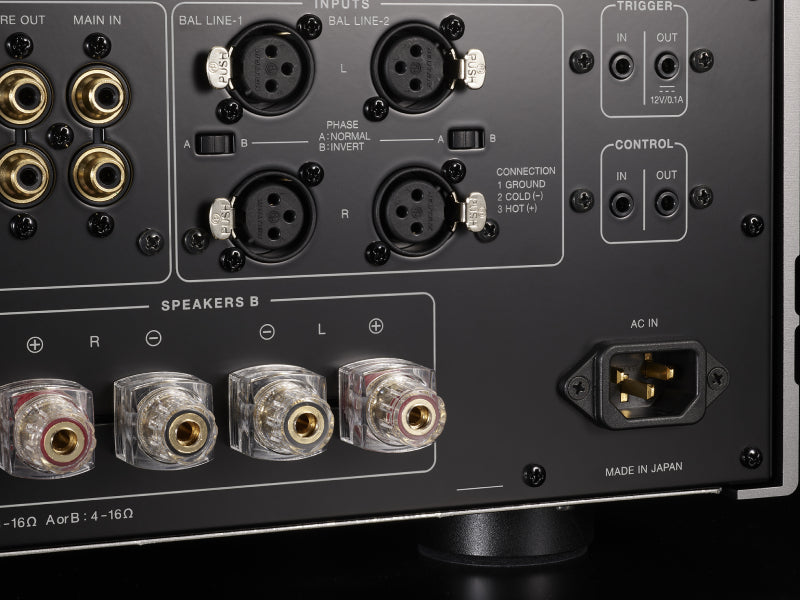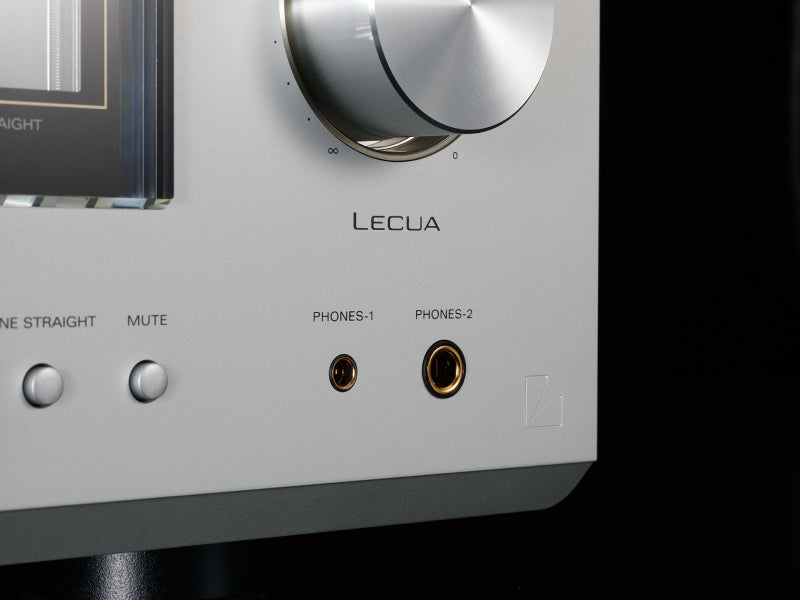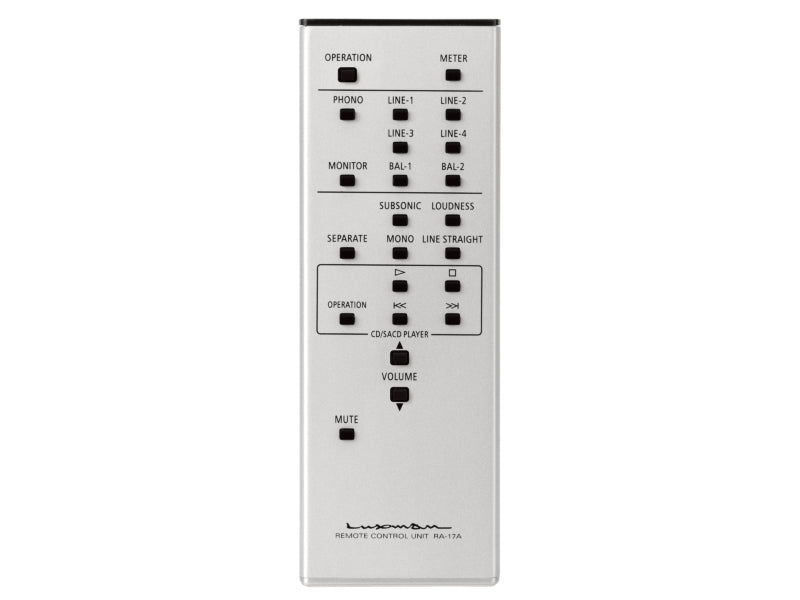 Luxman L-507Z Integrated Amplifier
---
Sale price

£8,000.00
Regular price
(/)
Pickup available at Doug Brady HiFi
Usually ready in 1 hour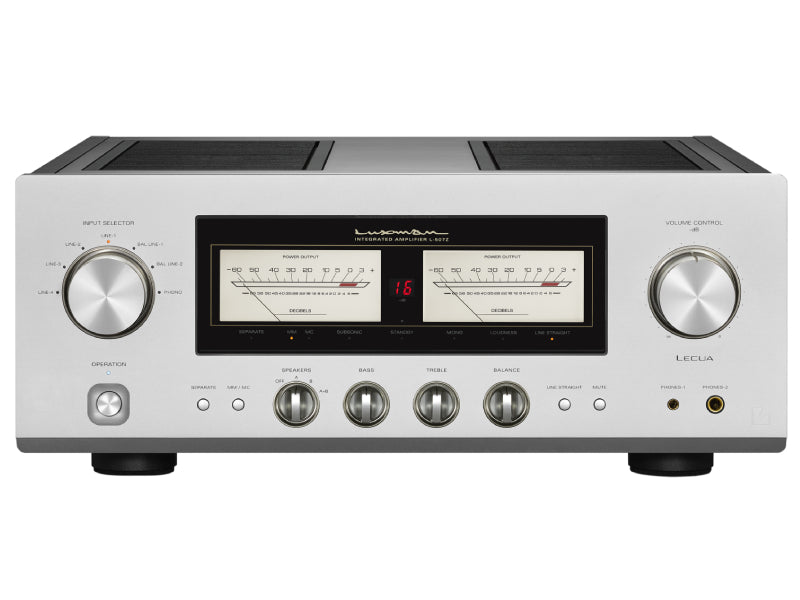 Luxman L-507Z Integrated Amplifier
Doug Brady HiFi
Pickup available, usually ready in 1 hour
Kingsway Studios
Kingsway North
Warrington WA1 3NU
United Kingdom
+441925828009
Luxman will celebrate their 100th anniversary in 2025 so we are proud to announce the New Luxman L-507Z featuring the successor to their ODNF* feedback circuitry, which has contributed to the audio quality of our amplifier products since 1999. The L-507Z is designed to replace both the L-590AX-II and the L-507UX-II. This new amp builds on the design of the hugely successful L-509X and is tuned to have the signature Luxman sound signature. Offering 110 Watts per channel into 8 ohms.
Luxman have developed a new amplifier feedback circuit, LIFES*, which has acquired realistic, fresh and rich musicality and overwhelming audio performance. LIFES is based on the technical concept of our epoch-making ODNF circuit and realizes excellent, dynamic characteristics without feeding back any of the original audio input signal to the main amplifier, achieving a remarkably natural sound quality, almost if it were a non-feedback equipped circuit. The design has been conceived and expanded upon from first principles using simulation technology and painstaking research.
By repeatedly auditioning, rigorously scrutinizing and combining specially selected components, we have achieved supreme performance characteristics and a level of quality suitable for use in Luxman's next-generation products. In producing LIFES Version 1.0, by carefully reimagining the entire circuit, we succeeded in reducing the number of paralleled elements while improving performance. The distortion in the amplification stage has been reduced to less than half of our previous system. The output stage features a 3-stage Darlington triple-paralleled push-pull configuration and achieves a class AB power output of 110W+110W (8Ω) and 210W+210W (4Ω). The high output power, comparable to that of a separate power amplifier, effortlessly realizes a natural soundstage, full of energy, to confidently drive any compatible speaker system, and bring out the best of its characteristics.
Large needle VU level meter and 7-segment LED
Needle-type analog VU meters are a symbolic design statement of Luxman's solid state integrated amplifiers. The L-507Z is equipped with a large dual meter with bright LED back-lighting and high response characteristics. We have adopted such a display so the movement of the needles synchronizes with the dynamics of your music. In addition, newly included 7-segment LEDs display the attenuation level in between the left and right level meters so that the current attenuation amount can be easily seen from the listening position. The level meter back-lighting and LED display can be turned on and off using the remote control.
Precision hairline finished aluminum top panel
The rectangular chassis housing design features an ultra-thick front panel with a high-quality, blasted white finish. This has become a brand identifier of current Luxman products, with a delicate hairline finished aluminum top panel, a luxurious exterior design adopted for our high-grade amplifiers. The large ventilation slots on the top panel provide sufficient air flow and the entire chassis housing is fabricated from aluminum panels, providing excellent heat dissipation, ensuring the stable operation of this product.
NEW CUA1000
New LECUA1000 88-step, electronically controlled attenuator is integrated into the amplifier circuit minimizing sound quality degradation over the full range of volume control. The output section of the preamplifier is equipped with discrete buffer circuitry that confidently drives the subsequent power amplifier stage.
Highly regulated power supply circuit
A highly stable, custom made EI-type power transformer and newly developed, large-capacity filter capacitors (10,000μFx 8) are combined in the power supply unit, which provides instantaneous current supply and voltage stability, easily meeting the demands of dynamic music reproduced through capable speakers.
Newly designed parallel headphone outputs
In addition to the standard φ6.3mm output, a new φ4.4mm output has been added, with independent left and right ground wiring that greatly improves L-R separation for the listener who wants to enjoy truly three-dimensional sound.
Rated output
110W+110W(8Ω)
220W+220W(4Ω)
Input sensitivity/
input impedance
PHONO(MM): 2.5mV / 47kΩ
PHONO(MC ): 0.3mV / 100Ω
LINE: 180mV / 47kΩ
BAL.LINE: 180mV / 79kΩ
MAIN IN: 1.05V / 47kΩ
Output voltage
PRE OUT: 1V
Frequency response
PHONO: 20Hz to 20kHz (±0.5dB)
LINE: 20Hz to 100kHz (within -3dB)
Total harmonic distortion
0.007% or less (8Ω, 1kHz)
0.03% or less (8Ω, 20Hz to 20kHz)
S/N ratio (IHF-A)
PHONO (MM): 91dB or more
PHONO (MC): 75dB or more
LINE: 105dB or more
Volume adjustment
New LECUA1000
Amplification feedback circuit
LIFES 1.0
Output configuration
Bipolar 3-parallel push-pull
Damping factor
300
Max. amount of tone control
BASS: ±8dB at 100Hz
TREBLE: ±8dB at 10kHz
Power supply
230V~(50Hz) / 115V~(60Hz)
Power consumption
350W
886W (under no signal), 0.4W (at standby)
External dimensions
440(W) x 178(H) x 454(D) mm
front side knob of 20mm and rear side terminal
of 27mm included in depth
Net weight
25.4kg (main unit)
Accessories
Remote control (RA-17A)
Power cable
Speaker terminal
Supported Y-lug terminal
dimension

Width of part a: 15mm or less
Width of part b: 8mm or more
* Connection may not be performed
depending on the shape of the
Y-lug terminal.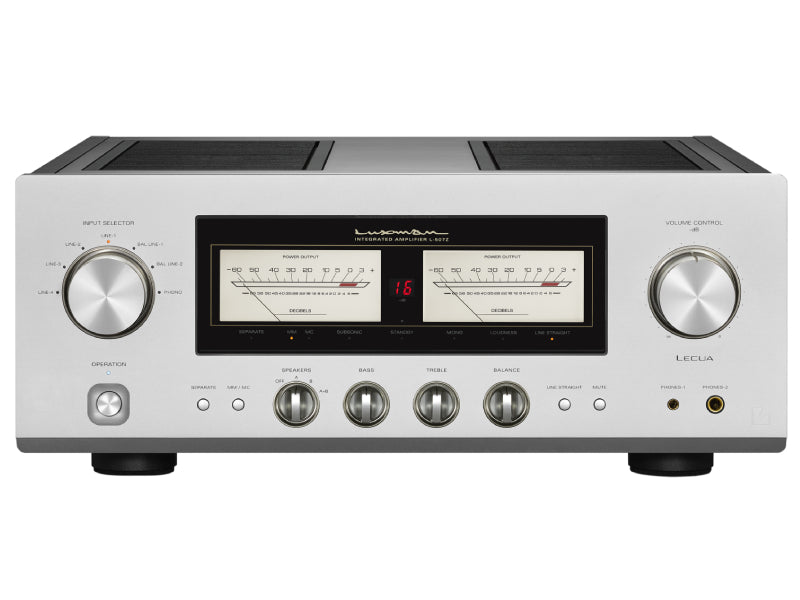 Luxman L-507Z Integrated Amplifier
Sale price

£8,000.00
Regular price
Choose options