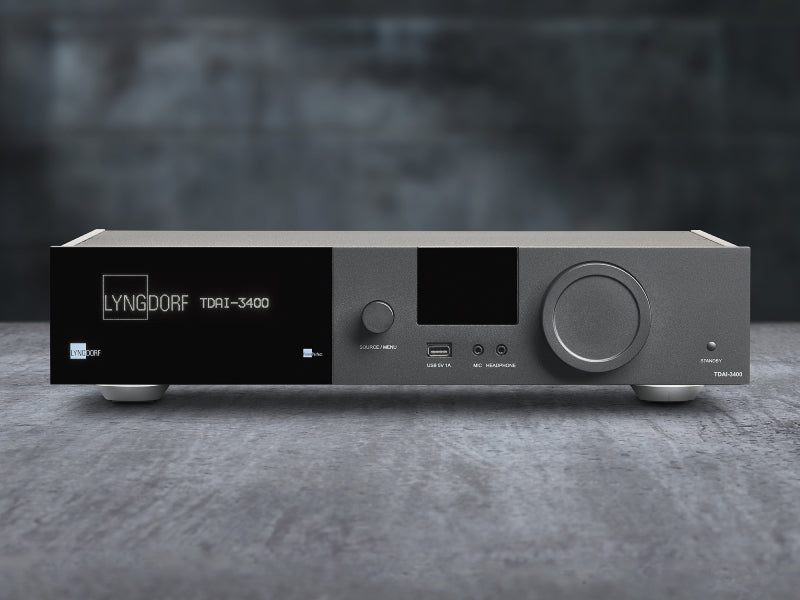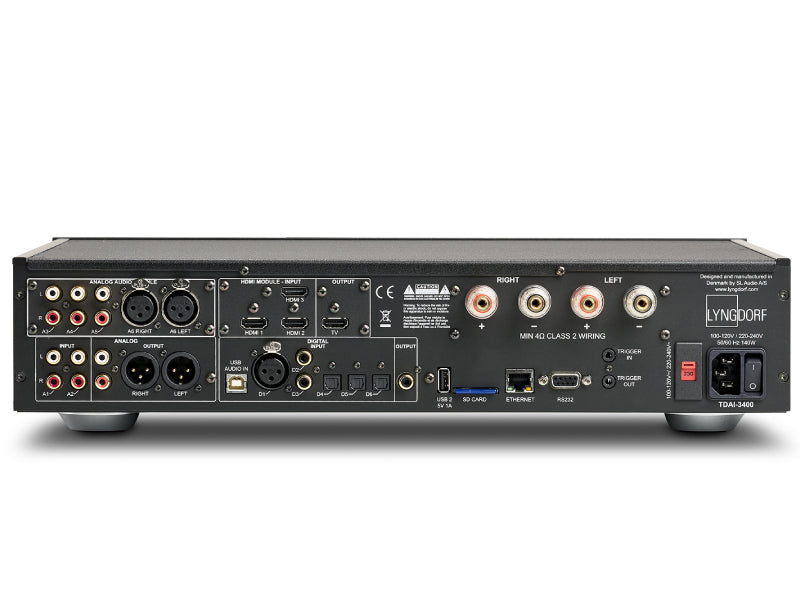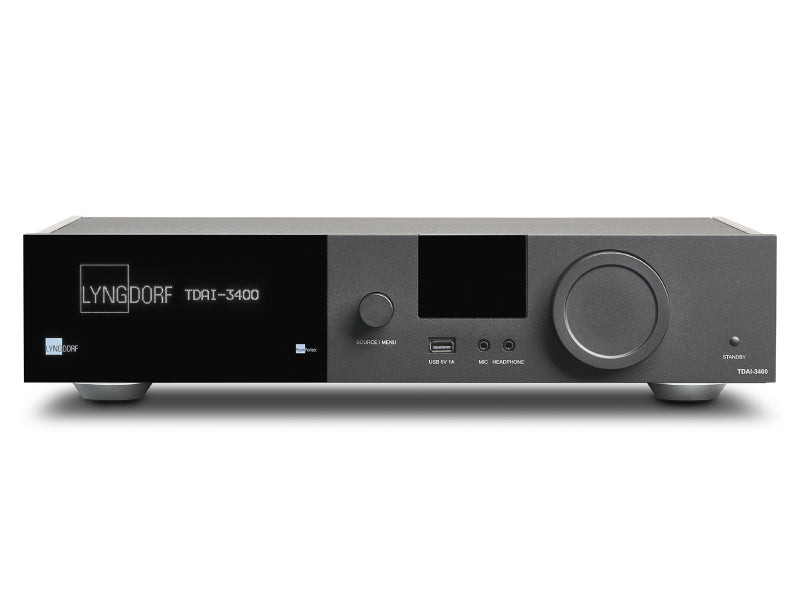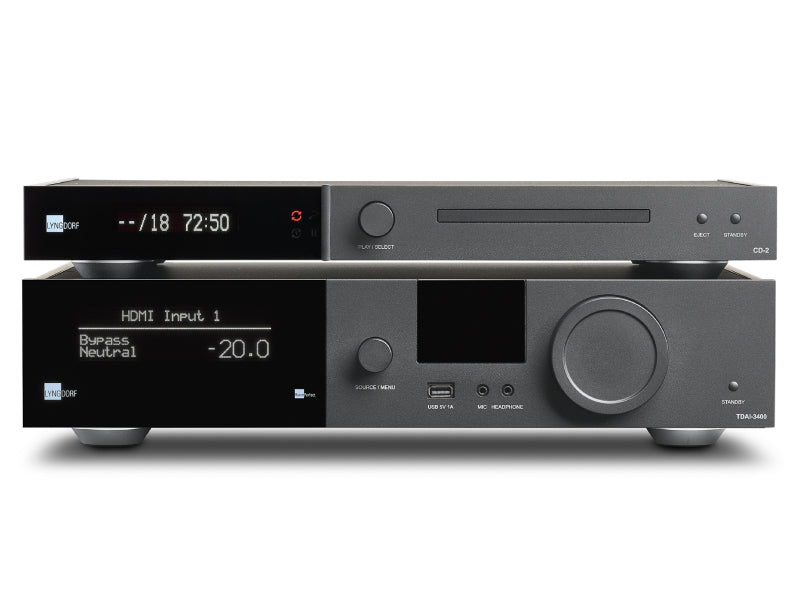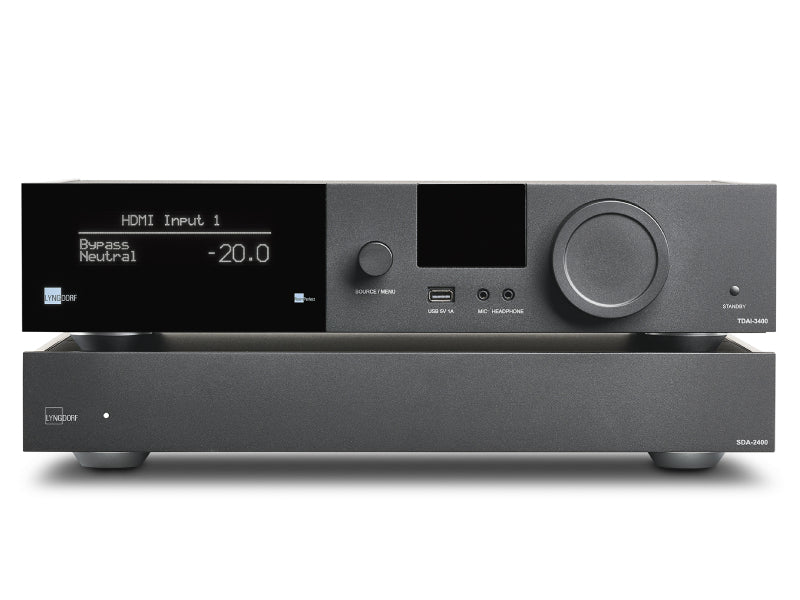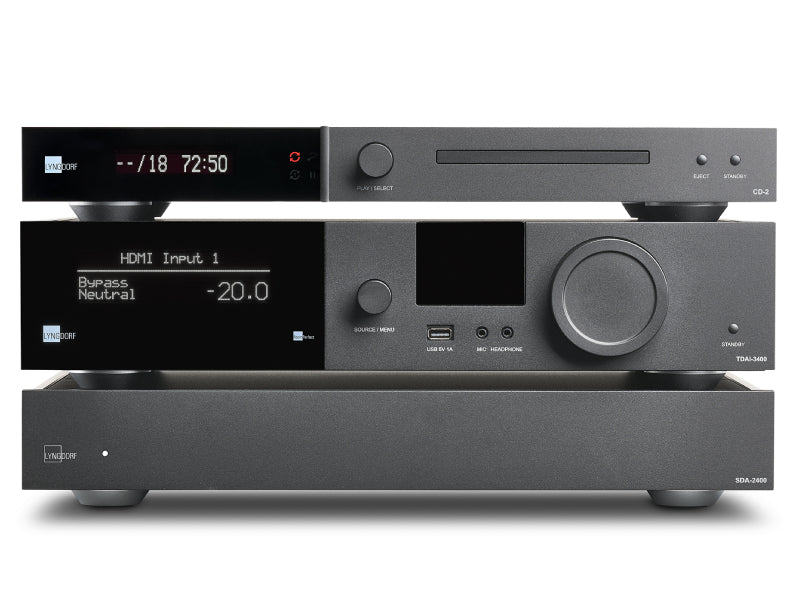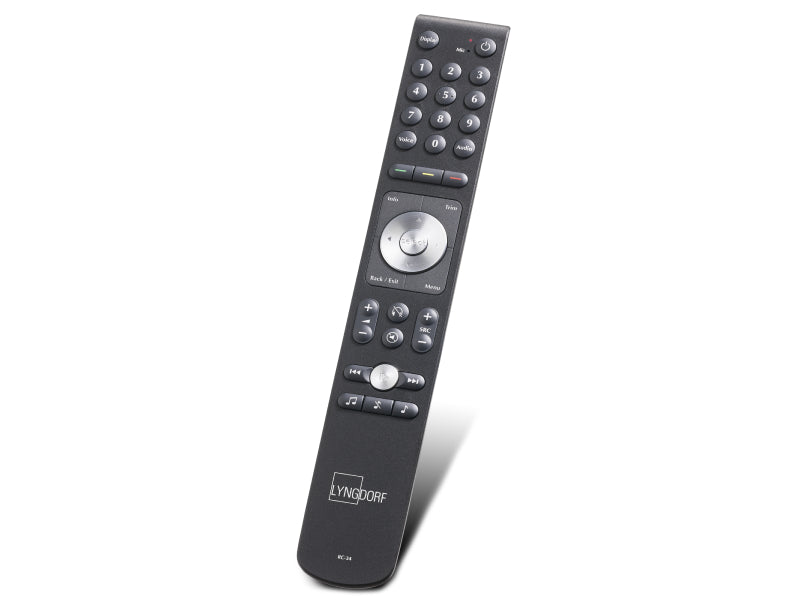 Lyngdorf TDAI-3400 Integrated Amplifier
---
Sale price

£4,995.00
Regular price
(/)
1 in stock
Available to Order
Available to Order
Available to Order
With extreme audio processing options combined with the most powerful and advanced digital amplifier technology, the Lyngdorf TDAI 3400 is the most powerful product from Lyngdorf Audio yet marketed.
Tailor your setup and sound
Through the web interface you can perform all setup and operations from the menu system, which allows you to tailor your setup and sound, and the digital crossover allows 3 individual output settings. With our proprietary RoomPerfect™ room-correction software to eliminate the negative influence of the listening room, the TDAI3400 delivers a perfect sound without the need for extensive room treatment.
Built-in media player
The TDAI-3400 accepts all media interfaces and features a built-in media player with the highest playback quality. Through your local network or via the USB connectors, you can access your entire library of music through the DLNA/UPnP enabled player. This media player also allows music streaming using Roon Ready, Spotify Connect, and Airplay 2 as well as internet radio. The TDAI-3400 also supports TIDAL Connect which allows lossless audio quality with the TIDAL app as the controller, and it includes the MQA Core Decoder, which unfolds the MQA file once to deliver better than CD-quality. MQA (Master Quality Authenticated) is an award-winning British technology that delivers the sound of the original master recording.
Control the TDAI-3400 with an app
The "Lyngdorf Remote" app automatically discovers the TDAI-3400 connected to your local network, and you will be able to adjust all the basic functions like input selection and volume level from your handheld device. The built-in media player can be controlled directly, and you can access music files stored on pen drives connected to the Lyngdorf TDAI-3400 as well as search all files stored on your local hard drives. Swiping left and right gives you access to cover art as well as informing you of the signal resolution.
"Lyngdorf Remote" app is available for free download from both IOS and Android.
Connect audio and video sources

A variety of inputs and outputs provide plenty of options to connect your audio and video sources as well as your speaker setup – such as 7 digital inputs including a balanced AES/EBU, USB inputs connects to music stored external, 2 analog inputs for simple analog music sources and optional modules.
Modular upgrade options for TDAI 3400
HDMI 4K input/output module (+£405 option)
The HDMI module upgrade provides HDMI 2.0b support with pass-through of 18Gbps and all HDR formats. The module offers a unique and intelligent way to integrate audio and video into your living room, and at the same time to take full advantage of the higher contrast and greater details of 4K HDR sources and displays. Don't settle for the sound coming from your TV's built-in speakers; it's time for an upgrade.
HDMI module with 3 inputs (≤192kHz/24 bit and one output / CEC and eARC/ARC compatible)
High-end analog input module (+£405 option)
The high-end analog input module is designed to support all high quality analog sources, and includes a dedicated input with RIAA compensation. The module holds four analog inputs – 1 phono (RIAA, MM), 2 RCA unbalanced inputs and 1 XLR balanced inputs. You can increase the sensitivity of each input by up to 24 dB, of which the first 6 dB gain is handled through gold plated relays in order to fully utilize the head room of the analog-to-digital converter.
High-end analog input module (1 Phono (MM), 3 analog Line inputs)
Fully digital amplification
In close collaboration with some of the finest minds working in the field of digital technology, Steinway Lyngdorf has developed and advanced High End digital amplification over the past two decades. The speed, precision and incredible dynamic range of this proprietary technology took the world by storm when it was introduced in 1996, creating a musical experience against a background of completely "black" silence to enhance the finest musical details.As conventionally defined, the Lyngdorf TDAI product range does not amplify at all. They are digital-to-analog converters with sufficient power (current and voltage) to drive speakers directly, eliminating hundreds of active and passive components, which are a major source of noise and distortion.
Open loop amplifiers with zero negative feedback
In Lyngdorf TDAI digital amplifiers, signal processing is handled 100% in the digital domain, allowing pure digital processing to deliver the full musical potential. Incorporating the world's most advanced technology, as well as uncompromising component quality, Steinway Lyngdorf creates open loop amplifiers with zero negative feedback.The Lyngdorf TDAI amplifiers employ only a single coil and capacitor to create a 60 kHz, second-order low-pass filter, following D-to-A conversion.Operating at close to 95%, cool-running efficiency, the Lyngdorf TDAI amplifiers generate virtually no heat. Requiring no heatsinks for heat dissipation, the amplifiers are extremely lightweight with a stylish, sleek exterior.To decrease volume, the output voltage of the power supply is simply reduced. This means that the volume control includes no active circuitry, making it an ideal method for uncompromising volume control.
Advantages of Steinway Lyngdorf amplification
The advantages of Steinway Lyngdorf direct digital amplification are immediately clear. The sound is stunning, clear, and articulate, with fantastic soundstage and dynamics. The dead-quiet background is an added benefit. The unusual dynamic range at lower volumes is yet another unexpected benefit of the design.Steinway Lyngdorf's exclusive, patented digital technologies result in a musical immediacy with astounding levels of silence, transparency and naturalness. Our advanced algorithms ensure absolutely linear conversion and the highest possible audio fidelity.Steinway Lyngdorf offers a complete digital control center, incorporating an electronic crossover, D/A converter, preamplifier, power amplifier and RoomPerfect™ room correction with unconstrained sound and a sense of ultimate freedom.Among the most technologically advanced products of its kind – simplicity is the keyword for its design. All this sophisticated functionality is mounted in a compact space with passive cooling for minimum noise pollution to the environment.
Perfect sound through RoomPerfect™
One of the world's most sophisticated solutions for adapting the sound system to the room
Most high-end products are developed in sonically-ideal listening rooms with optimized dimensions and acoustic treatments. However, in reality, sound systems are installed in authentic living spaces, not sound labs. Your sound system should be perfect in your environment—and we can promise it will be. RoomPerfect™, developed by Peter Lyngdorf, is the end product of more than two decades of pioneering audio research and development. It is an intelligent system, which not only identifies the characteristics of the sound of your speakers but also requires specific measurements of your room acoustics. It then applies corrections to the signal over a twenty-minute process that leaves you with sound that's perfectly adapted for the shape, size, and acoustic properties of your room.
Better sound, better design flexibility
RoomPerfect™ allows you to place the speakers the way it works best for the room style. For example, if you position the speakers against the wall, you will enjoy a tighter bass and a higher efficiency from the speaker, while RoomPerfect™ will address imperfections in the frequency response related to the positioning against the wall. If you position the speakers free-standing in the room, RoomPerfect™ will address imperfections in the frequency response caused by delayed reflections from the back wall and side walls. If your room is not perfectly symmetrical in shape or furniture placement, RoomPerfect™ will address these imperfections as well. RoomPerfect™ also improves the performance of each speaker in conjunction with subwoofers. It's very rare for subwoofers to perfectly align with the speakers – RoomPerfect™ creates a seamless blend.
The uniqueness of RoomPerfect™
RoomPerfect™ works very differently to any alternatives and provides a different level of performance and consistency. Furthermore it is quick and easy to set up and is perfect for stereo systems and home cinemas.
Focus speaker measurement – RoomPerfect's first measurement at the main listening seat points the microphone directly at the front speakers. Using a specifically created measurement tone, this measures the speakers with minimal additions from the room. Only by capturing this direct reading from your speakers can RoomPerfect™ preserve the performance rather than changing them to the sound the room correction system dictates.
Room measurements – The acoustic errors a room creates are a complex three-dimensional problem. The only way they can be fully understood is by measuring all of the room in a three-dimensional way. This requires placing the microphone across the full height, width and length of the room, rather than just around the main seat. RoomPerfect™ is unique in this. Only by fully understanding your rooms acoustics and the intended response of your speakers can the system produce such high fidelity.
RoomPerfect™ will digitally calculate the correction based on the Focus and Room readouts. It will separate the loudspeaker's original sound from the room acoustical issues, and only correct what needs to be corrected. Room acoustical problems will be audibly removed, the bass becomes both more defined and deeper, and the soundstaging and imaging between the speakers will improve. There are three settings to chose from: Focus, for the best performance on the main listening seat; Global, for the best performance across a wider listening area; and Bypass, without any correction for comparison.
Specifications
Description:
2-channel integrated amplifier and audio processor
Power handling:
2×400 W RMS @ 4Ohm / 2x200W RMS @ 8Ohm
Audio specifications:
Frequency Response: ±0,5dB from 20 to 20,000 Hz, Total Harmonic Distortion: 0.05% max from 20 to 20,000 Hz, THD-N 1w/8ohm 0,04% / THD-N 1w/4ohm 0,04%
Digital inputs (asynchronous):
1 x AES-EBU (≤192kHz/24bit), 2 x Coaxial (≤192kHz/24bit), 3 x Optical (≤96 kHz/24bit), 1 x USB B (≤384kHz/32bit, ≤DSD128, DXD)
Analog inputs:
2 x Analog Single Ended RCA (Max level: 4.0V = 0dBFS), 1 x Microphone input for RoomPerfect™ calibration
HDMI module (optional): 1 x HDMI Output / 3 x HDMI Inputs (PCM ≤192kHz/24bit), eARC/ARC (PCM ≤192 kHz/24bit), CEC integration, HDMI 2.0b support, HDCP 2.2, Resolutions requiring 600 MHz clock supported
High-end analog input module (optional): 1 x RIAA Phono MM, 2 x single ended RCA, 1 x balanced XLR
Digital outputs:
1 x coaxial digital (96kHz / 24 bit)
Analog outputs:
1 x analog single ended RCA, 1 x analog balanced XLR, 1 x headphone output 3.5mm Jack
EQ:

 
RoomPerfect™, Pre-Equalizer, ICC, 32 x adjustable voicings holding ≤8 filters with adjustable gain and Q
Mediaplayer:

 
Roon Ready, Spotify Connect, Tidal Connect, DLNA Support (uPnP), Airplay 2, Local file playback (USB), Internet Radio (vTuner), MQA Core Decoder (output is 88.2kHz or 96kHz)
Wireless connections:
Bluetooth (for Remote Control and BLE), Wi-Fi (802.11 n/ac)
Interfaces:
Web-interface, IP Control, 1 x DB9 connector for RS232 control, 1 x RJ45 Ethernet LAN connector, 2 x USB connectors (Type A) , SD card slot (Backup of filters and settings)
Accessories included:

 
RoomPerfect™ Microphone, Microphone stand, cable & mini-jack connector, Remote control (IR / BLE)
Placement options:
Optional rack mount or freestanding
Heat dissipation value:

 
270 BTU

Dimensions (Wx H x D):

 
45 x 10.5 x 36 cm (including connectors) / 17.7 x 4.1 x 14.1 inches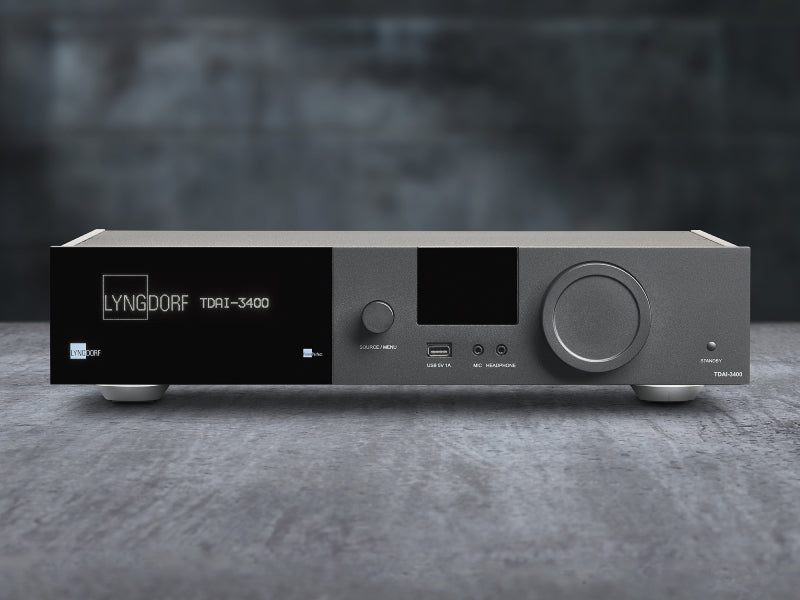 Lyngdorf TDAI-3400 Integrated Amplifier
Sale price

£4,995.00
Regular price
Choose options