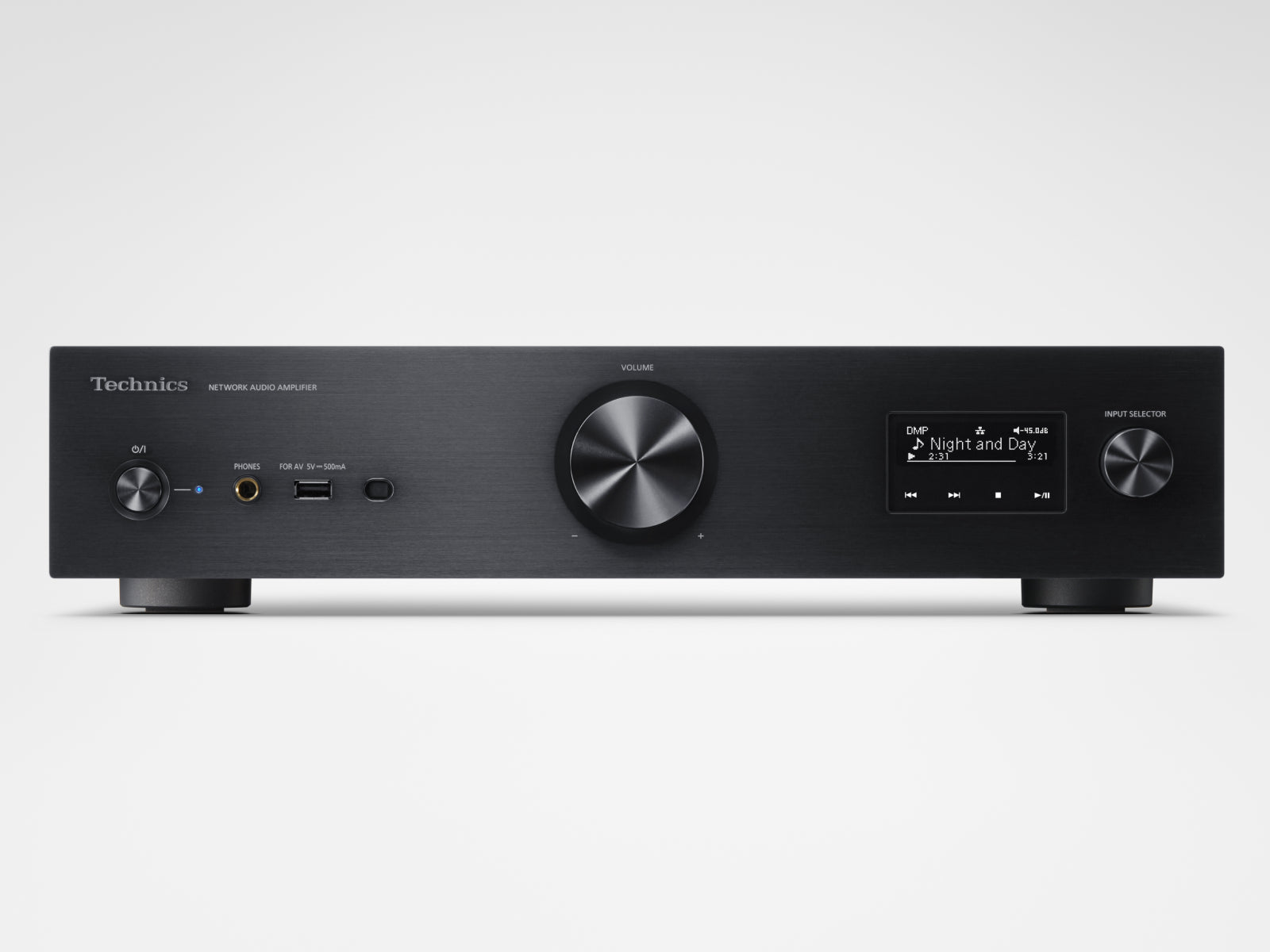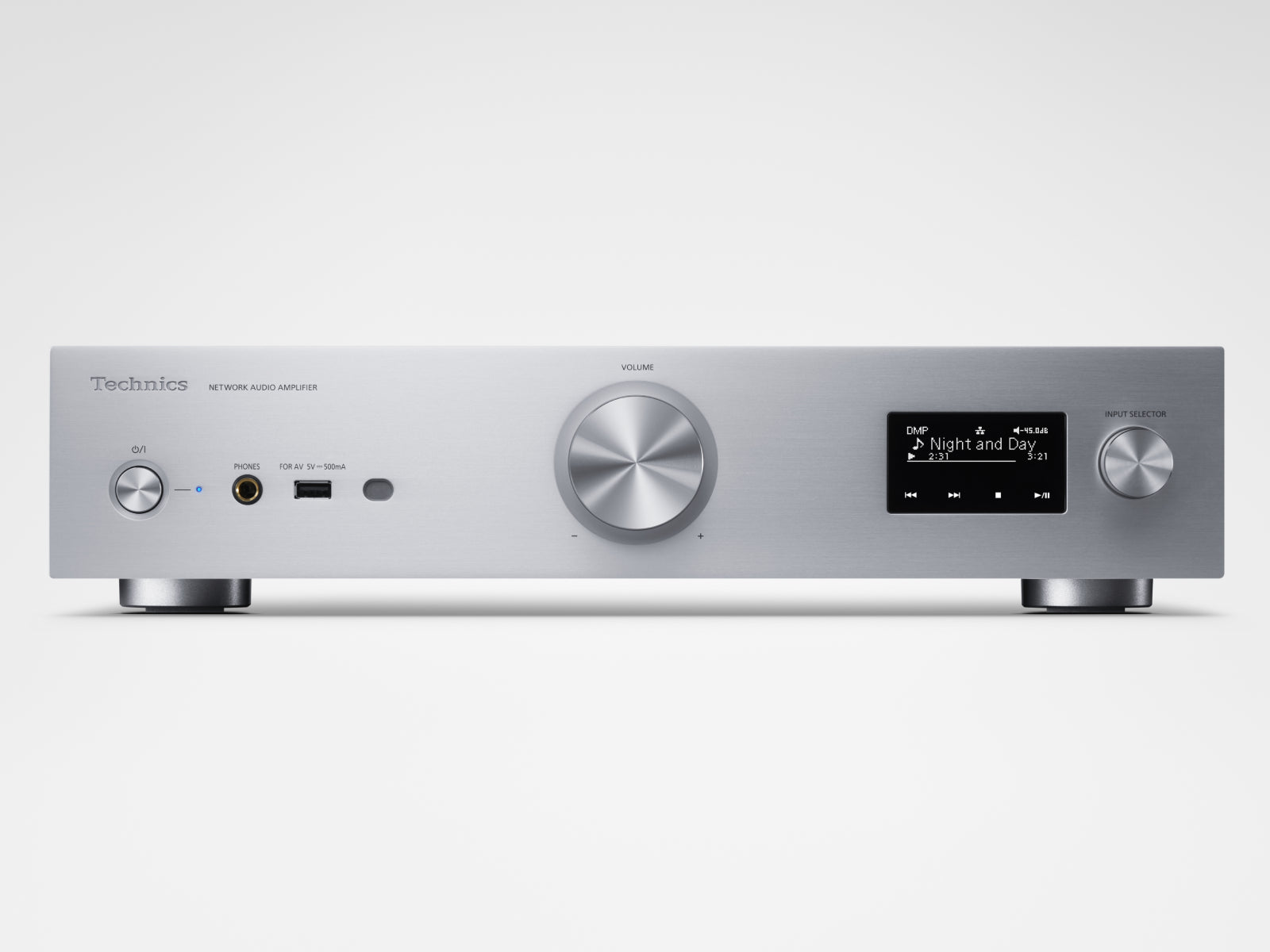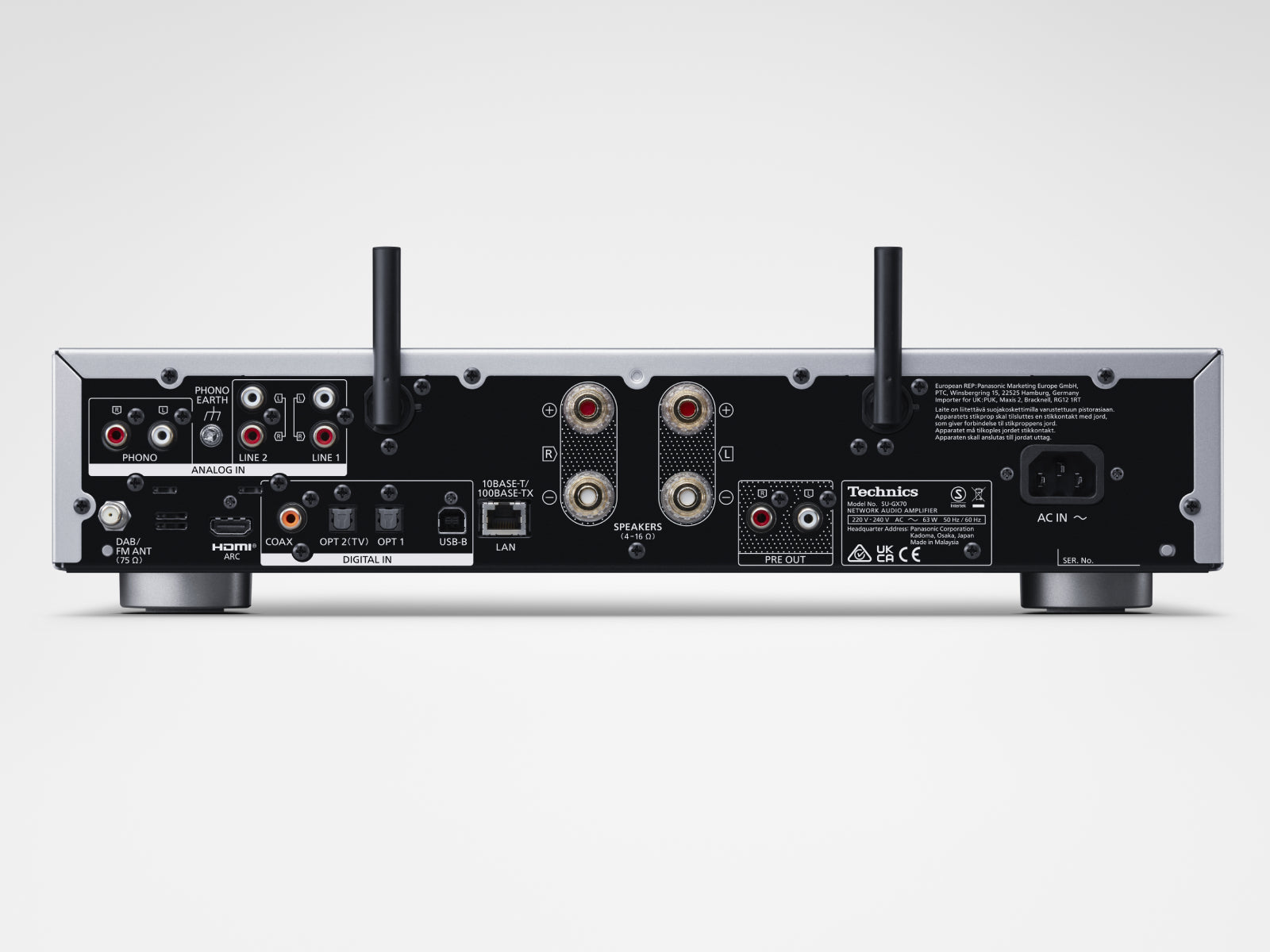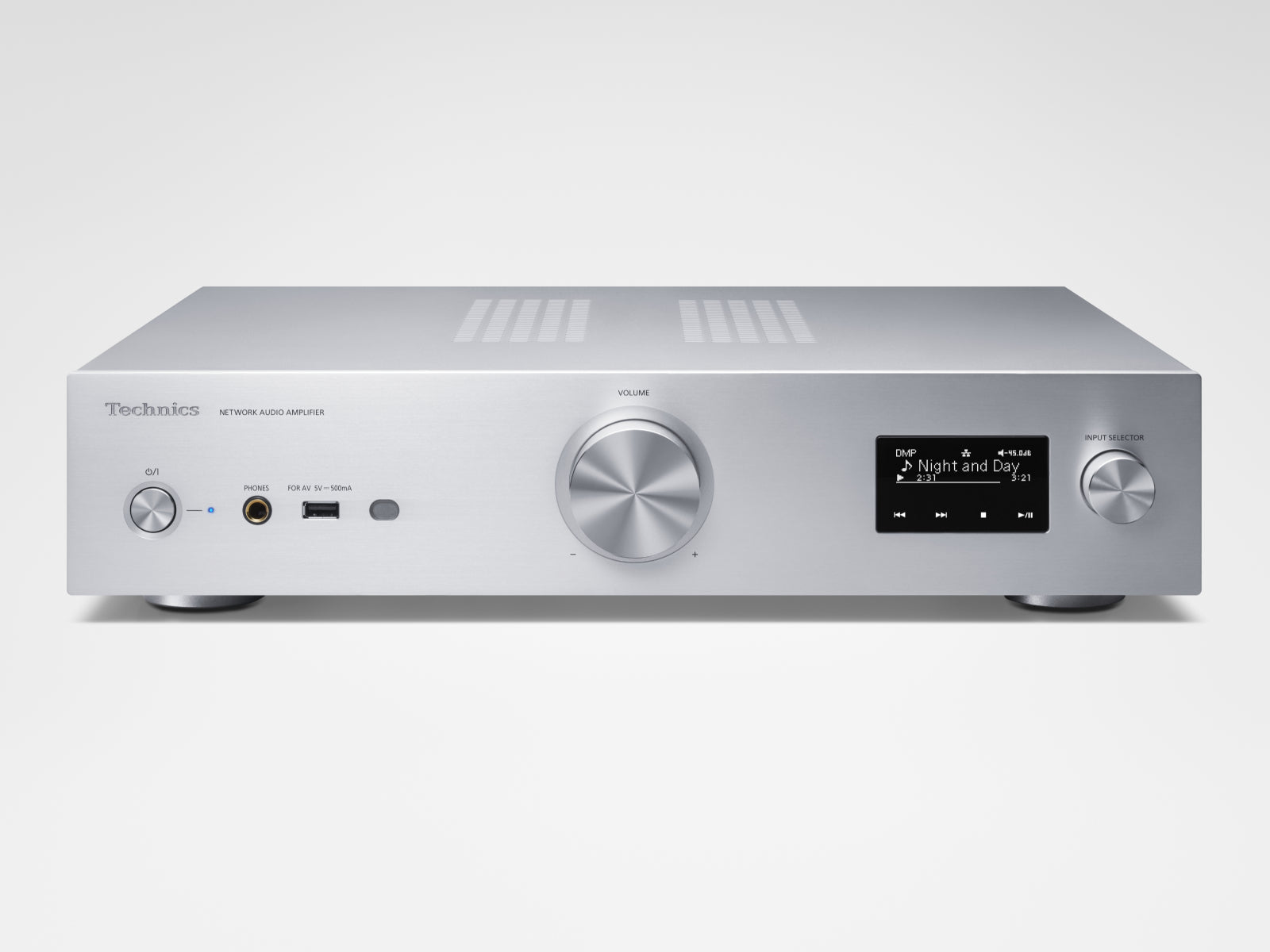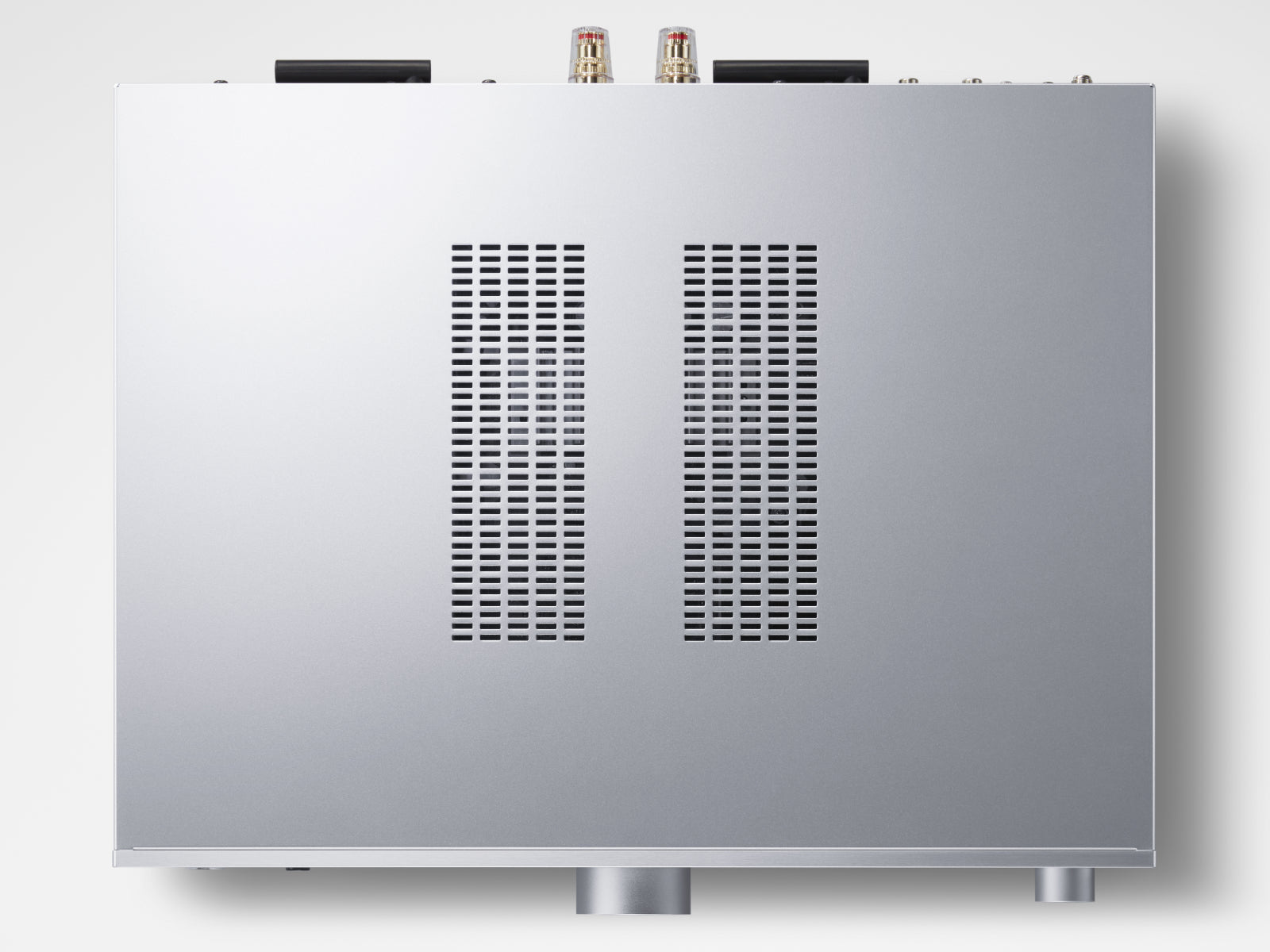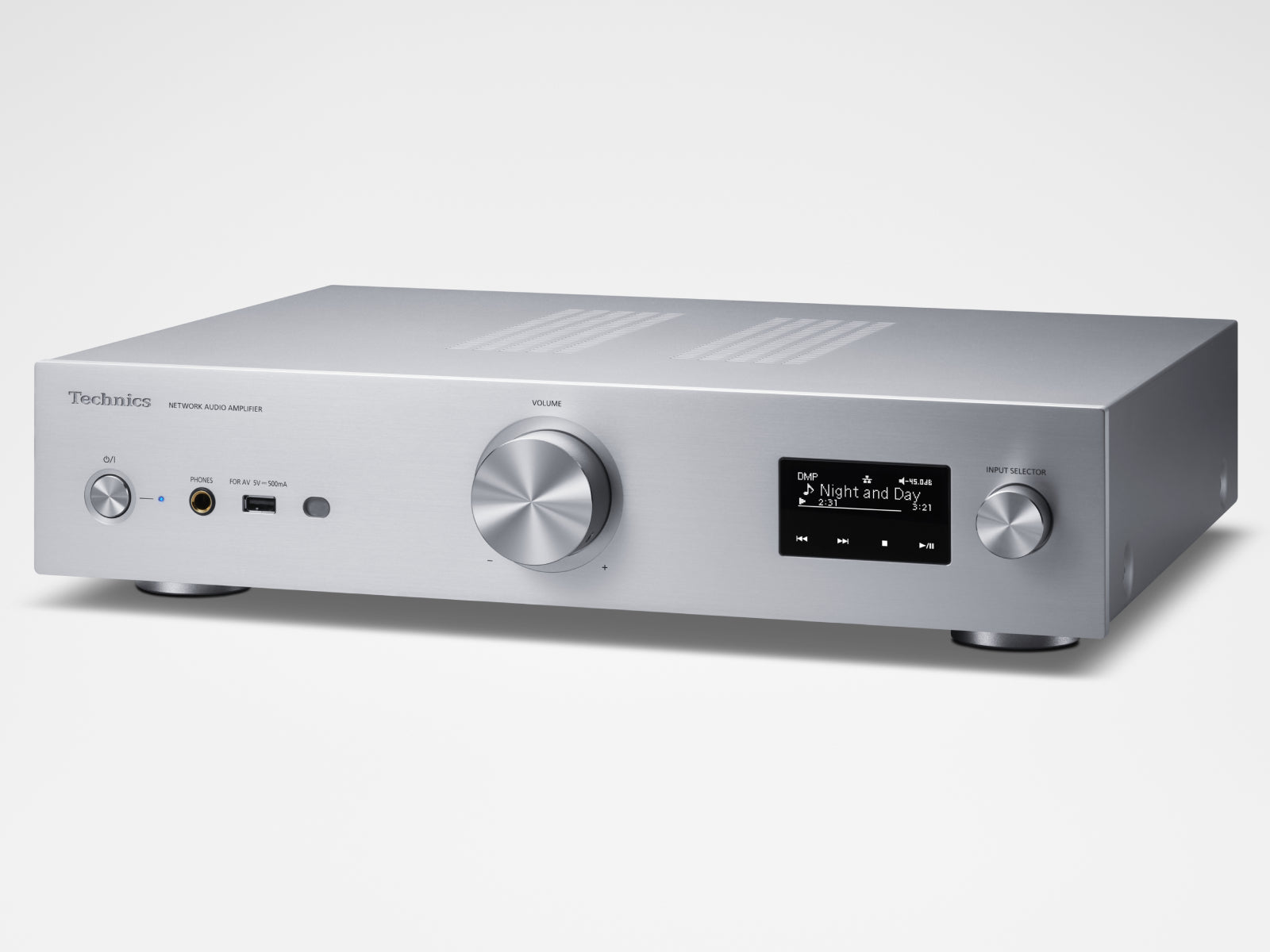 Technics SU-GX70 Network Amplifier
---
Sale price

£1,699.00
Regular price
(/)
Pickup available at Doug Brady HiFi
Usually ready in 1 hour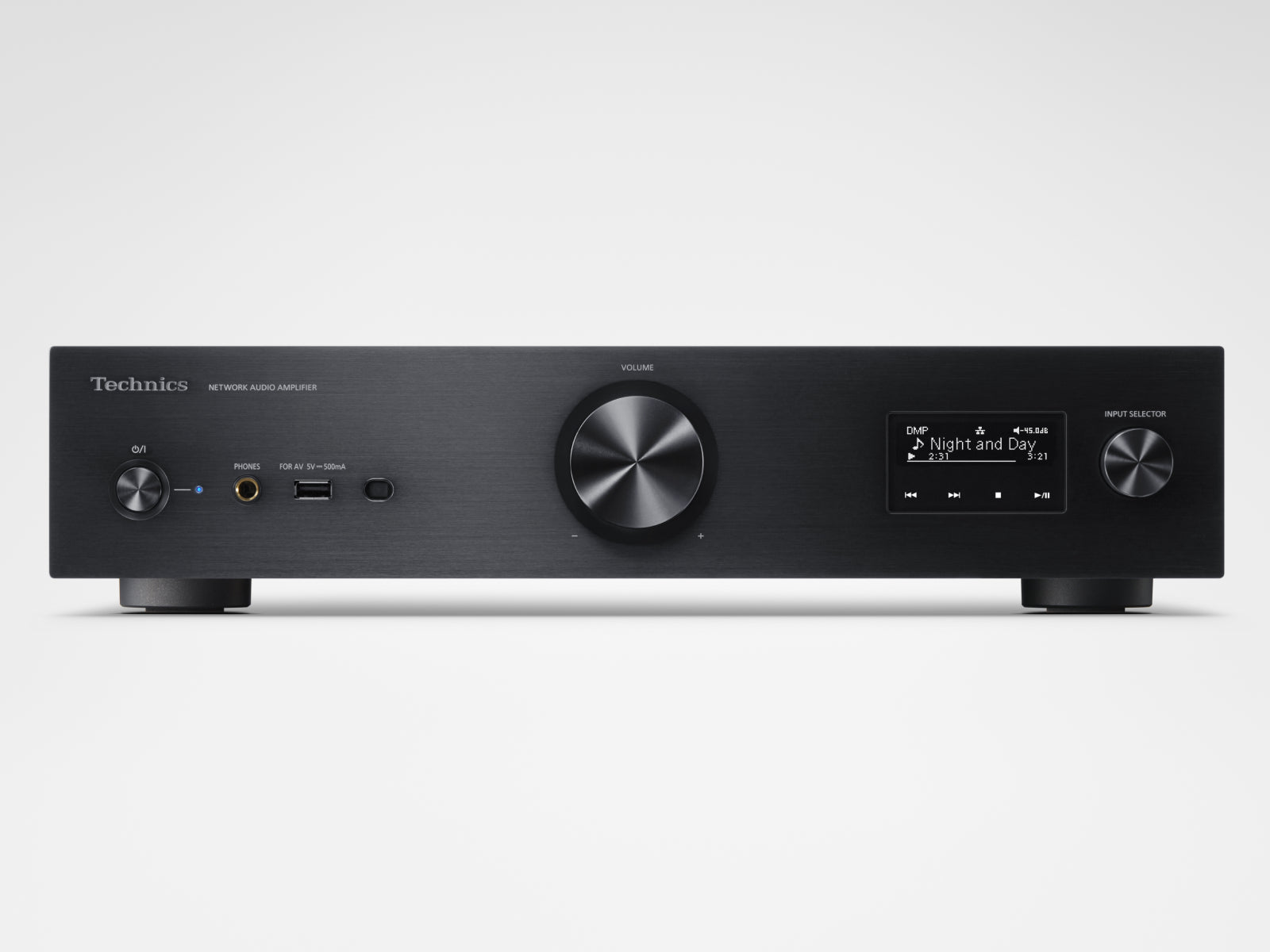 Technics SU-GX70 Network Amplifier
Black
Doug Brady HiFi
Pickup available, usually ready in 1 hour
Kingsway Studios
Kingsway North
Warrington WA1 3NU
United Kingdom
+441925828009
Store 1 (Doug Brady Hi Fi)
Pickup available, usually ready in 2 hours
Kingsway Studios,
Kingsway North
Warrington WA1 3NU
United Kingdom
+441925828009
The new Technics SU-GX70 Network Amplifier Inherits the reference-class audio technology concept Technics employed in the reference SU-R1000 amplifier, the JENO Engine (Jitter Elimination and Noise-shaping Optimization) transmits and processes audio signals in full digital and with minimal jitter from the input stage to the power stage for highest signal purity.
Supreme Audio Performance
Designed to deliver reliably crisp, clear, and sparkling audio, the new Twin Power Supply means the SU-GX70 delivers a high signal-to-noise ratio for superbly detailed sound, while the Clean Power Clock Generator technology taken from Technics' Reference Class components enables high-precision digital signal processing for supreme audio accuracy.
Streaming Services 
For a truly flexible music listening experience, the SU-GX70 is designed around the Chromecast platform for Spotify, TIDAL, Deezer, Qobuz, and Amazon Music HD integration, with support for MQA hi-res audio streaming services built in. It will also be Roon ready (via OTA update) in the near future.

Wireless Connectivity 
Wi-Fi, AirPlay 2, Chromecast and Bluetooth connectivity allow for seamless wireless network communication, while FM, DAB+, and Internet radio support means you can tune into your favourite shows, hassle-free.

Wired connectivity
Physical connectivity options include two line inputs, three digital inputs, USB-A, USB-B and HDMI (ARC).  And – as to be expected from a company at the forefront of turntable
performance – a high-grade low-noise phono EQ allows you to hook up a record player
with a moving magnet pickup cartridge for a sublime audiophile performance with all
the authentic warmth of vinyl.
Built to look beautiful in any home, the SU-GX70 comes in an elegant, minimalist design in both silver and black finishes.
Specifications
SU-GX70 Specs
 
 
 
 
 
 
European model
 
Output Power
 
40W+40W(1kHz,T.H.D.1.0%,8Ω,20kHz LPF)
80W+80W(1kHz,T.H.D.1.0%,4Ω,20kHz LPF)
 
FTC Output Power
 
 
 
 
 
 
 
 
Load Impedance
 
4Ω-16Ω
 
 
 
 
 
 
Frequency Response
 
 
 
 
PHONO (MM)
 
20Hz - 20kHz ( RIAA DEVIATION ±1dB, 4Ω )
 
 
LINE
 
20Hz - 40kHz ( -3dB, 4Ω )
 
 
DIGITAL
 
20Hz - 80kHz ( -3dB, 4Ω )
 
 
 
 
 
 
Input Sensitivity / Input Impedance
 
 
 
 
PHONO (MM)
 
2.0 mV / 47 kΩ
 
 
LINE
 
200 mV / 23 kΩ
 
 
 
 
 
 
Analogue Input Terminal
 
LINE x 2
PHONO (MM) x1
 
 
 
 
 
 
Digital Input Terminal
 
Optical digital x2
Coaxial digital x1
USB-A x1
USB-B x1
 
 
 
 
 
 
Analogue Output Terminal
 
PRE OUT x1
 
 
 
 
 
 
Digital Output Terminal
 
HDMI ARC
 
 
 
 
 
 
Headphone Output
 
Yes, Stereo Φ6.3 mm
 
 
 
 
 
 
Disc Compatibility
 
 
 
 
 
 
 
 
USB-A
 
USB 2.0 High-speed
USB Mass Storage class
 
 
iPod/iPhone/iPad
 
No
 
 
Support Codec
WAV
Yes (32, 44.1, 48, 88.2, 96, 176.4, 192, 352.8, 384 kHz / 16, 24, 32 bit)
 
 
 
FLAC
Yes (32, 44.1, 48, 88.2, 96, 176.4, 192, 352.8, 384 kHz / 16, 24 bit)
 
 
 
DSD
Yes (2.8 MHz, 5.6 MHz, 11.2 MHz)
 
 
 
AIFF
Yes (32, 44.1, 48, 88.2, 96, 176.4, 192, 352.8, 384 kHz / 16, 24, 32 bit)
 
 
 
ALAC
Yes(32, 44.1, 48, 88.2, 96, 176.4, 192, 352.8, 384 kHz / 16, 24 bit)
 
 
 
AAC
Yes (32, 44.1, 48, 88.2, 96 kHz/16-320kbps)
 
 
 
MP3
Yes (32, 44.1, 48 kHz / 16-320 kbps)
 
 
 
 
 
 
PC(USB-B)
 
USB 2.0 High-speed
USB Audio Class 2.0, Asynchronous mode
 
 
Support Codec
LPCM
Yes (32, 44.1, 48, 88.2, 96, 176.4, 192 352.8, 384 kHz / 16, 24, 32 bit)
 
 
 
DSD
Yes (2.8 MHz, 5.6 MHz, 11.2 MHz)
 
 
DSD contol mode
 
ASIO Native mode, DoP mode
 
 
 
 
 
 
MQA Decorder
 
 
Yes
 
 
 
 
 
 
LAN(DMR)
 
 
 
 
 
WAV
Yes (32, 44.1, 48, 88.2, 96, 176.4, 192, 352.8, 384 kHz / 16, 24, 32 bit)
 
 
 
FLAC
Yes (32, 44.1, 48, 88.2, 96, 176.4, 192, 352.8, 384 kHz / 16, 24 bit)
 
 
 
DSD
Yes (2.8 MHz, 5.6 MHz, 11.2 MHz)
 
 
 
AIFF
Yes (32, 44.1, 48, 88.2, 96, 176.4, 192, 352.8, 384 kHz / 16, 24, 32 bit)
 
 
 
ALAC
Yes (32, 44.1, 48, 88.2, 96, 176.4, 192, 352.8, 384 kHz / 16, 24 bit)
 
 
 
AAC
Yes (32, 44.1, 48, 88.2, 96 kHz/16-320kbps)
 
 
 
MP3
Yes (32, 44.1, 48 kHz / 16-320 kbps)
 
 
 
 
 
 
Ethernet Interface
 
LAN (100BASE-TX/10BASE-T)
 
 
 
 
 
 
Wi-Fi
 
 
IEEE 802.11a/b/g/n/ac/ax
2.4 GHz band / 5 GHz band
 
 
 
 
 
 
Chromecast built-in
 
Yes
 
 
 
 
 
 
AirPlay 2
 
Yes
 
 
 
 
 
 
Bluetooth® (Support codec)
 
Yes (AAC, SBC)
 
 
 
 
 
 
Tuner
 
 
DAB/DAB+/FM
 
 
 
 
 
 
Power Supply
 
AC 220 V - 240 V,50/60 Hz
 
 
 
 
 
 
Power Consumption
 
63W
 
 
 
 
 
 
Dimensions (W x H x D)
 
430 mm × 98 mm × 368 mm
 
 
 
 
 
 
Weight
 
Approx. 6.6 kg
 
 
 
 
 
 
Accessories
 
AC Cord, DAB Indoor Antena, Remote Control, Batteries for Remote Control, Owner's Manual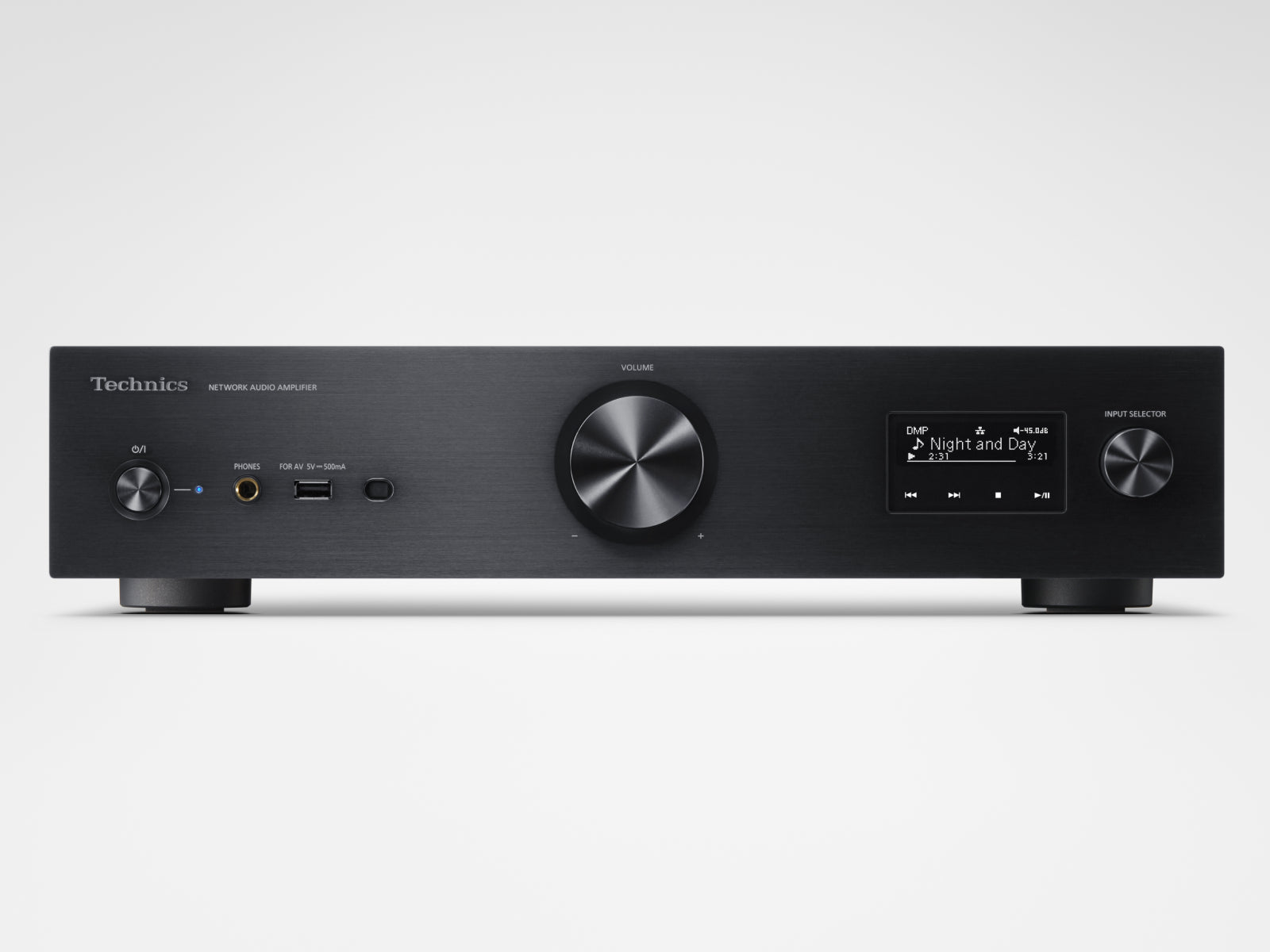 Technics SU-GX70 Network Amplifier
Sale price

£1,699.00
Regular price
Choose options