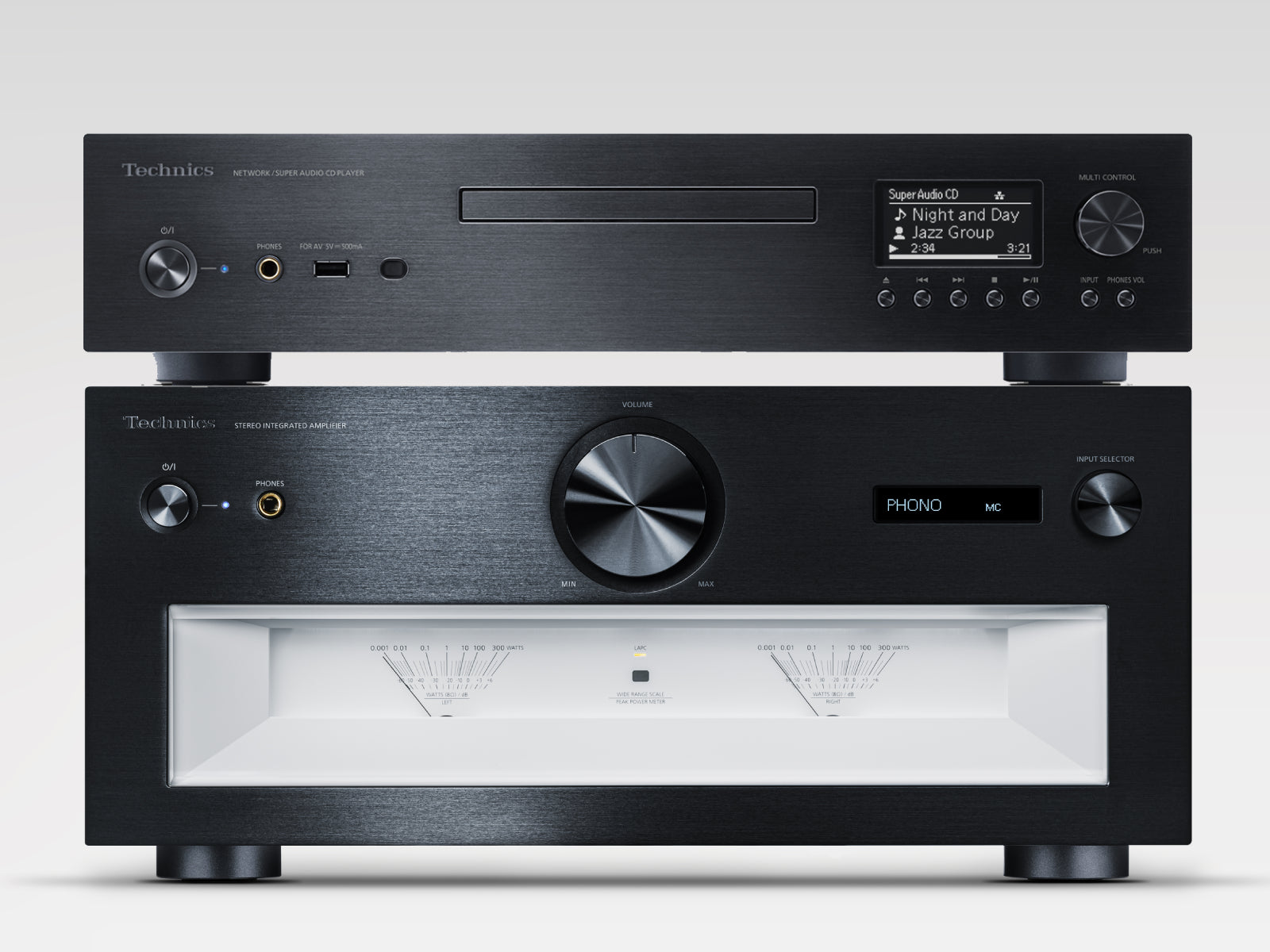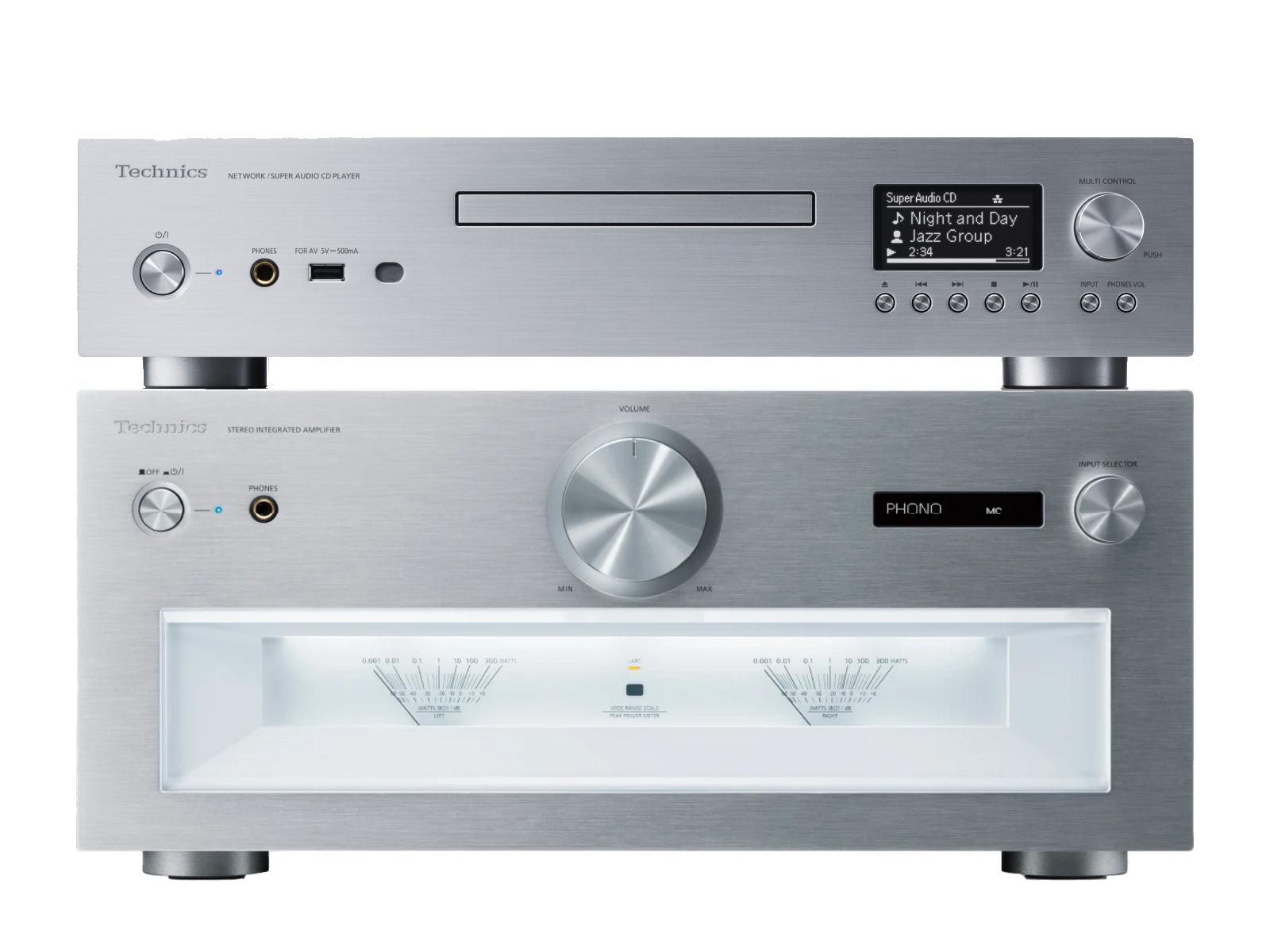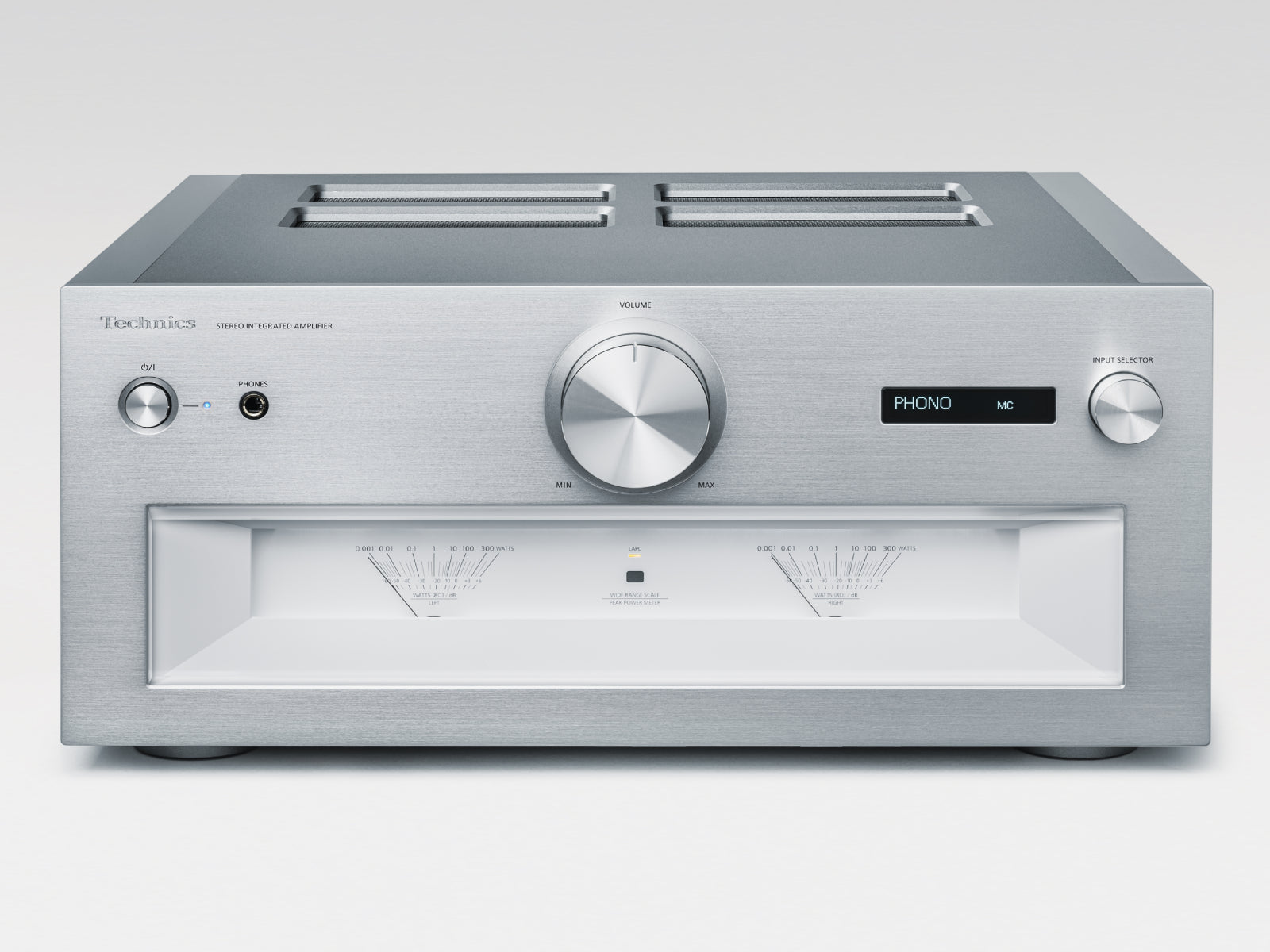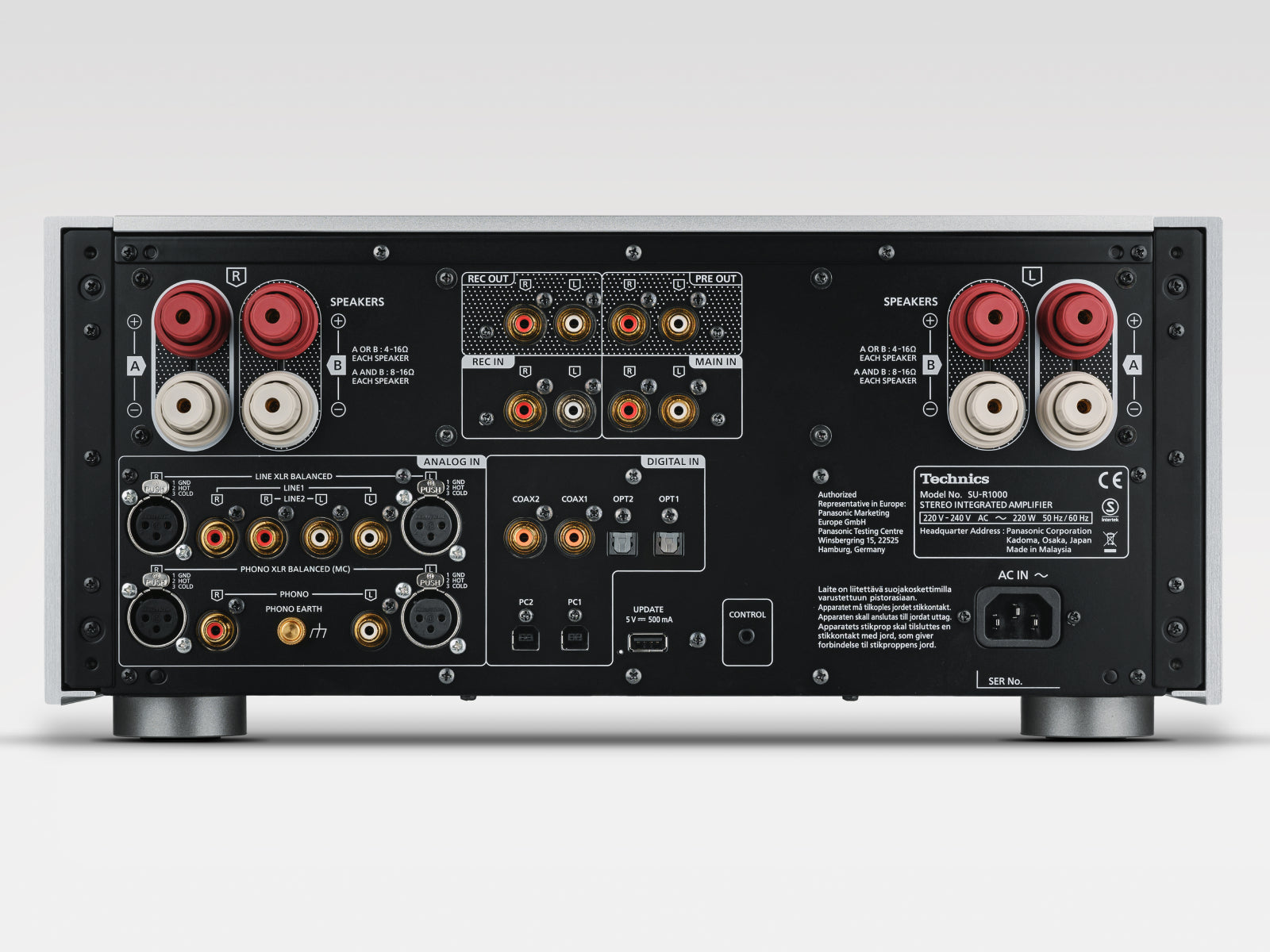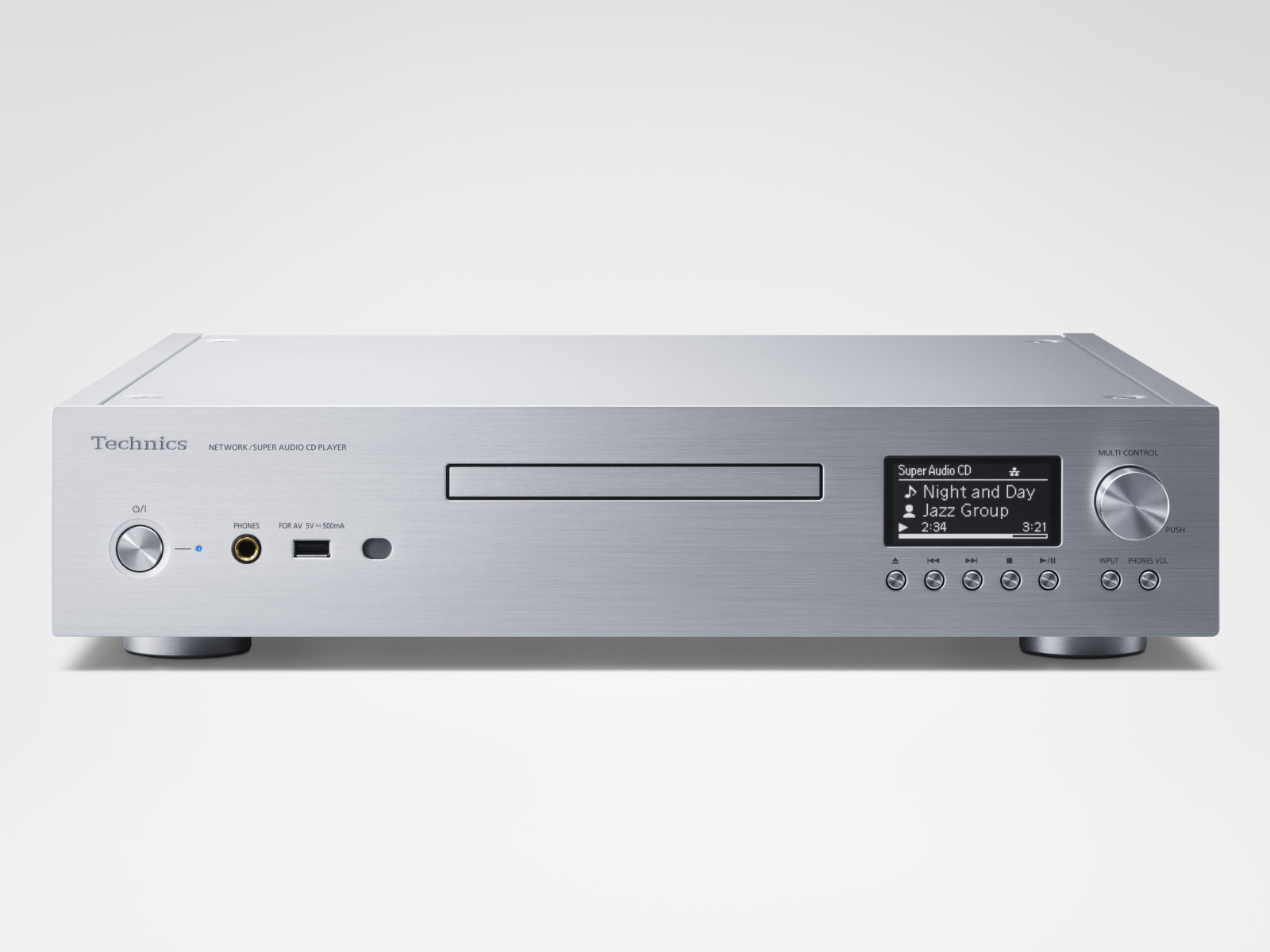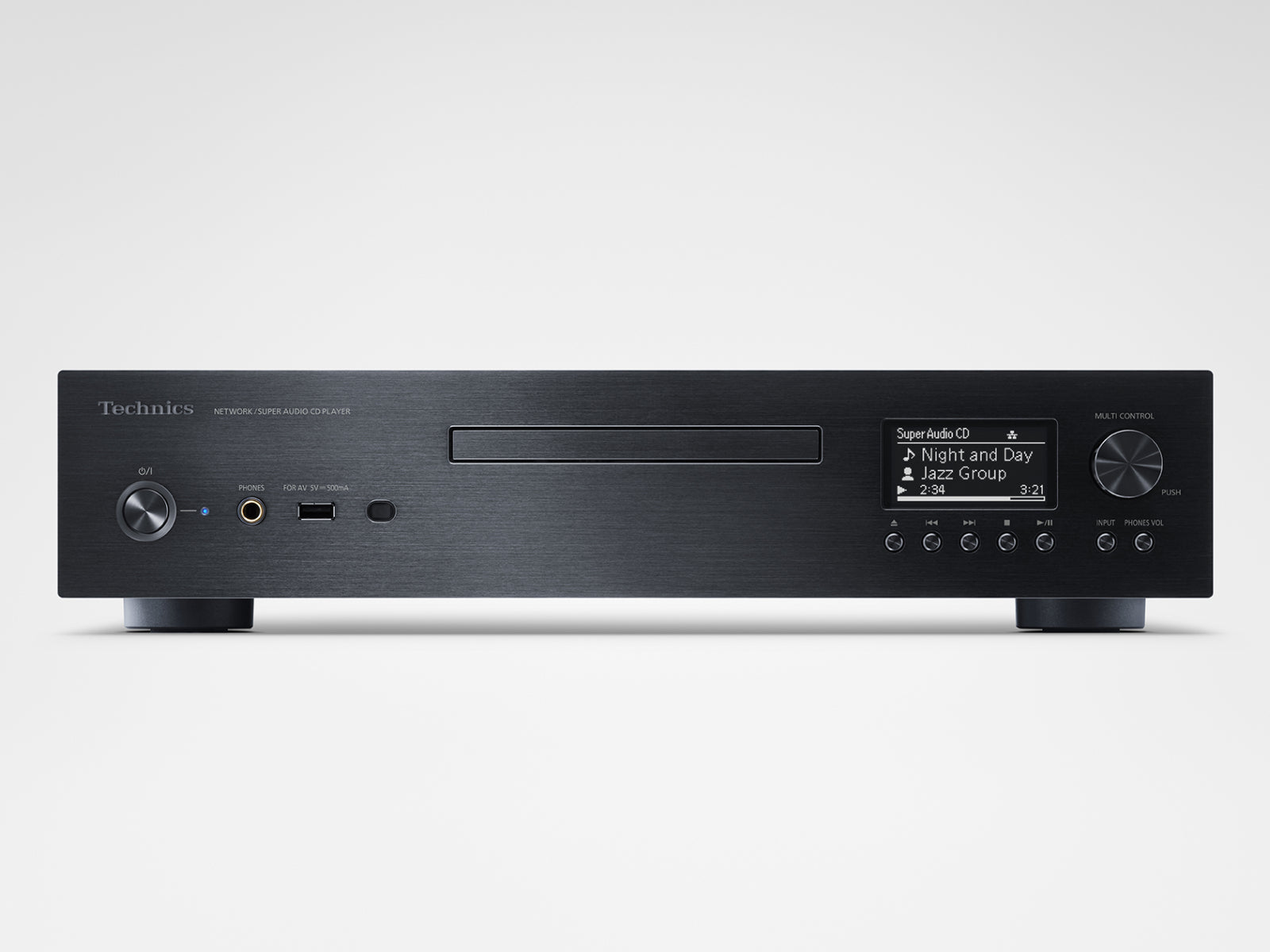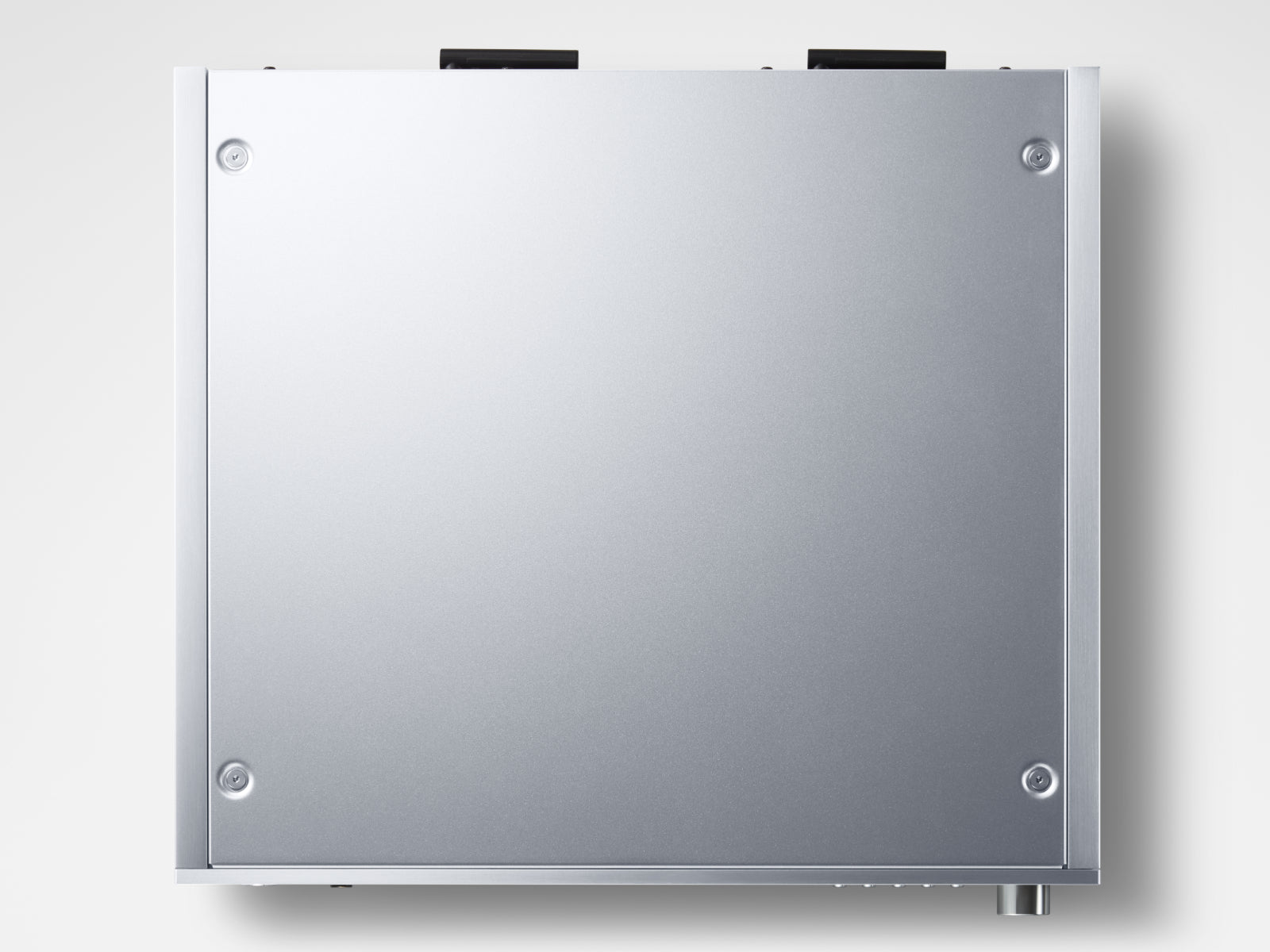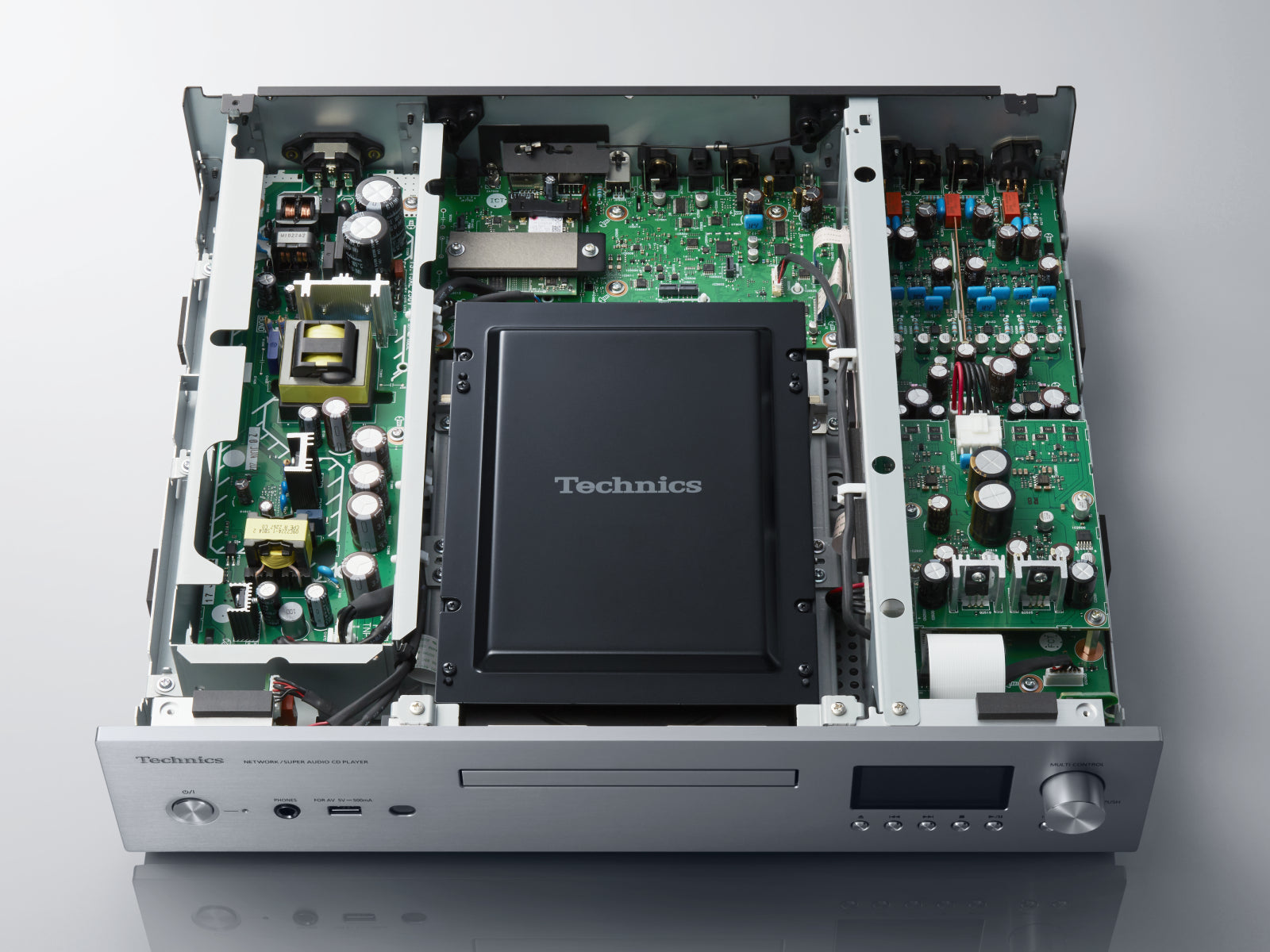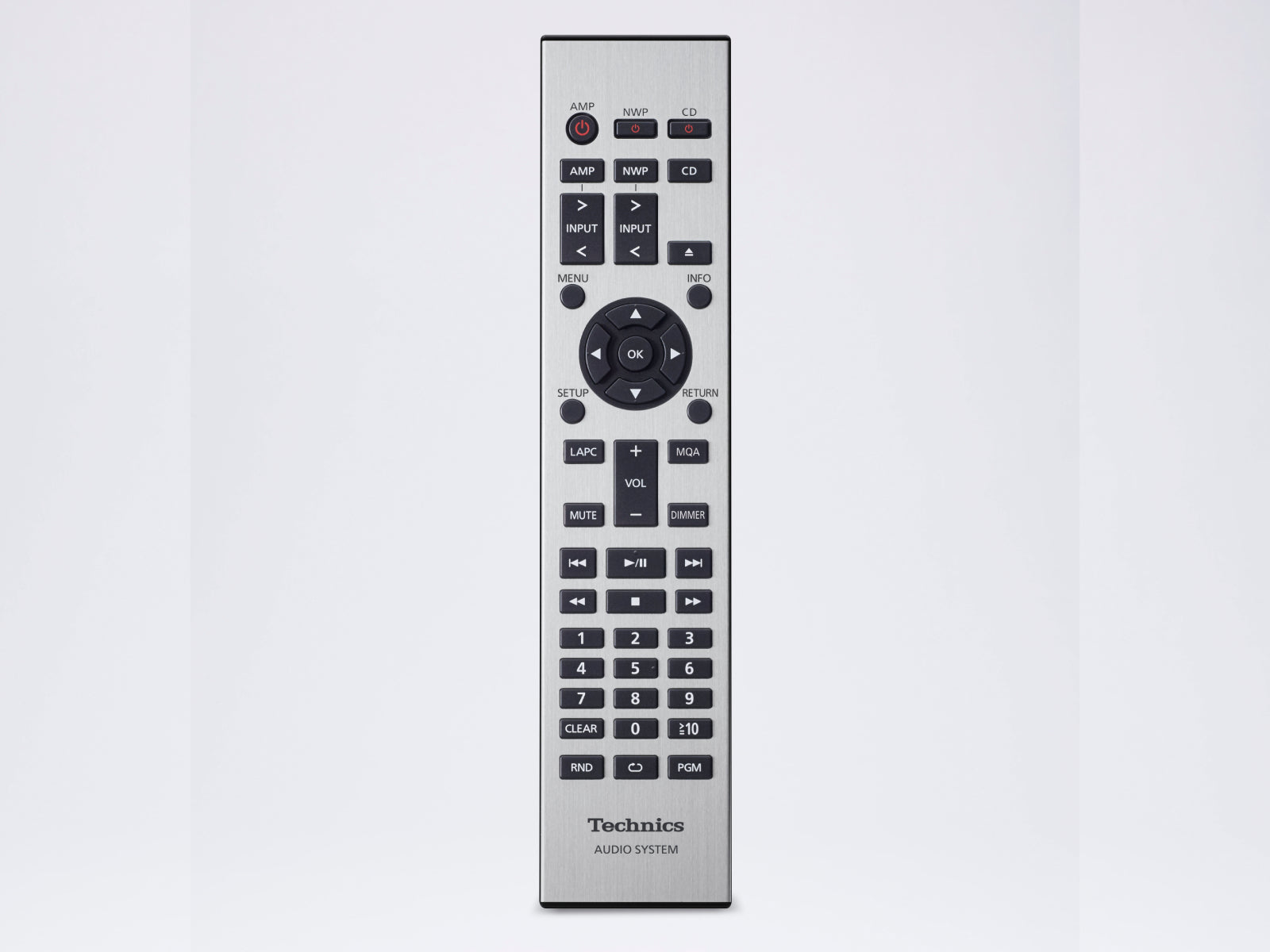 Technics SU-R1000 & SL-G700M2 Amplifier with Network / SACD Player
---
Sale price

£9,599.00
Regular price

£10,898.00
(/)
Pickup available at Doug Brady HiFi
Usually ready in 1 hour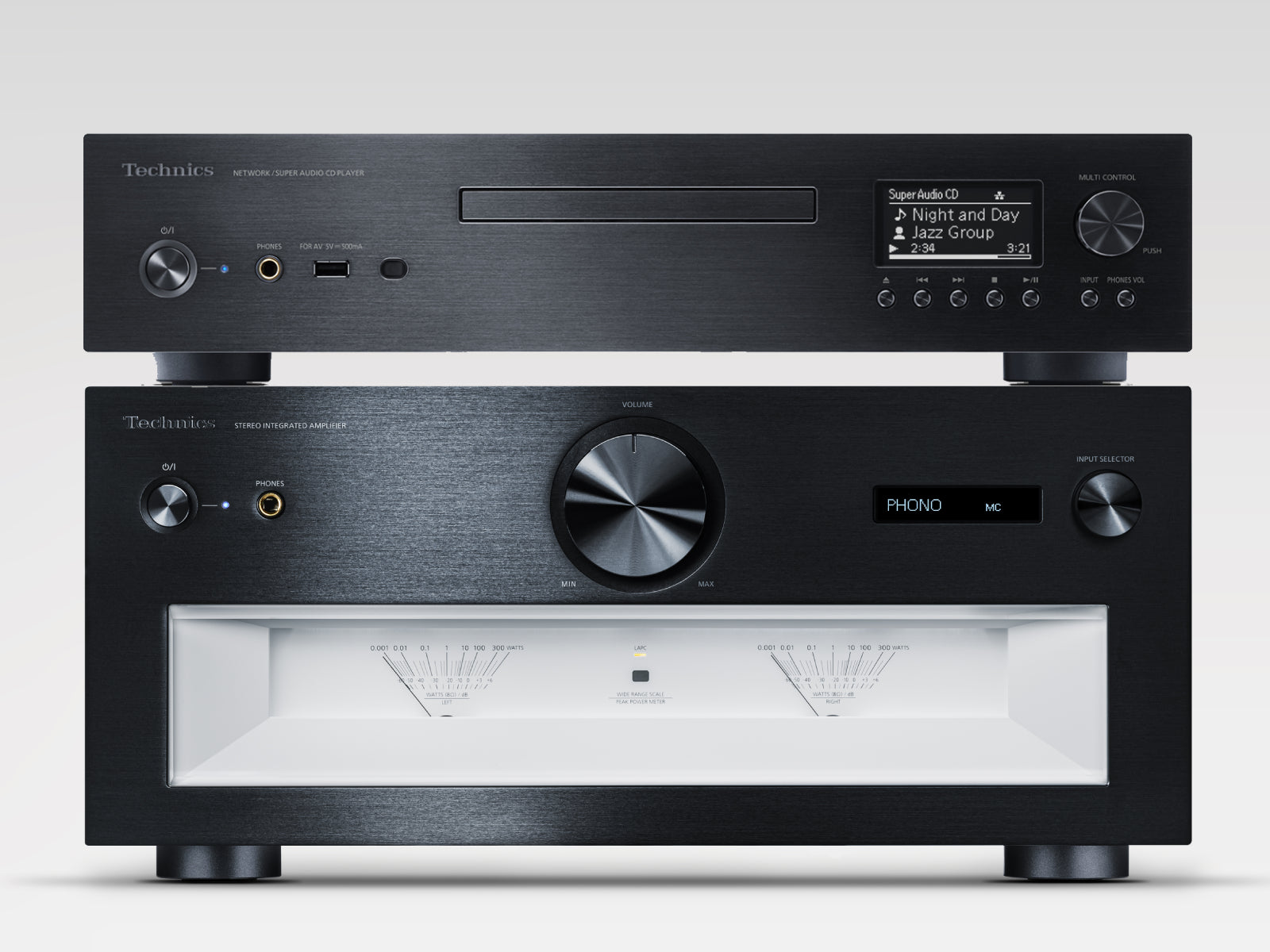 Technics SU-R1000 & SL-G700M2 Amplifier with Network / SACD Player
Black
Doug Brady HiFi
Pickup available, usually ready in 1 hour
Kingsway Studios
Kingsway North
Warrington WA1 3NU
United Kingdom
+441925828009
This Technics Reference Class combination truly has it all. Enjoy the purest sound with the Technics SU-R1000 reference class amplifier combined with the SL-G700M2 multi-digital audio player which is equipped with a supremely flexible music streamer – including support for AirPlay 2, Chromecast, Spotify, TIDAL, Internet radio, Bluetooth and more. The USB DAC makes it possible to connect your PC, TV and other devices for a huge boost to their sonic prowess. The SACD player offers ultimate Super Audio Compact Disc playback, as well as compatibility with regular CDs.
With the most advanced digital technology at its heart, the Technics SU-R1000 combines power with finesse to deliver class-leading sound.

Digital amp technology at its finest
Having successfully relaunched into the hi-fi in 2014, Technics have spent the subsequent years perfecting their award-winning digital amp technology. The result is the Technics SU-R1000 amplifier – a hugely powerful, digital amplifier that is also amongst the most natural and refined-sounding in its class.

Active Distortion Cancelling Technology (ADCT) for the truest sound
ADCT is Technics' latest digital amp technology and plays a major part in the SU-R1000's superior sound quality. The system actively extracts distortion in the power output and applies correction to the digital output signal, giving your speakers the most natural and lifelike sound possible.

Jitter Elimination and Noise-shaping Optimization (JENO) for smoother audio
JENO works with ADCT to deliver high-resolution digital signals without any distortion being introduced between the input stage and output to the speakers. Technics has developed an original jitter-reduction circuit, avoiding the sound quality degradation due to jitter common to conventional digital amps. Lower jitter means a smoother, more harmonious sound – whatever the music source.

Load Adaptive Phase Calibration (LAPC) for optimised speaker matching
LAPC is a speaker impedance optimisation algorithm that optimises your speakers' performance. Using digital signal processing to flatten both the amplitude and phase-frequency response, the result is sound with better focus, spaciousness and definition.

Reference quality power supply
Featuring four, independent power supplies, the SU-R1000 offers reference levels of audio precision. Digital and analogue sections of the pre-amp are individually powered, as are the right and left halves of the power amp section. This power split helps improve the signal to noise ratio and gives this Technics amp exceptional detail and consistency.

Battery Driven Clock Generator
Technics used battery power for low-noise applications in analogue amplifiers in the past: here, this same technology is used to improve digital clock precision, enhancing the sound's definition.

High quality, adjustable phono stage
If you're adding a turntable to your system, then you're in for a treat with the sound and optimisation possibilities with this Technics amp. The high quality phono stage uses three stages of digital technology to enhance the sound. Accurate EQ Curve uses low-pass filter correction to improve the signal to noise ratio. Crosstalk Canceller uses a calibration record (supplied with the amp) to provide a sharper focus and more expansive sound. Finally, Response Optimiser perfects the impedance matching between cartridge and amp, bringing out the cartridge's true sound.

All the connections
When it comes to connecting up, the Technics SU-R1000 is one of the best in the business. On the digital side, you'll find twin USB, optical and coaxial inputs. Analogue inputs can be found in the form of XLR and RCA phono (x3). Equally, you can connect your turntable via a choice of XLR (MC only) or RCA phono (MM/MC). For future upgrades, there are pre out/power in RCA sockets, plus a record output. Add in a high quality headphone output and you've everything you could need from a high-end amp.

Hear just what a cutting-edge amp can do for your music, with the Technics SU-R1000.

Combining an SACD player, network music streamer and USB DAC, the Technics SL-G700 M2 is a multi-digital audio player of the highest standard.

SACD player, streamer and more
This Technics player truly has it all. SACD offers ultimate Super Audio Compact Disc playback, as well as compatibility with regular CDs. Much more than just a regular CD player, however, the Technics SL-G700M2 is also equipped with a supremely flexible music streamer – including support for AirPlay, Chromecast, Spotify, TIDAL, Internet radio, Bluetooth and more. The USB DAC makes it possible to connect your PC, TV and other devices for a huge boost to their sonic prowess.

The highest quality digital sound – for all sources
At the heart of this Technics super-source, is a High Precision Coherent DAC (Digital to Analogue Convertor) that benefits each and every digital source fed through it. Dual ESS pro DACs produce incredible detail, precision and dynamics. Separate DACs for each channel enhance the soundstage for breathtaking imaging and depth. The digital filter uses a discreet signal path for reduced distortion and enhanced realism.

Coherent processing
Technics' proprietary Coherent Processing uses pre-DAC signal processing to minimise signal distortion and improve the purity of sound. This is available from all digital sources, except DSD/SACD that input directly to the DAC.

Top quality SACD sound
With SACD (Super Audio Compact Disc) compatibility, you get Hi-Res sound from disc. SACD, Direct Stream Digital (DSD) discs offer far higher resolution than ordinary CDs and are similar in quality to 24-bit music files. The result is a more natural sound, revealing subtle detail and texture in the music.

Stream music the way you want
The built-in streamer works with a wide range of popular services and delivery systems. Connect by wi-fi or Ethernet and enjoy favourite music services such as Deezer, TIDAL, Amazon Music, Qobuz and Spotify (premium accounts may be required). You can also choose between AirPlay and built-in Chromecast for seamless streaming within an Apple or Google ecosystem. Internet radio and Bluetooth complete a full house of connectivity.

Enhance the sound of your other digital devices
Featuring USB-B, optical and coaxial digital inputs, the SL-G700M2 accepts digital inputs from your other sources and boosts their sound quality. Use the USB-B for unsurpassed audio quality from your laptop or PC. The optical and coaxial are ideal for hooking up a TV and games console and playing them through your hi-fi or AV system – and all benefiting from the Technics High Precision Coherent DAC technology.

The perfect device for your Hi-Res music files
Both the USB-B input and network support a wide range of Hi-Res music files, making the SL-G700M2 ideal for your top quality music files. Compatible with WAV and AIFF up to 32-bit/384kHz, FLAC and ALAC up to 24-bit/384kHz, DSD up to 11.2MHz and MQA files, the SL-G700M2 is a master of Hi-Res music.

Dedicated headphone output
Rather than simply being fed from the main output supply, the headphone socket has its own, dedicated amplifier. This incorporates Technics' unique JENO engine (Jitter Elimination and Noise-shaping Optimisation) for smooth, distortion-free sound. What's more, the Class AA amp provides high current, letting you drive a wide range of headphones – even ones that are usually too 'quiet' when driven by an ordinary headphone output.

Class-leading build quality
Utilising a four-section design and aluminium die-cast disc tray, the disc drive and laser mechanism are superbly isolated from vibrations. Inside the case, components are divided into four sections, giving excellent electrical noise insulation between each part – helping to reduce distortion and make the sound cleaner. The quality finish continues through to the 7mm thick aluminium front panel and vibration isolating feet.

Fully connected, including studio quality outputs
Fitted with balanced, XLR outputs, the SL-G700M2 is compatible with balanced studio/audiophile quality equipment. These professional grade sockets provide the lowest level of distortion and reduce signal loss over longer lengths. Brass-milled RCA phono outputs are also fitted. Other connections include optical and coaxial digital outputs and a front-mounted USB-A that's ideal for memory stick music file playback.


Accessories Included
Remote Control, AC Cord, System Connection Cable, Analogue Audio cable,
Owner's Manual
SU-R1000 Amp Specification
Accurate Digital Technology
JENO Engine (Jitter Elimination and Noise-shaping Optimisation)
LAPC (Load Adaptive Phase Calibration)
Advanced Speed Silent Power Supply
Battery Driven Clock Generator
Noiseless Signal Technology
Advancement of Power Supply
Technics Definitive Design
High-rigidity Cabinet
Three-section Configuration
FTC Output Power
150W + 150W ( 1kHz, T.H.D. 0.5 %, 8Ω, 20kHz LPF ),
300W + 300W ( 1kHz, T.H.D. 0.5 %, 4Ω, 20kHz LPF)
Input Sensitivity / Input Impedance
LINE 200 mV / 22 kΩ, PHONO (MM) 2.5 mV / 47 kΩ, PHONO(MC) 300uV /100Ω
Frequency Response
LINE 5 Hz-80 kHz (-3 dB, 8 Ω),
PHONO (MM) 20 Hz - 20 kHz (RIAA DEVIATION ±1 dB, 8 Ω)
DIGITAL 5 Hz - 80 kHz (-3 dB, 8 Ω)
Analogue Input Terminal
LINE x 2 (LINE 1, LINE2), LINE XLR BALANCED x1, PHONO (MM/MC) x1, PHONO XLR BALANCED(MC) x1, MAIN IN x1, REC IN x1
Digital Input Terminal
Optical digital x2 (OPT 1, OPT 2) , Coaxial digital x2(COAX 1, COAX 2), USB-B x2 (PC 1, PC 2)
support Codec
USB 2.0 high-speed ,USB Audio Class 2.0, Asynchronous mode
Support Codec
PCM

Yes (32, 44.1, 48, 88.2, 96, 176.4, 192, 352.8, 384 kHz / 16, 24, 32 bit)

DSD

Yes (2.8 MHz, 5.6 MHz, 11.2 MHz, 22.4 MHz* *ASIO Native mode only)
Power Supply
AC 220-240 V, 50 Hz / 60 Hz
Accessories
Remote Control, Calibration Record, AC Cord, Owner's Manual
SL-G700M2 Digital Multi Player Specification
Disc Compatibility
Super Audio CD (2 ch area only), CD, CD-R, CD-RW
Frequency Response
Super Audio CD: 2 Hz to 50 kHz (-3 dB) / CD: 2Hz to 20 kHz (-3 dB)
Dynamic Range (IHF-A)
Super Audio CD: BALANCED: 110dB (IHF-A) / UNBALANCED: 110dB (IHF-A)
CD: BALANCED: 98dB (IHF-A) / UNBALANCED: 98dB (IHF-A)
Signal to Noise Ratio (IHF-A)
Super Audio CD:BALANCED: 121 dB / UNBALANCED: 118 dB
CD:BALANCED: 121 dB / UNBALANCED: 118 dB
THD+N
Super Audio CD: 0.0006% (1 kHz, 0 dB) / CD: 0.0015% (1 kHz, 0 dB)
Digital Input Terminal
Coaxial Digital x 1, Optical Digital x 1, USB-A x 2(Front/Rear), USB-B x1
Analogue Output Terminal
BALANCED x 1, UNBALANCED x 1
Support Variable Level Output
Digital output Terminal
Coaxial Digital x 1, Optical Digital x 1
System Port
System Control (Φ3.5 mm Jack)
Headphone Output
Φ6.3 mm, 110 mV, 32 Ω VOL MAX
USB-A
Support Codec

WAV

32, 44.1, 48, 88.2, 96, 176.4, 192, 352.8, 384 kHz / 16, 24, 32 bit

FLAC

32, 44.1, 48, 88.2, 96, 176.4, 192, 352.8, 384 kHz / 16, 24 bit

DSD

AIFF

32, 44.1, 48, 88.2, 96, 176.4, 192, 352.8, 384 kHz / 16, 24, 32 bit

ALAC

32, 44.1, 48, 88.2, 96, 176.4, 192, 352.8, 384 kHz / 16, 24 bit

AAC

32, 44.1, 48, 88.2, 96 kHz / 16-320 kbps

MP3

32, 44.1, 48 kHz / 16-320 kbps
USB-B Support Codec
PCM

32, 44.1, 48, 88.2, 96, 176.4, 192, 352.8, 384 kHz / 16, 24, 32 bit

DSD
Network Playback Support Codec
WAV

32, 44.1, 48, 88.2, 96, 176.4, 192, 352.8, 384 kHz / 16, 24, 32 bit

FLAC

32, 44.1, 48, 88.2, 96, 176.4, 192, 352.8, 384 kHz / 16, 24 bit

DSD

AIFF

32, 44.1, 48, 88.2, 96, 176.4, 192, 352.8, 384 kHz / 16, 24, 32 bit

ALAC

32, 44.1, 48, 88.2, 96, 176.4, 192, 352.8, 384 kHz / 16, 24 bit

AAC

32, 44.1, 48, 88.2, 96 kHz / 16-320 kbps

MP3

Yes (32, 44.1, 48 kHz / 16-320 kbps)
Ethernet Interface
LAN (100 Base-TX / 10 Base-T)
Wi-Fi
IEEE 802.11 a/b/g/n/ac, 2.4 GHz / 5 GHz Band
Power Supply
AC 220-240 V, 50 Hz / 60 Hz
Power Consumption/ Standby
45W/ 2W(Network Standby On)
Accessories
Remote Control, AC Cord, System Connection Cable, Analogue Audio cable,
Owner's Manual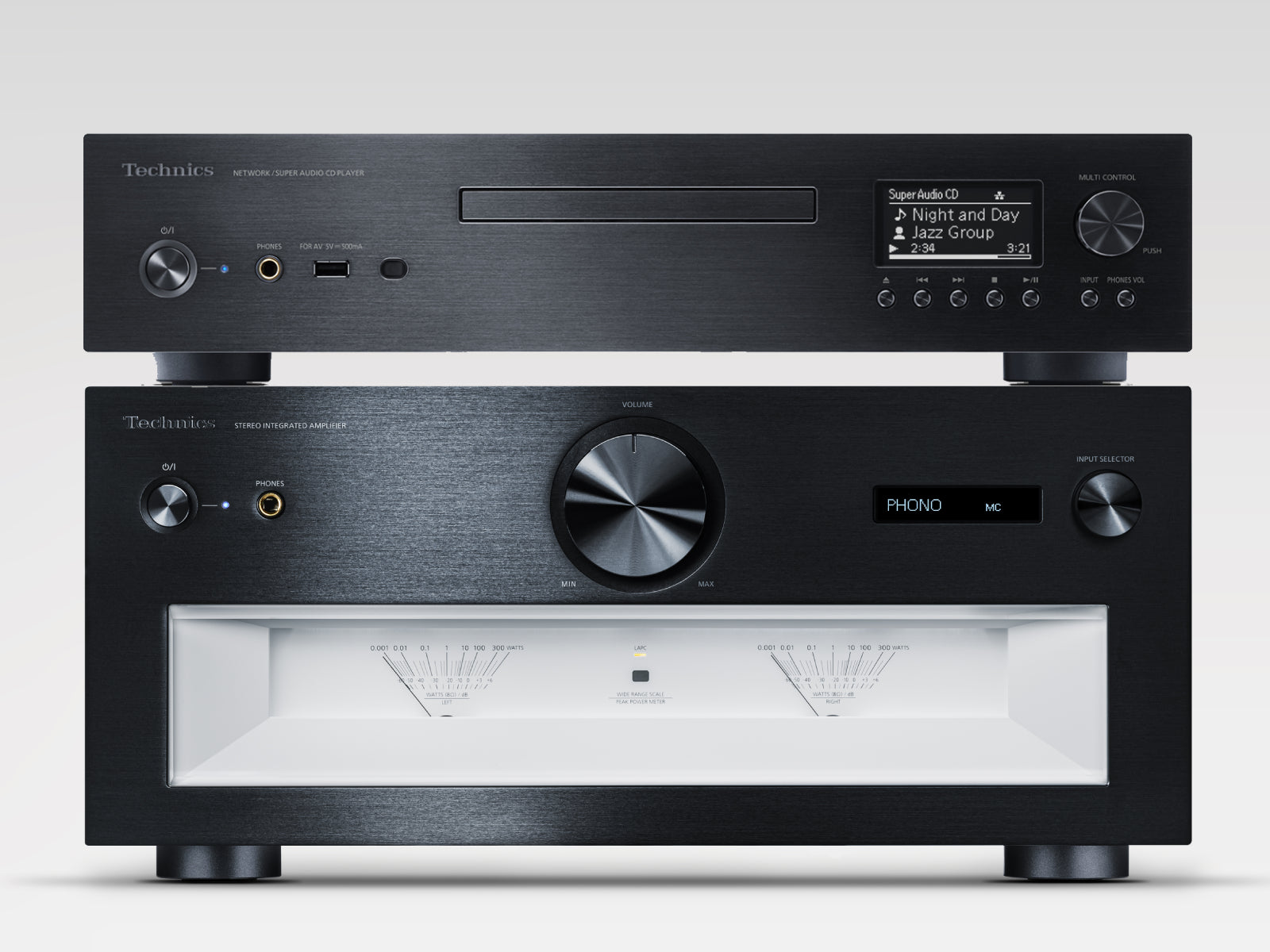 Technics SU-R1000 & SL-G700M2 Amplifier with Network / SACD Player
Sale price

£9,599.00
Regular price

£10,898.00
Choose options