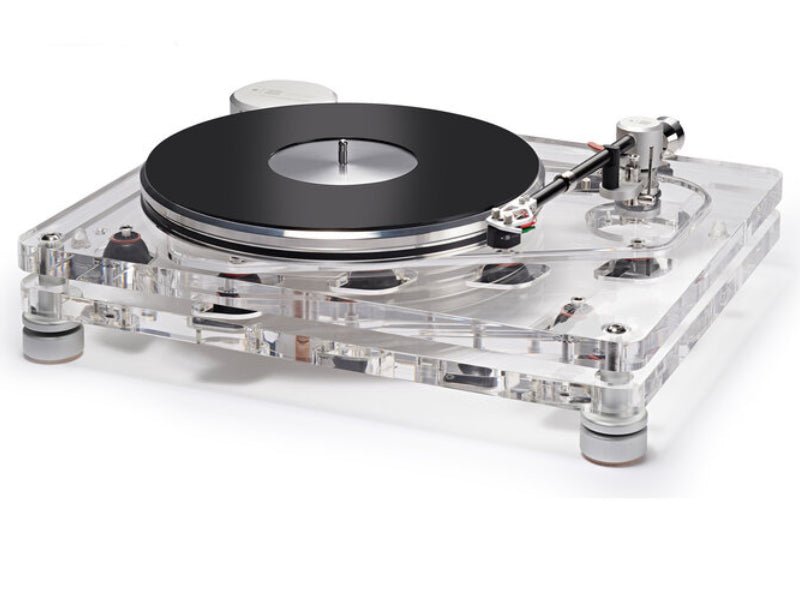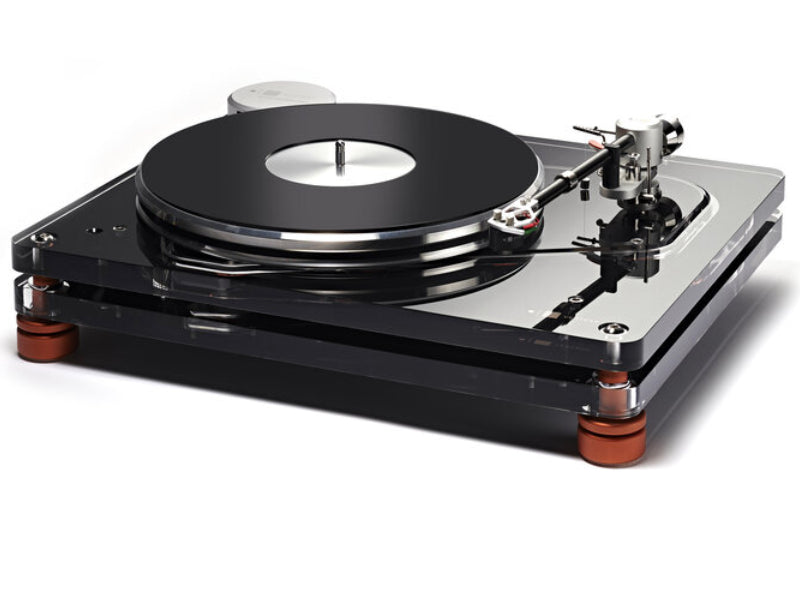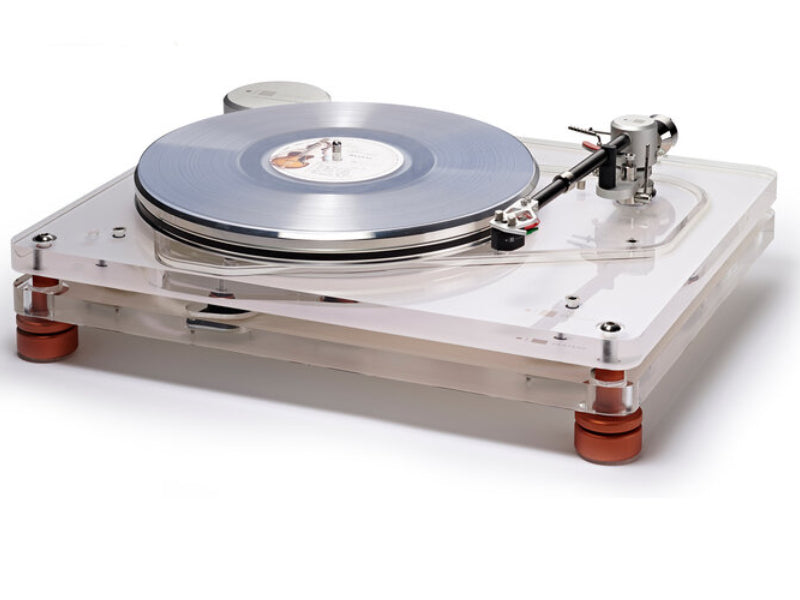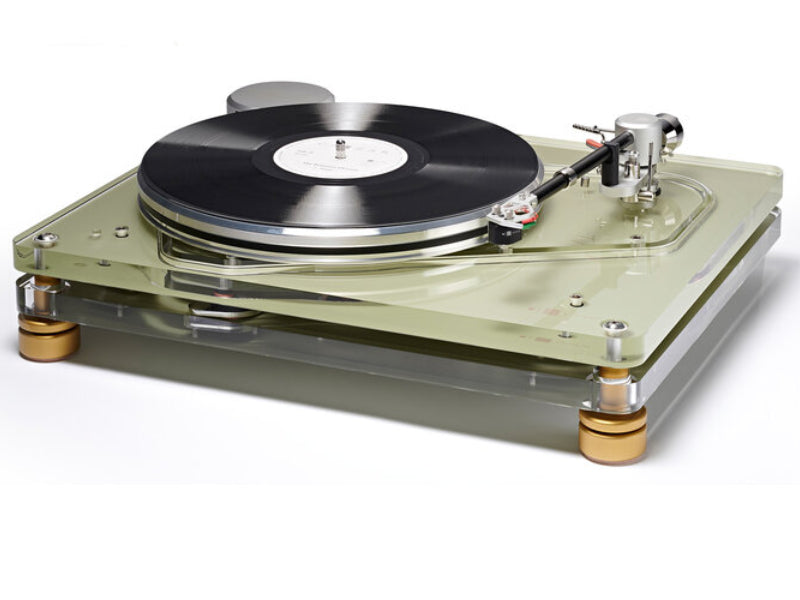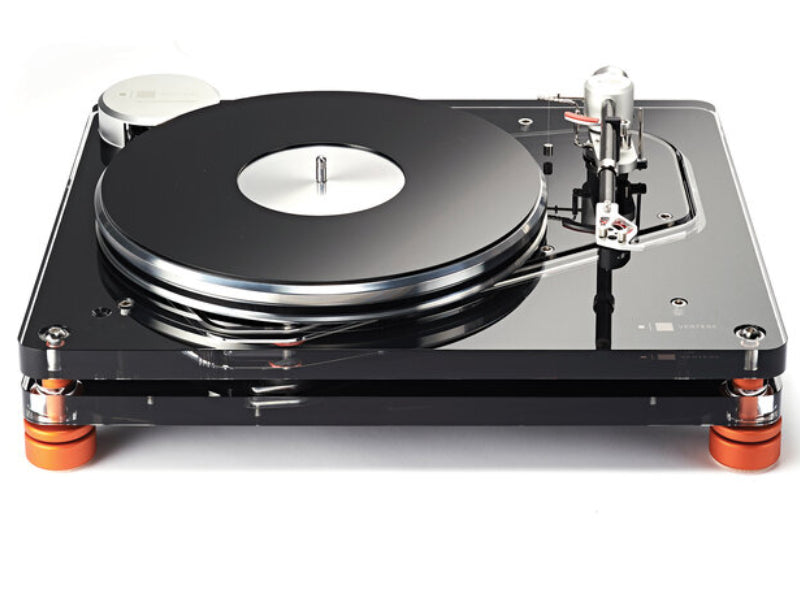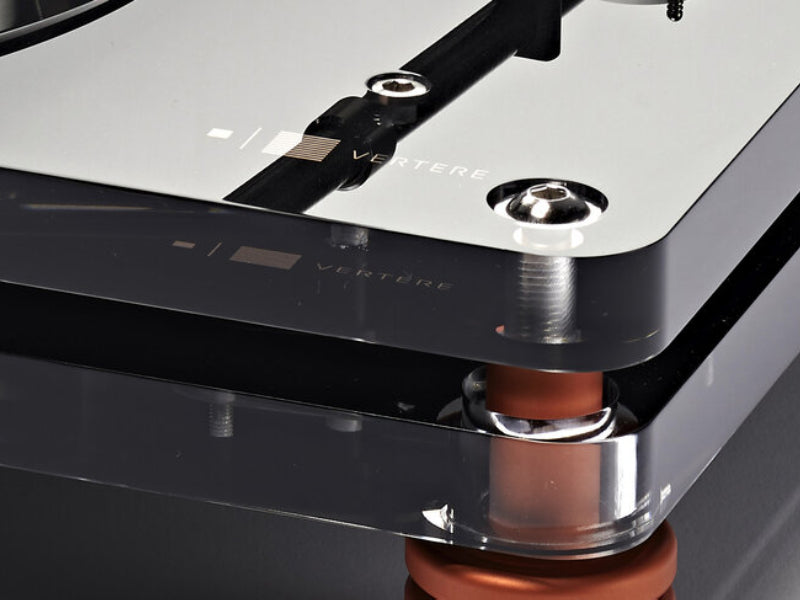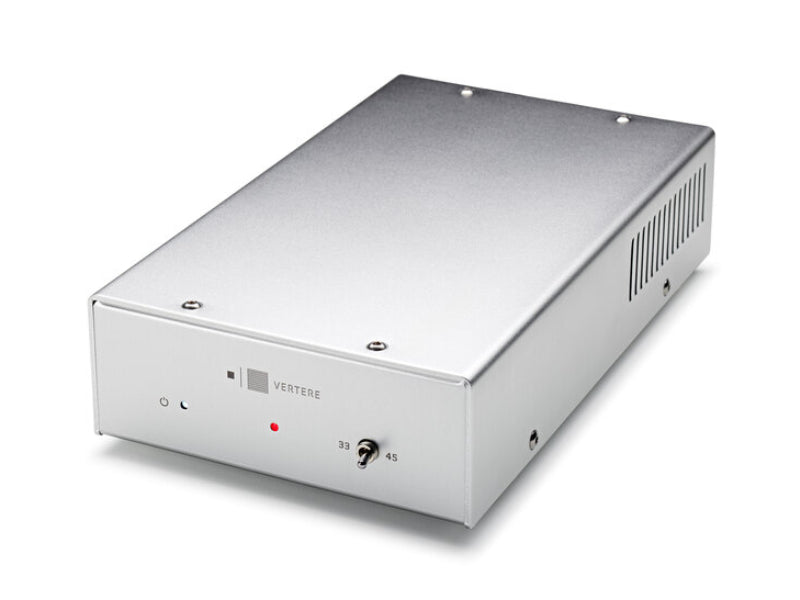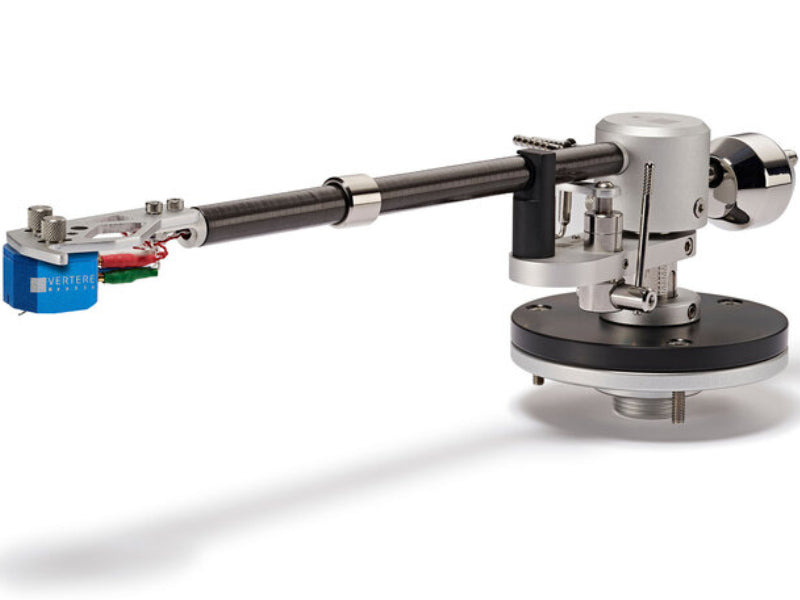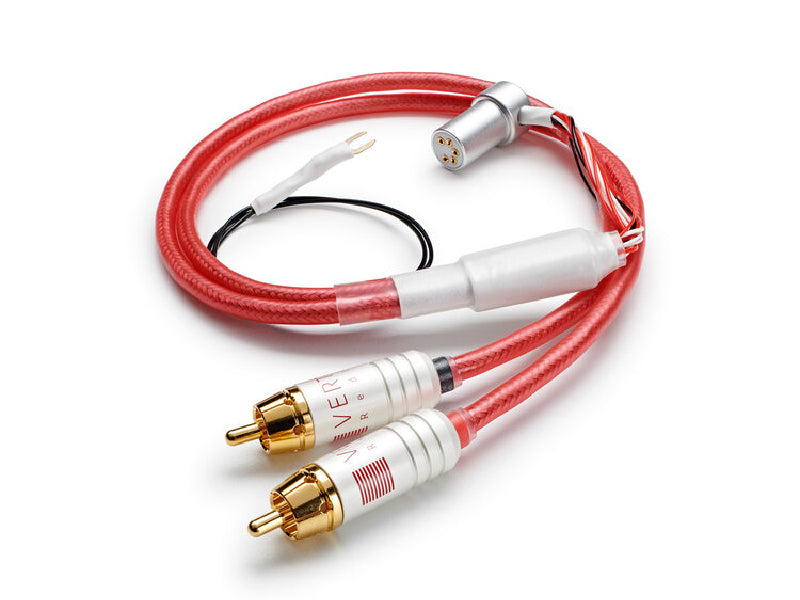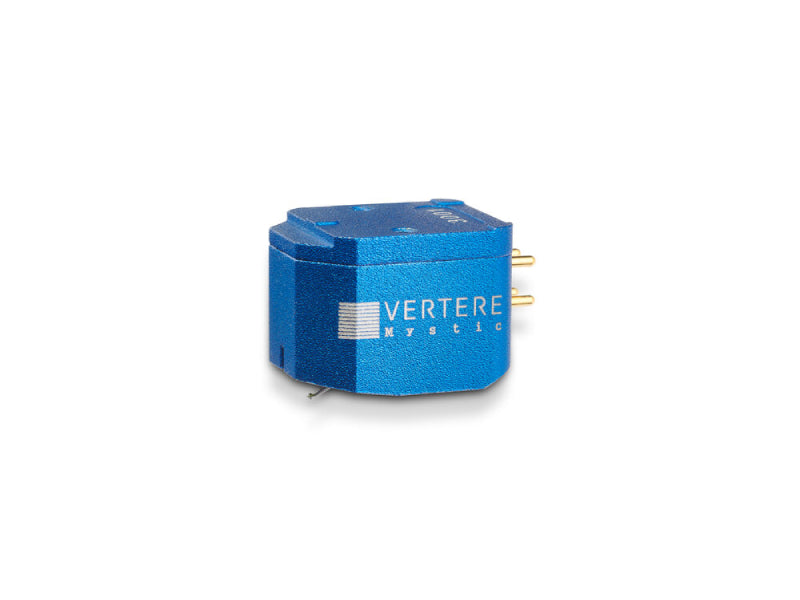 Vertere MG-1 MKII Magic Groove Record Player Package
---
Sale price

£10,850.00
Regular price
(/)
Available to Order
Available to Order
Available to Order
Available to Order
Available to Order
Available to Order
Available to Order
Available to Order
Pickup available at Doug Brady HiFi
Usually ready in 1 hour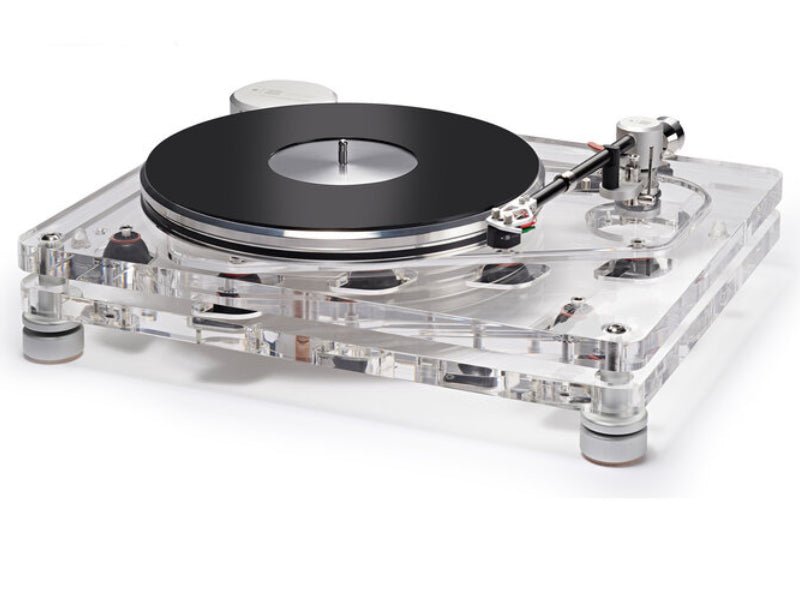 Vertere MG-1 MKII Magic Groove Record Player Package
Includes: SG‐1 MkIII Motor Drive | Redline Motor Link Cable | SG‐1 MkII Tonearm & Redline Tonearm Cable / Clear Cast Acrylic / No Cartridge
Doug Brady HiFi
Pickup available, usually ready in 1 hour
Kingsway Studios
Kingsway North
Warrington WA1 3NU
United Kingdom
+441925828009
The MG-1 Magic Groove package comes complete with matching SG-1 tonearm and Motor Drive. with D-Fi tonearm cable and motor drive cable, the MG-1 provides a performance that is only bettered by the Vertere SG-1.
Vertere's Record Player MG-1 Magic Groove has many critical aspects of its design based on the Vertere SG-1 high performance record player. This has enabled the MG-1 to provide vinyl replay beyond what is possible from its class. Record Player MG-1 will realise the potential of any high quality audio system.
Its performance can easily be upgraded to get very close to the SG-1. Upgrade the tonearm and motor drive cables from D-Fi to Pulse-B, to Pulse-R and all the way to Pulse-HB, to realise the true potential of the MG-1. Every step will provide an unparalleled musical experience and enjoyment that is only achievable from a Vertere record player.
The MG-1 precision main bearing and platter assembly, belt-driven by the SG-1 motor system, ensures smoothest running and provides a stable platform for the tonearm and cartridge. This combination provides an exceptionally wide dynamic range with 'dark' background that is only bettered by RG-1 or SG-1 record players.
With its plinth structure and isolation system based on the SG-1, Record Player MG-1 is designed to be maintenance and setup-free.
Stylish and beautifully crafted with attention to the finest details, this record player is a must-have, and one that lovers of music on vinyl will cherish.
The MG-1 MkII main bearing is directly derived from the SG‐1 utilising exactly the same bearing spindle and ball with a phosphor bronze bearing housing machined using the same precision engineering techniques to our high standards. The materials used and manufacturing to extreme engineering tolerances make the MG-1 MkII main bearing silent, smooth running and second only to the SG-1.
MG‐1 MkII main bearing is lubricated with Vertere proprietary formulated L‐1G record player main bearing oil for ultimate longevity.
Record player motor assembly
Directly derived from the RG-1 and SG-1 motor assembly design, the MG-1 MkII utilises double precision bearings fitted to its dedicated Acetal motor platform and motor bearing support. The motor is aligned using three spike pointed screws making the perfect residual vibration coupling of the motor to the platform itself. This unique design keeps the motor continuously synchronous to provide a drive with constant belt tension. Simply put, it drives the platter at constant speed without variation. As a finishing touch is the switchable internal mood lighting.
MG‐1 MkII platter is a one piece aluminium alloy design based on the SG‐1 platter. Only utilising the same precision machining techniques to our extremely high tolerances ensures the smoothest running of the platter and the required inertia that keeps speed constant. Platter/Record interface is a 3mm bonded cast Acrylic disc as used on the SG‐1.
It is absolutely critical that the record player motor is powered and controlled faultlessly to ensure a full and musical performance of the record player.
The SG-1 MkIII Motor Drive has new enhanced circuitry for speed accuracy, power delivery. The MkIII utilises two fully protected output power devices with much improved control of the motor. The new output circuit provides the platter with constant and smoother drive. Added for ease of use are three motor noise-eliminating pots, now accessible from the underside of the unit.
Elegant and simple to use with a 'super charged' engine under its bonnet!
SG-1 Tonearm
To achieve breath-taking musical performance, the Vertere SG-1 Tonearm utilises a combination of quality materials including roll-wrapped carbon-fibre, stainless steel, aluminium alloys and silicon nitride. Its unique bearing design and versatile anti-skate adjustment make it an ideal partner for any high-quality turntable.
Features
SG-1 Tri-Point Articulated bearing eliminates loss of information.

Non-resonant, high-rigidity roll-wrapped carbon fibre arm tube.

Bias-curve adjustable anti-skate mechanism.

Decoupled stainless-steel main counterweight.

Adjustment ring for fine-tuning of tracking weight and arm/cartridge resonance control.
Vertere Reference Tonearm is a milestone in vinyl replay. Its design, build quality and attention to detail have provided us with performance that is second to none. Of course such quality comes at a price.
It was only natural to ask if by a parallel, albeit different, approach to design could we develop a much more affordable tonearm that was similarly capable of breath-taking performance? This was the beginning of our journey that has led us to the introduction of the Vertere SG-1 TPA Tonearm.
At first sight the SG-1 Tonearm may come across as a uni-pivot, it is in fact anything but a uni-pivot. A uni-pivot will 'skate' about on its bearing point of contact when it is moving side-to-side and up-and-down. This is because there is no such thing as a point.
In reality, the bearing contact point is an extremely small surface. And because of this there is always some 'skating' at the contact point. Although the 'skating' or 'chatter' may be in fractions of microns but so is the magnitude of some of the information stored in the vinyl groove.
To eliminate this 'loss' of information due to unwanted bearing chatter, we have designed a Tri Point Articulated bearing or TPA. Three silicon nitride precision balls and a precision machined pivot point provide the support and the articulation for the arm. Although the tonearm may appear to behave as a uni-pivot, it is however, without any of the bearing 'chatter', preserving as much of the signal information as possible. The result is a life like dynamic response with unexpected clarity, musicality and detail – truly unparalleled.
Vertere Mystic Cartridge (Option)
Vertere Mystic Moving Coil Phono Cartridge is designed and manufactured to exacting standards to provide an uncompromising musical experience.
The body is machined from solid Aluminium alloy and mass tuned to the generator for optimum support and control of unwanted mechanical vibrations. The body is threaded to accept the two supplied stainless steel thumb screws that are also designed for correct coupling of the cartridge body to the tonearm head-shell. Machined on top of the Mystic cartridge are three specifically designed contact points that provide the exact mechanical coupling required by the Mystic cartridge. 
In addition there is also an alignment ridge on the front top that assists with the mounting of the Mystic to any complementing Vertere tonearm.
The generator utilises a Samarium-Cobalt magnet with a Cross coil made of pure copper wires. The aluminium tube cantilever supports a Micro Elliptical bonded diamond stylus tip that is designed for maximum tractability without compromising on high frequency response or increased surface noise. This provides a wide band frequency response of below 10Hz to 40kHz that coupled with an output of 0.5mV will provide a lifelike dynamic range with depth and precision. 

Special Metallic Finishes
Vertere Special Metallic Black, Pearlescent White & Champagne finishes are now available for the SG-1 record player at a premium.
Following in the footsteps of the RG-1, these lustrous, vibrant colours provide perfect alternatives to the original Clear finish of the SG-1.
Clear cast acrylic was carefully selected for SG-1's plinth material as it provides the most stable and acoustically suitable platform for all its critical components. The specially formulated paint and method of printing of these glistening finishes enhance the aesthetics without any compromise in performance of the SG-1 record player.
The Vertere emblem printed on the top plinth adds the final finishing touch.
The elegant silver anodised MG-1 MkII Motor Cover is machined from solid aluminium alloy. It makes accessibility and placement of the drive belt easy and a delight to use.
The cover also acts as a diffuser for the two illuminating LED lights, within the MG-1 MkII Record Player, complementing its stunning looks.
Simple, elegant, beautiful.
The MG-1 MkII record player comes packaged with the new Redline tonearm cable and motor link cable for the SG-1 Super Groove Motor Drive MKIII.
The Vertere Redline cable system is derived from Pulse-R interconnect cable and follows the same design principles preserving the essence of the analogue audio signal.
Type
Belt drive

Motor
24 Pole Synchronous
Spindle Support Acetal Ball Bearing

Motor Mount
Acetal Mount & Bearing – Two Articulated
Ball Race Bearings with 3-point Adjustable

Pulley
Super Precision Aluminium Alloy

Drive Belt
Precision Ground Polymer

Platter MG-1
Single Piece Super Precision Aluminium Alloy
3mm Bonded Acrylic Record Interface
Bearing Spindle MG-1
Precision Hardened Stainless Steel
Roundness / Concentricity and Finish < 2 Micron
Bearing Spindle MG-1
Precision Hardened Stainless Steel
Roundness / Concentricity and Finish < 2 Micron
Bearing Housing MG-1
High Copper Content Phosphor Bronze
Clearance < 6.0 Microns
Plinth Structure
20mm Clear Cast Acrylic with optional finishes
Special Metallic Black or Metallic Pearlescent White and Metallic Champagne
With switchable internal illumination
Isolation System
2 Stage Compliant and 1 Stage Rigid
9 De-coupler Sets and Aluminium Alloy/SS Feet & Felt
Motor Drive P/S
Precision Crystal Referenced
33.3 and 45 rpm (<0.4%)
Wow and Flutter
<0.1%
Rumble
<-85dB
Dimensions (W x D x H)
468 x 384 x 140-155mm
Weight
14 Kg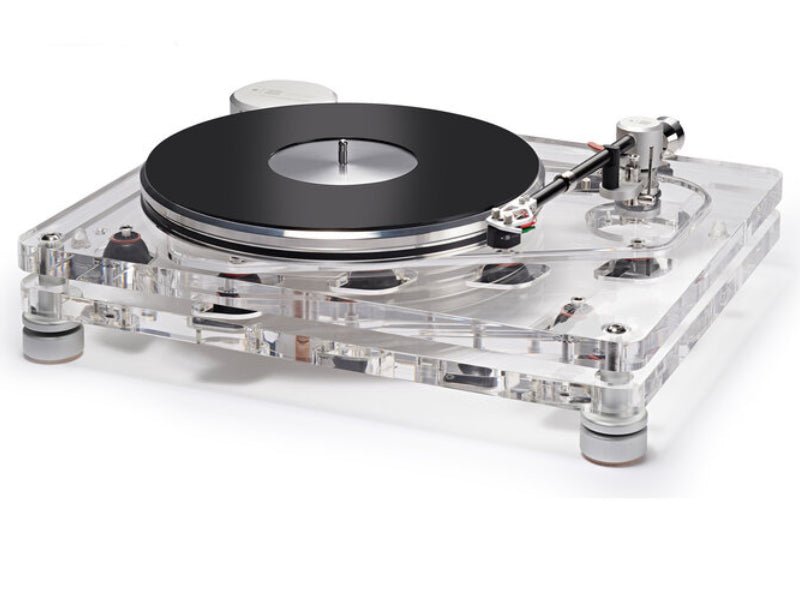 Vertere MG-1 MKII Magic Groove Record Player Package
Sale price

£10,850.00
Regular price
Choose options