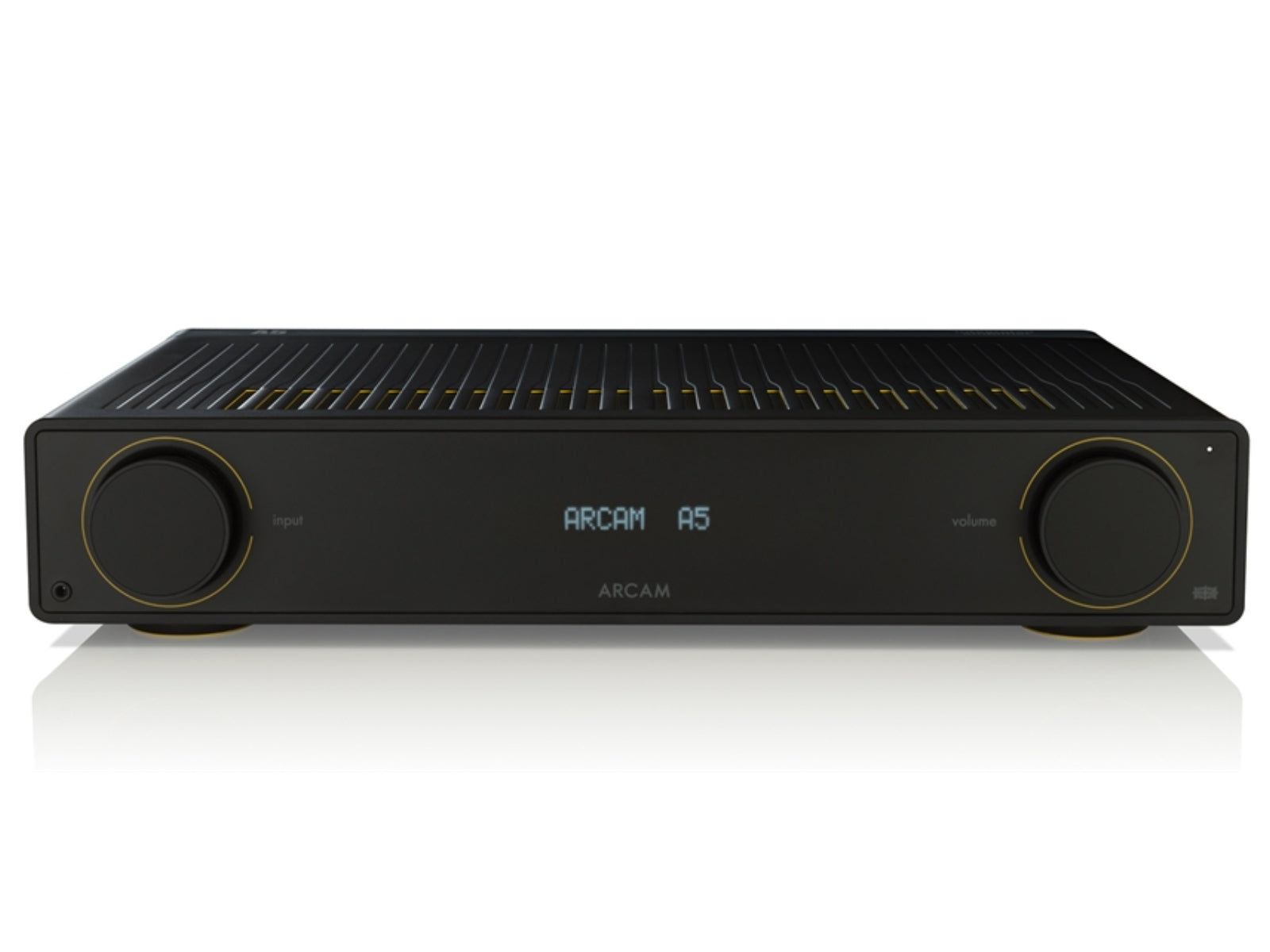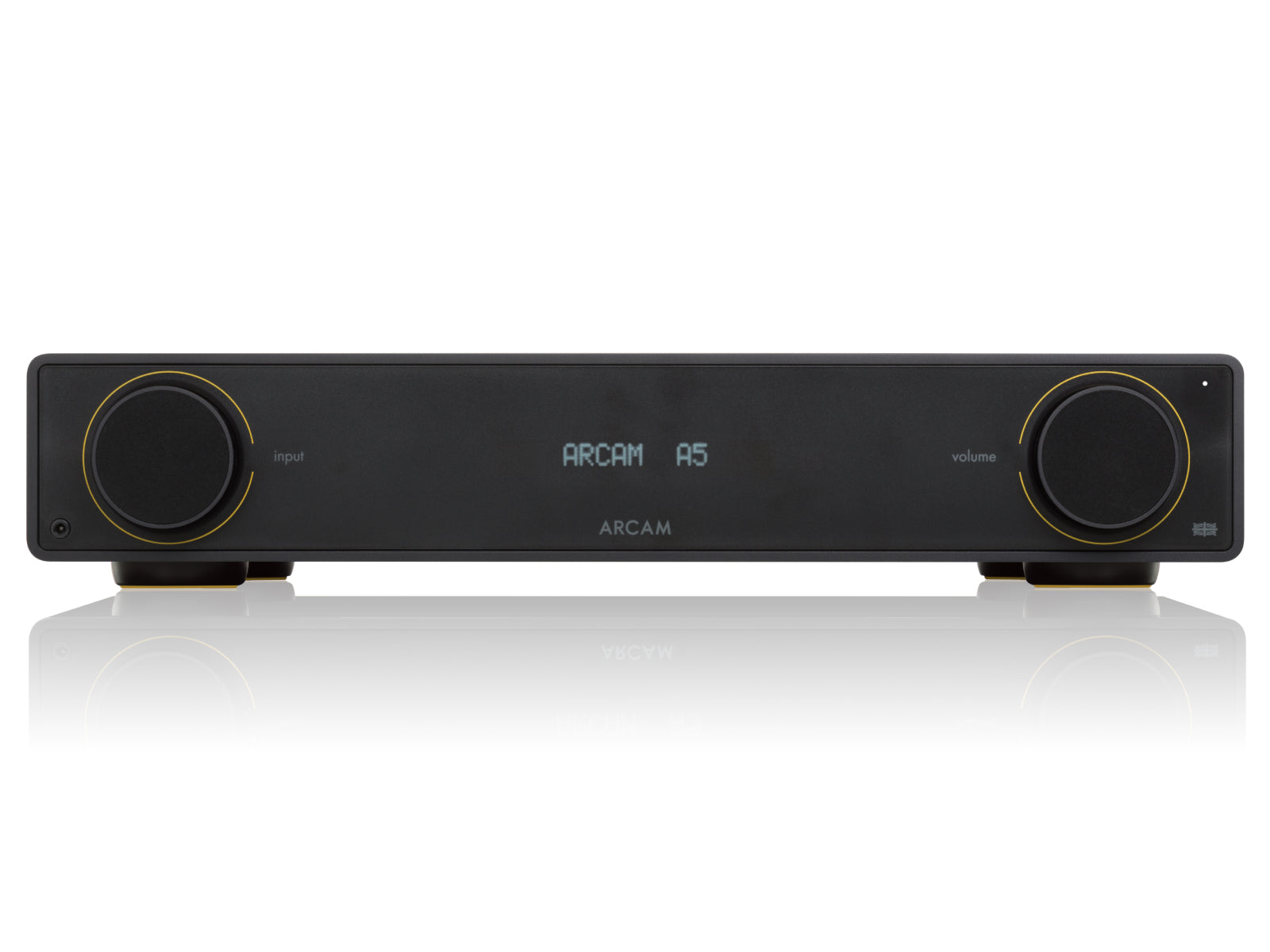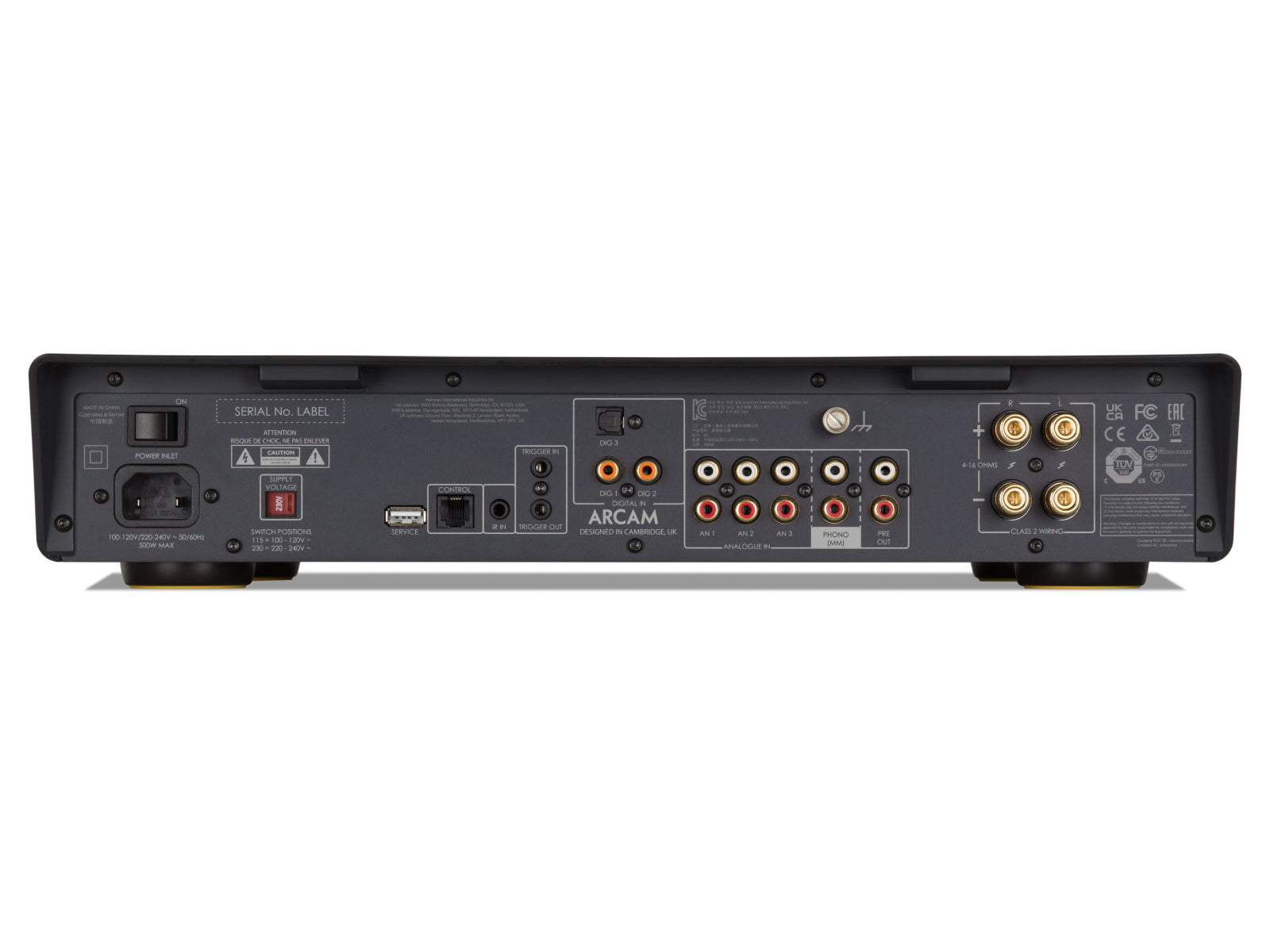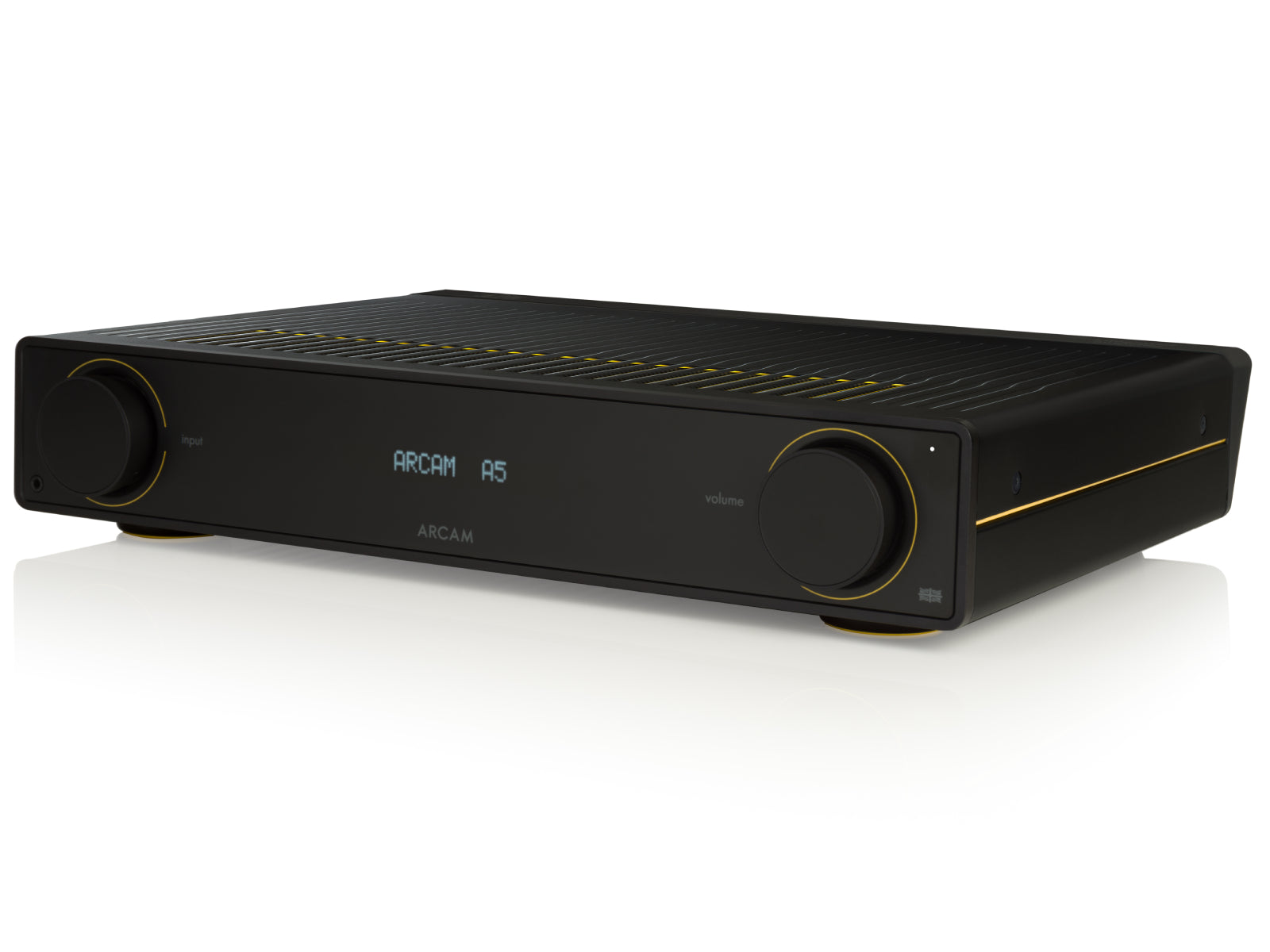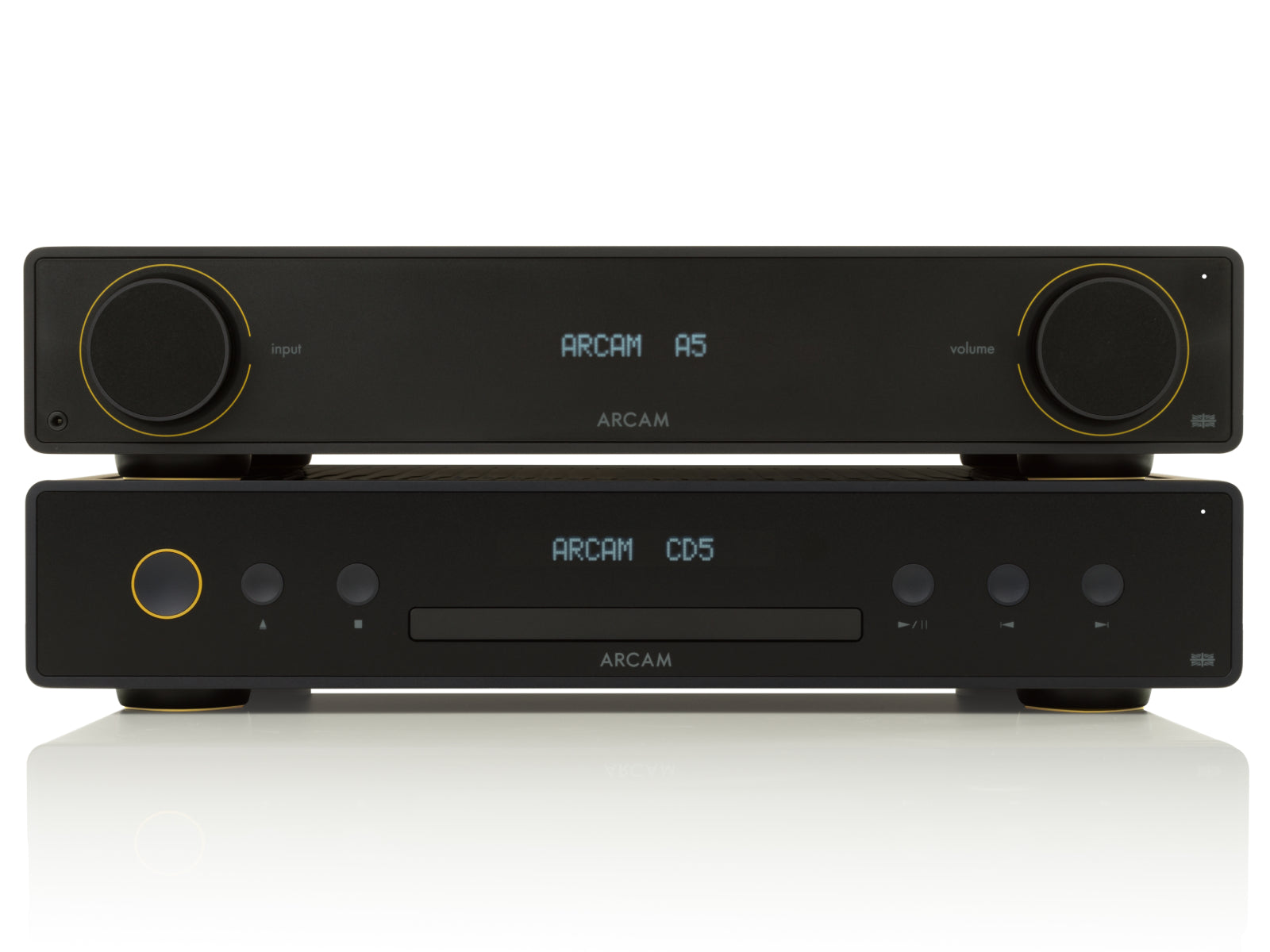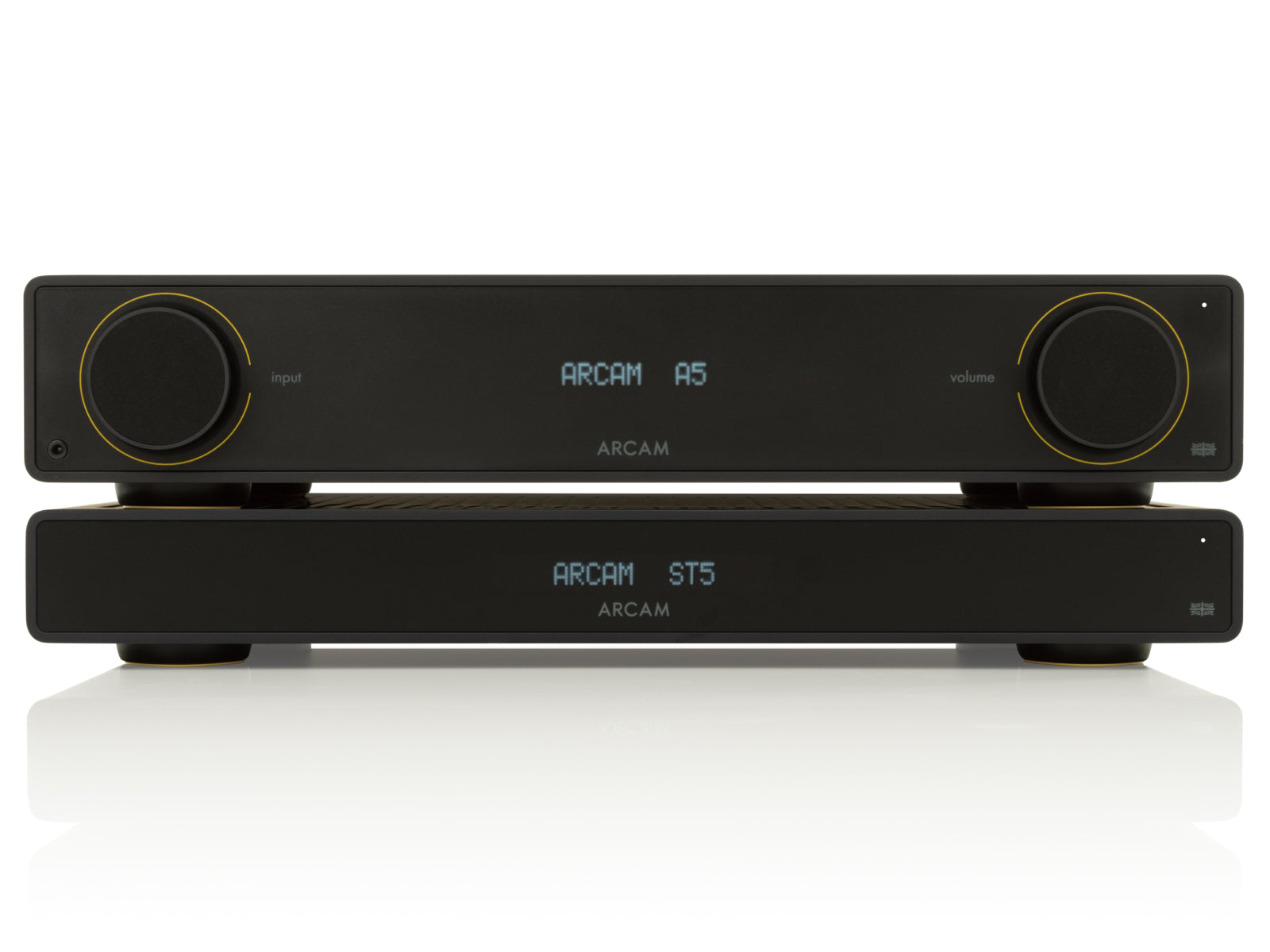 Arcam A5 Integrated Amplifier
---
Sale price

£749.00
Regular price
(/)
It was way back in the mid 1970s when Doug Brady showcased the first amplifier from Arcam (A&R Cambridge as the company was called then) the A60 which featured in many of our magazine adverts.  Since then Arcam has produced many well regarded amplifiers, so the new Arcam A5 has a lot to live up to.
The A5 has the signature Arcam sound, full-bodied and smooth but with a little more sparkle in the higher frequency range, along with a striking new look and brand new amplification design, we think this budget amplifier is something special.
Features
ARCAM Class AB amplification - provides brilliant musicality
50W per channel (8 ohms) - powers loudspeakers with ease
Bluetooth with aptX™Adaptive Technology - for the best sound with the most convenience
Specially selected components and materials - to deliver on sound quality
Wired or Wireless Headphones - connect your headphones for quiet listening with, or without wires
All new Radia design - Purposeful yet playful
MM phono stage - ready for Turntables
Hi-Res Digital Audio Inputs
Plastic Free Packaging - for easy disposal of natural materials
The ideal amp for all your music
With a heritage that stretches back to 1976, Arcam's amplifiers have always been amongst the best in their class for balancing sound with features. With its wide range of connectivity, sleek style and richly detailed sound, the Arcam A5 continues this success story. From a turntable to a TV and even taking in your smartphone via Bluetooth HD, this Arcam plays it all.

Perfectly balanced sound
Painstakingly developed, the Arcam A5 features a highly optimised Class AB amplifier. With new components and materials, the sound quality is cleaner and more precise, while still retaining the smooth and richly detailed sonic signature that has made Arcam so popular over the past decades.

Ample power
Outputting 50 watts per channel, the A5 has ample power to drive most speakers in a typical living room environment. With vanishingly low levels of distortion, it maintains higher volume levels without sounding strained or harsh.

A treat for your turntable
Much more than just a box-ticking exercise, the Arcam A5's built-in phono stage makes a top quality connection for your turntable. Suited to turntables with MM (Moving Magnet) cartridges, the high spec phono stage draws a deep seam of information from your vinyl, letting you hear subtle details from the music that might previously have been missed.

Stream from your smartphone in Hi-Res audio
For simple yet high quality music streaming, the A5 features Bluetooth with Qualcomm AptX Adaptive technology. When used with a compatible source device, this delivers up to 24-bit Hi-Res music streaming, giving you better than CD-quality, from a wireless connection.

Connect your headphones – Bluetooth or wired
The A5 welcomes all types of headphones, however they connect. Two-way Bluetooth connectivity lets you pair the amp with your Bluetooth headphones, giving you the freedom of movement that only wireless connectivity brings. Alternatively, the A5 also has a facia-mounted headphone socket for any type of wired headphones.

Connect all your digital and analogue sources
Featuring a built-in DAC (Digital to Analogue Convertor), the A5 effortlessly connects with your digital audio sources. Two coaxial and one optical input let you connect your TV, games console and digital music source. Coming from a top quality brand, the ESS DAC maximises your digital music's full potential and should provide a boost in sound quality over using the analogue inputs. For analogue sources, however, such as an FM tuner, there are also three RCA phono inputs.

Sleek new style
As part of Arcam's Radia series, the A5 looks slicker than any previous Arcam amp. With just two dials and subtle illumination, the amp strikes the perfect balance in catching the eye without distracting from the sound. The all-aluminium casing includes the volume and input dials, giving a high quality look and feel. A compact remote control is also included.
Specifications
Continuous power output (0.5% THD), per channel
2 channels driven, 20Hz - 20kHz, 8Ω 50W
2 channels driven, 1kHz, 4Ω 75W
Harmonic distortion, 80% power, 8Ω at 1kHz 0.003%
Analogue Inputs
Number of inputs 3 (RCA pairs)
Signal/noise ratio (A-wtd, ref. 50W, 1V input) 106dB
Frequency response 20Hz—20kHz ± 0.2dB
Phono (MM) Input
Input impedance 47kΩ + 100pF
Frequency response (ref. RIAA curve) 20Hz—20kHz ± 1dB
Digital Inputs
Supported Sample Rates (kHz)
Coaxial (RCA) 192, 176.4, 96, 88.2, 48, 44.1
Optical (Toslink) 192, 176.4, 96, 88.2, 48, 44.1

Bit depths (bit) 24, 16
Frequency response (fi lter 1) 20Hz—20kHz ± 0.2dB
Signal/noise ratio (A-wtd, ref. 50W, 0dBFS) 109dB
Headphone Output
Maximum output level (RMS) into 32Ω/300Ω 2.5V/5V
Load range 16Ω - 2kΩ
General
Mains voltage 100V or 110–120V or 220–240V, 50–60Hz
Power consumption (maximum) 350W
Power consumption (standby) <0.5W
Dimensions W x D (including speaker terminals) x H (including feet) 431 x 344 x 83mm
Weight (net) 8kg
Weight (packed) 11kg
Supplied accessories
Mains lead(s)
Remote control with 2 x AAA batteries
Quick Start Guide
Important Safety Instructions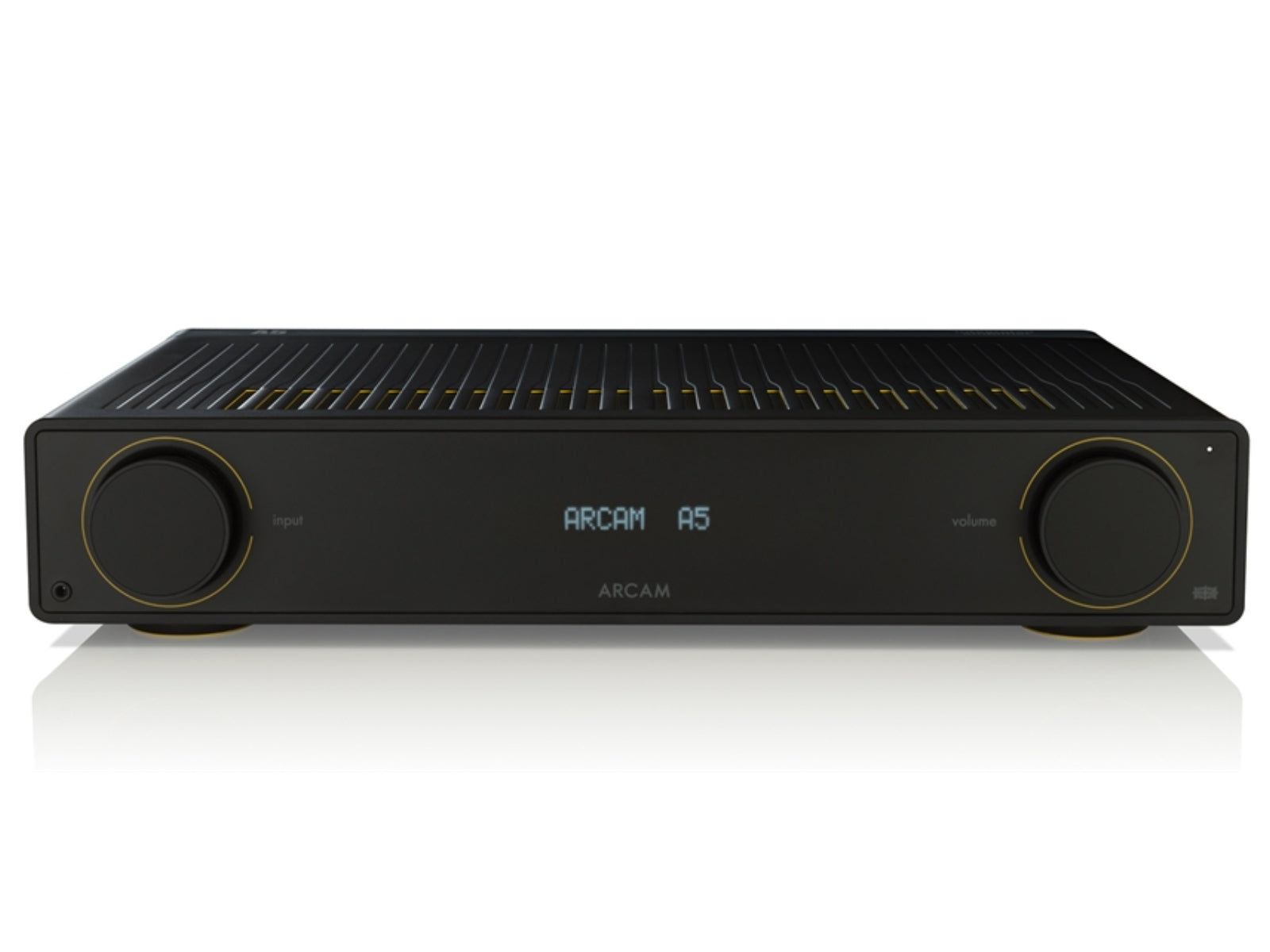 Arcam A5 Integrated Amplifier
Sale price

£749.00
Regular price
Choose options