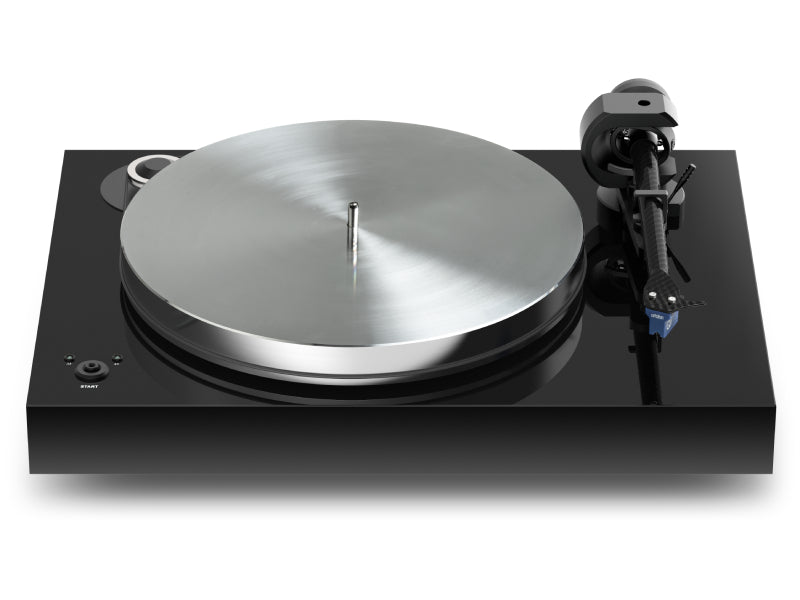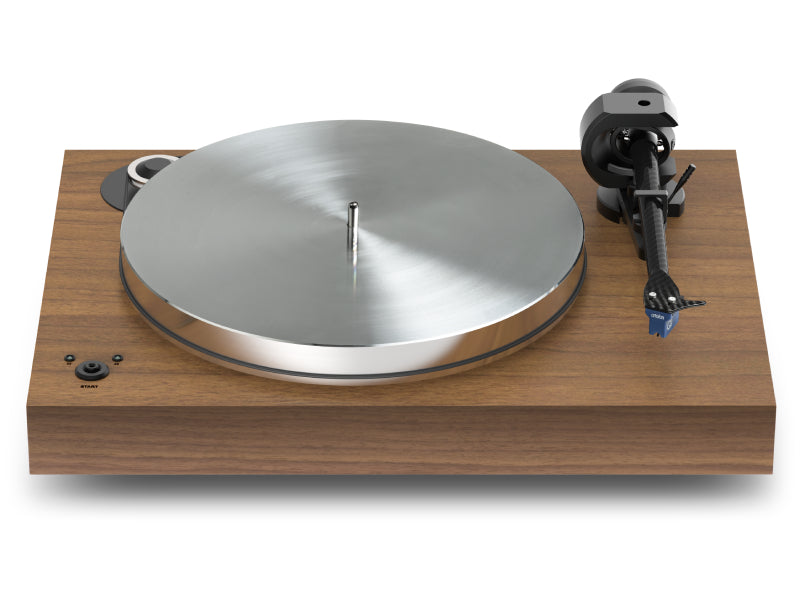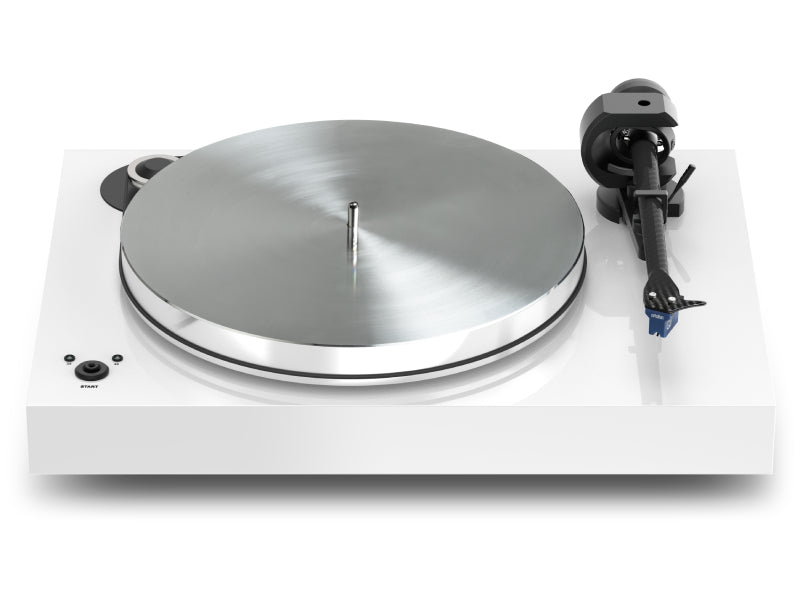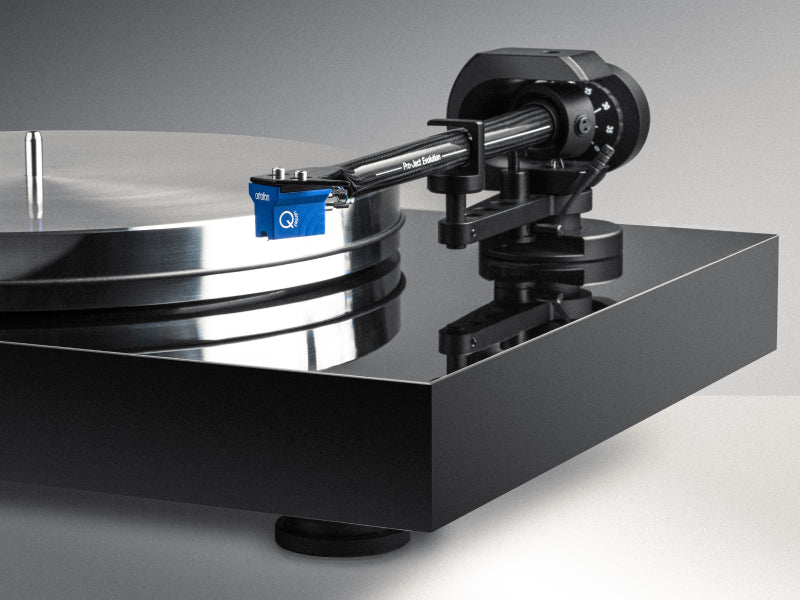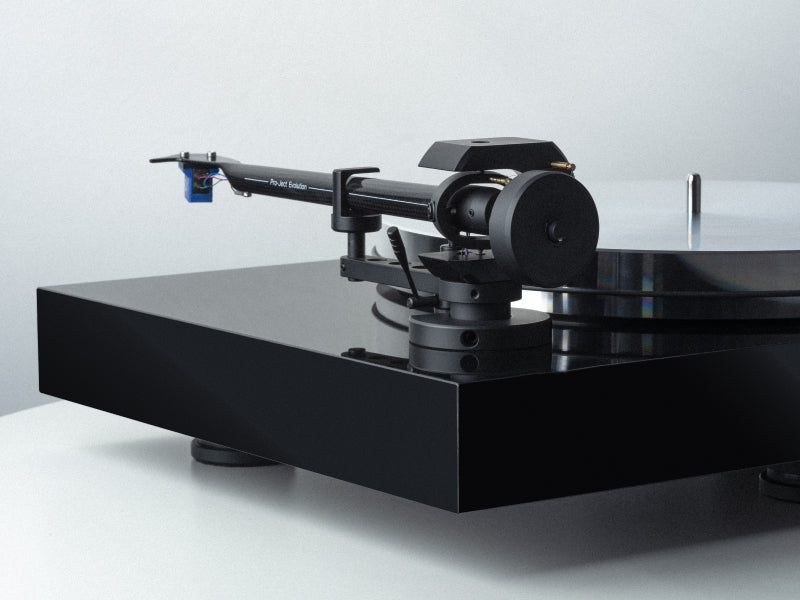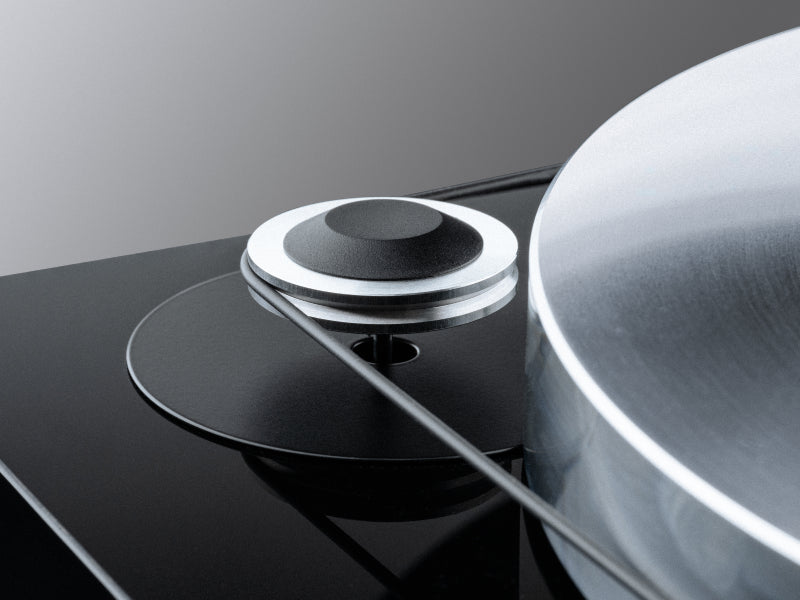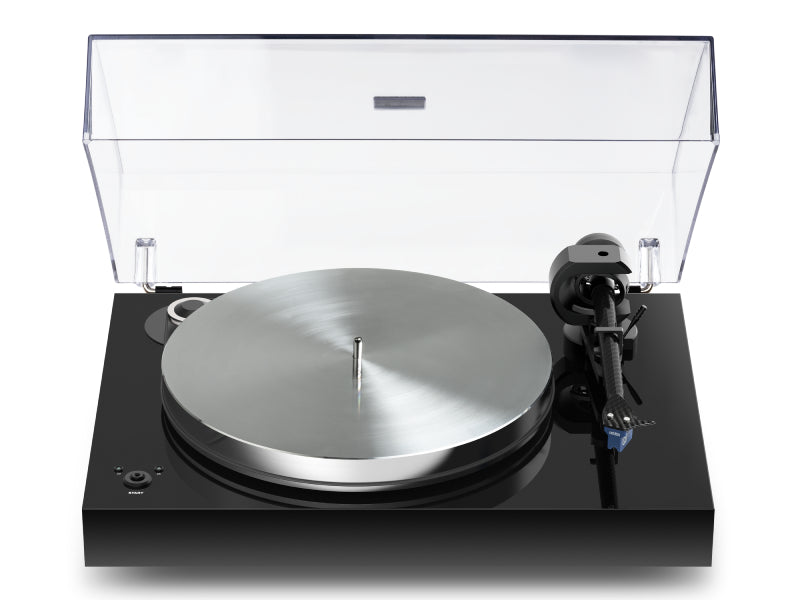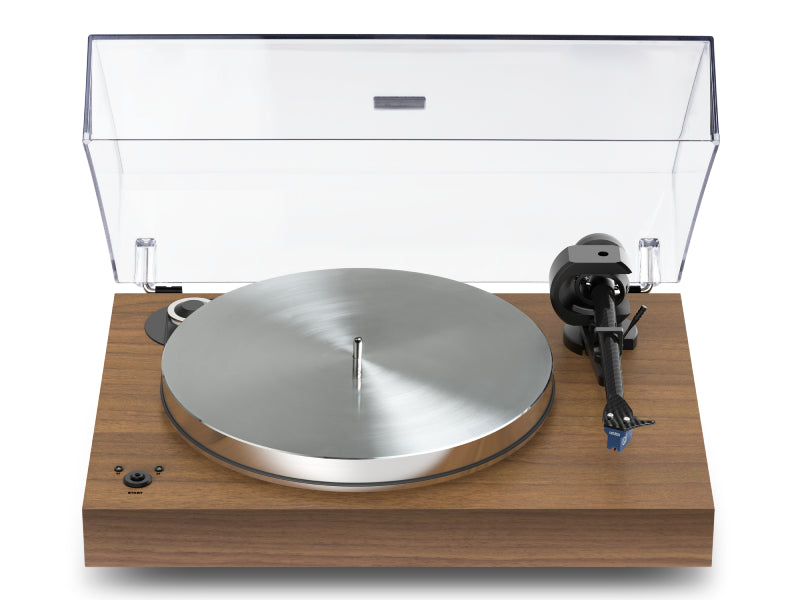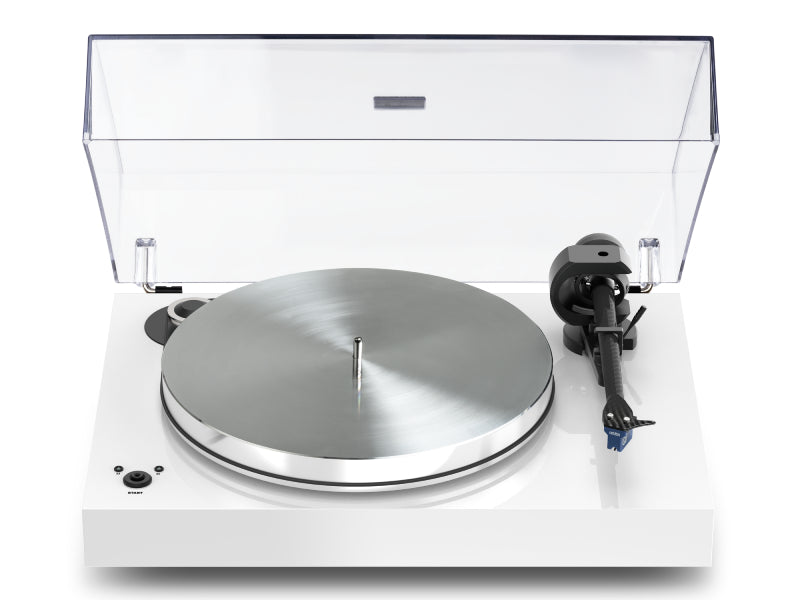 Pro-Ject X8 Turntable
---
Sale price

£2,099.00
Regular price
(/)
Available to Order
Available to Order
Available to Order
The Pro-Ject X8 is a mass-loaded high-end turntable with features more commonly found at premium price points. From its over-sized, heavyweight wooden plinth, through to the precision-lathed, TPE-damped aluminium main platter, and on to the 9" Evolution tonearm finished with a Quintet Blue, it is a complete turntable solution for high-end audio systems in one box.
Key Features:
Heavy MDF chassis
Precision balanced damped 5,1 kg aluminium platter
Inverted bearing with ceramic tip, magnetic support
Electronic speed control 33/45 rpm
Pre-fitted Ortofon Quintet Blue
Inverted cardanic tonearm bearings; four stainless steel tips mounted in ABEC 7 quality ball bearings
Height-adjustable metal feet with TPE damping
Premium 5P semi-symmetrical RCA phono cable
True Balanced 5P XLR cable available separately
Dust cover included
Finish options: walnut, HG piano black, HG white
Handmade in Europe
The X8 draws inspiration from other high-end turntables in the Pro-Ject range. The thick, heavy MDF chassis is expertly shaped and finished to provide both a stylish aesthetic and a sturdy platform from which the key performance parts of the turntable can do their work.
The main platter is precision-cut from a single piece of aluminium and lined with a ring of rubber TPE damping to produce a heavy non-resonant base that contributes to highly accurate speed stability with very little fluctuation. The platter is mounted on an inverted ceramic-tipped main bearing, bolstered with magnetic support, for fluid rotation without resistance.
The platter is driven by a perimeter drive belt, connected to a low-noise AC motor. The motor is controlled by an AC generator with adjustable speed control for convenient switching between 33 and 45 RPM as well as a clean, low-noise power signal.
The X8 is pre-installed with Pro-Ject's popular 9CC Evolution carbon fibre tonearm. The 9CC EVO can been found on many popular high-end turntables, and features a one-piece, tapered carbon fibre tonearm tube, mounted in a heavy-weight bearing block with high-quality ABEC 7 ball bearings. The tonearm is also VTA and azimuth adjustable for perfect cartridge mounting.
In the UK, the X8 is also supplied with the award-winning Ortofon Quintet Blue moving coil cartridge, as standard. The Quintet Blue is recognised for its detailed musical performance, and perfectly complements the X8's own high-end ability.
As the X8 is supplied with a Moving Coil cartridge, it is also part of Pro-Ject's True Balanced Connections concept. By upgrading to a 5pin > XLR cable, and connecting to one of the company's balanced phono stages (such as the Phono Box DS3 B), you can benefit from increased dynamics, less noise and improved signal-to-noise ratios. Going true balanced is like hearing parts of your music that were not there before.
The X8 is supplied with height-adjustable TPE-damped feet, a removable dust cover, a felt mat and a semi-balanced Connect-IT E 5P > RCA phono cable for easy set-up out of the box. It's available in high gloss black, high-gloss white or real-wood walnut veneer finishes.
WHAT'S TRUE BALANCED?
Balanced audio connections are usually known from the professional sector like recording studios or live concerts. It is very important to have a stable & interference free connection, as these signals will be highly amplified. The same applies to the connection from your turntable to the phono preamplifier. The big advantage of a balanced connection is its ability to remove picked up noise and interferences. And best of all, cartridges by nature are already balanced signal transducers! With True Balanced your are simply using everything, literally everything, that your cartridge is picking up from the record groove. You are not throwing away half of the usable signal, like is done in typical single-ended RCA phono connections.
The X8 comes with a 5pin output jack and with our standard semi-balanced Connect it Phono E 5P -> RCA cable. By upgrading it to our fully balanced 5P to XLR version (available separately) and using a balanced phono stage, like our Phono Box DS3 B or any of our RS/RS2 phono stages, you are fully set-up for the True Balanced experience. This leads to increased dynamics, less noise and improved signal to noise ratios. You can imagine it, like hearing parts of your music that literally were not there before.
True Balanced Connections
The interconnect cable between a record player and a phono stage is prone to pick up noise on the way. That noise and interference can stem from a lot of unavoidable sources, such as household applicances, wi-fi and bluetooth devices, other power cables and audio amplifiers. Unshielded (i.e. RCA) interconnects can amplify the picked-up noise and make it audible through your speakers, interfering with the pure musical signal.
Balanced (typically XLR) cable connections double the wires carrying the musical signal – with one side inverted. In this case noise still gets picked up by both wires, but with one side reversed. When the signals are re-joined at the phono stage, the picked-up noise is cancelled out by the opposing signals. The benefit of this is a louder, cleaner musical signal that has doubled in size with almost no remaining noise.
A New Access to High-End
True Balanced

Unleash the full power
The X8 is ready for our new True Balanced Connection. Single-ended RCA connections, quite literally, only use half of your cartridge's output. With one of our new True Balanced phono cables wired to a Phono Box S3 B, Phono Box DS3 B, Phono Box RS or RS2 you'll be able to hear your MC cartridge in its entirety!
Handmade in EU
Since 1991
Made in Europe by a turntable factory with decades of experience. Expert craftsmanship dwells deep within the X8.
Technical Data
| | |
| --- | --- |
| Speed: | 33 / 45 rpm (electronic speed change) |
| Included phono cable: | Connect it E 5P -> RCA, 1.23m |
| Aluminium feet: | Height adjustable & TPE damped |
| Platter: | massive 5,1 kg lathed aluminium |
| Platter bearing: | inverted ceramic ball, magnetic support |
| Speed drift: | 33: ±0,11%; 45: ± 0,09% |
| Wow & flutter: | 33: ±0,11%; 45: ± 0,10% |
| Rumble: | 73dB |
| Tonearm: | 9"one-piece carbon-fibre tonearm |
| Effective arm length / mass: | 9"(230 mm) / 8,5 g |
| Overhang: | 18 mm |
| Incl. accessories: | Dust cover, 7"single adapter, felt mat |
| Power supply: | 15V / 0,8A DC |
| Power consumption: | 5W / 0,3 W standby mode |
| Dimensions lid closed: | 465 x 150 x 350 mm (W x H x D) |
| Dimensions lid opened: | 465 x 415 x 420 mm (W x H x D) |
| Weight: | 15kg |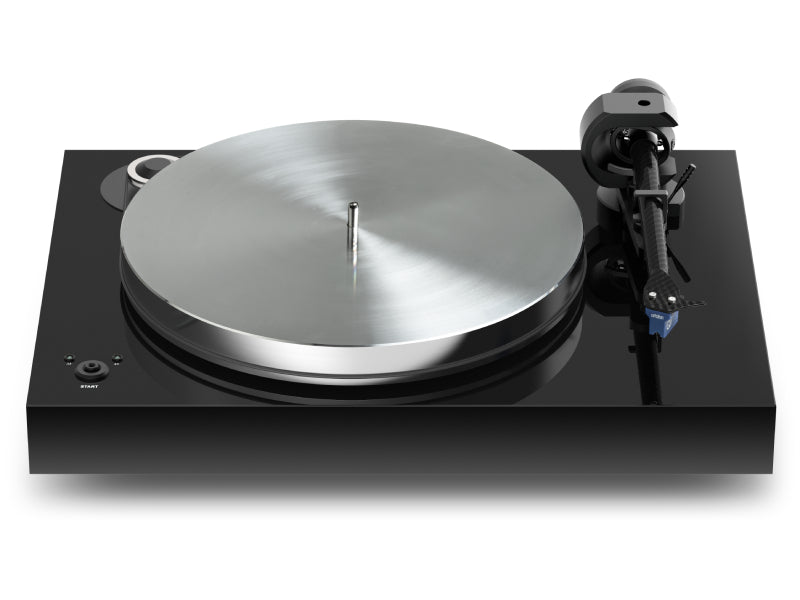 Pro-Ject X8 Turntable
Sale price

£2,099.00
Regular price
Choose options